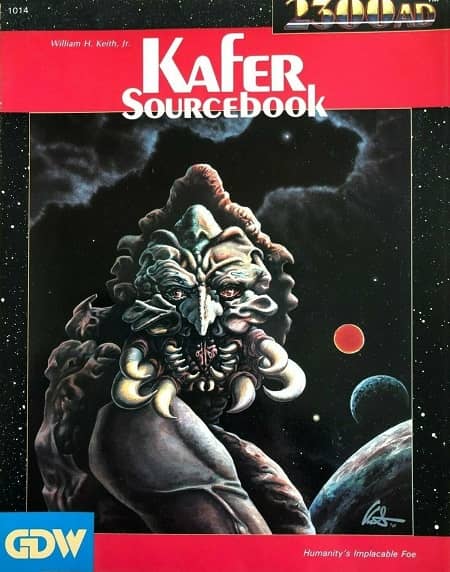 Kafer Sourcebook by William H. Keith (GDW 1988)
A common science fiction trope is the terrifying alien. The one determined to destroy humanity… or whatever… is in its path. The xenomorph from the Alien franchise is probably the first that comes to mind for many, but others include the unnamed Force from Event Horizon, the Bugs from Starship Troopers, the Taurans from The Forever War, the Predator, and the Thing. These aliens serve as vehicles to terrify and challenge humanity in many ways. In science fiction tabletop role-playing games, aliens abound. Many ruthless enemies like the Sathar of Star Frontiers, the Jinsuls from Starfinder, along with the Alien xenomorph exist in the pages of role-playing games. In my opinion, the Kafers from the 2300AD game are the best of the lot.
Bold statement.
2300AD was released by GDW in 1986. Set in the near-ish future and part of an extended timeline from GDW's Twilight 2000 game, the people of Earth have recovered for a nuclear war in the late 2000s, discovered the stutterwarp drive, and colonized many worlds in the near-earth vicinity. The game pitched itself as hard science fiction — the stutterwarp drive, one of the concessions. Many of the materials focus on realistic orbital mechanics and lifeforms. Planets are often hostile. The book is about humanity's struggle and challenges in colonizing the stars.
---