Cirsova Announces Leigh Brackett's The Illustrated Stark
Cirsova Announces Leigh Brackett's The Illustrated Stark
You know what the world needs today? It needs more Leigh Brackett.
Brackett has had her 21st Century champions, including Eric Mona at Paizo Publishing, who reprinted five Brackett novels as part of his superb Planet Stories line, and Stephen Haffner of Haffner Press, who's produced four gorgeous archival quality hardcovers collecting her short fiction. But it's been over a decade since those books appeared, an eternity in publishing terms, and virtually all of them are now out of print. So I was delighted to hear that Cirsova Publishing, the masterminds behind Cirsova magazine, are reprinting some of Brackett's most famous work in new illustrated editions. Here's an excerpt from the press release.
Cirsova Publishing has teamed up with StarTwo to create an all-new, fully illustrated 70th Anniversary Edition of Leigh Brackett's original Eric John Stark Trilogy. Cirsova Publishing aims to bring the action, adventure and romance of Leigh Brackett to a new generation of readers.

First published in the Summer of 1949, Queen of the Martian Catacombs introduced the world to Eric John Stark, the black mercenary swordsman. Stark's adventures continued on Venus in 1949's The Enchantress of Venus, and the swordsman returned to the Red Planet in 1951's Black Amazon of Mars. While Brackett would revisit the character in 1970s with the Skaith trilogy, the original novellas are significant as one of the last iconic Sword & Planet cycles of the pulp era.
The Cirsova covers are homages to the original Planet Stories pulp covers (see below), though I'm pleased to see that (like the Paizo editions before them), they correctly depict Eric John Stark as black skinned.
[Click the images for Brackett-sized versions.]
The original Planet Stories: Summer 1949, Fall 1949, and one of the greatest pulp covers of all time, March 1951. Art by Allen Anderson
Though I have these stories in multiple formats already (including the original pulps), I'm very glad to see these editions get in front of new readers. And I'm also very interested in seeing the original artwork: 33 brand new interior illustrations. Here some additional detail from the release.
These stories will be presented like never before, featuring all new original artwork, including new covers paying homage to Allen Anderson's originals for Planet Stories and 33 interior illustrations. Each has been checked and corrected against the original texts as they appeared in Planet Stories magazine and will feature introductions by Nathan Housley, aka the Pulp Archivist, Jeffro Johnson, the author of the critically acclaimed Appendix N: The Literary History of Dungeons & Dragons, and culture commentator, critic, and pulp enthusiast Liana Kerzner.

The 70th Anniversary Illustrated Stark will be released as individual volumes, in a softcover omnibus, and in a coffee-table hardcover art edition.
• Queen of the Martian Catacombs + Illustrated Stark (Hardcover) – 4/30/2019
• The Enchantress of Venus – 5/31/2019
• Black Amazon of Mars – 6/28/2019
• The Complete Illustrated Stark (Paperback) – 7/31/2019
Our end-goal is to put these classic works of science fiction back in the hands of readers, young and old.
As hinted above, the books will be released one per month starting in April, and then collected in a single volume in July, The Complete Illustrated Stark.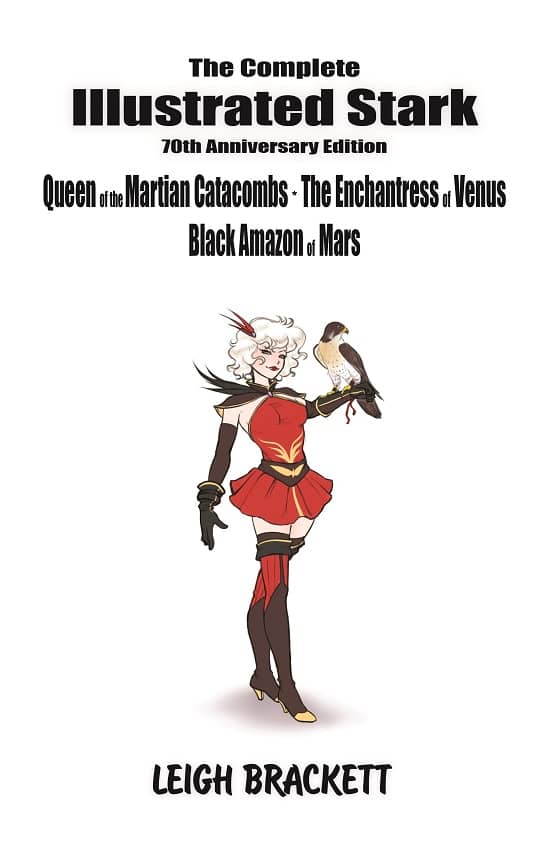 Read all the details here.
Our previous coverage of Leigh Brackett includes:
Vintage Treasures: The Book of Skaith: The Adventures of Eric John Stark by Leigh Brackett
Leigh Brackett, J.R.R. Tolkien, and Appendix N
"We Thought We Were Immortal": Robert Bloch on J. Francis McComas, Eric Frank Russell, and Leigh Brackett
Masterpiece: The Sword of Rhiannon by Ryan Harvey
Leigh Brackett: American Writer by Howard Andrew Jones
Ancient Planets and Treachery at Every Turn: Rich Horton on The Ginger Star by Leigh Brackett
Dead Cities, Space Outlaws, and Planet Gods: The Best of Leigh Brackett by Ryan Harvey
Birthday Reviews: Leigh Brackett's "Interplanetary Reporter" by Steven H Silver
See all of our recent Vintage Treasures here.