Fighting Schools, Ancient Palaces, and a Killing Fog: The Grave Kingdom Trilogy by Jeff Wheeler
Fighting Schools, Ancient Palaces, and a Killing Fog: The Grave Kingdom Trilogy by Jeff Wheeler
Cover design by Shasti O'Leary Soudant
Jeff Wheeler was been toiling away in the fantasy word mines for nearly two decades, and in 2014 he took the leap and retired from Intel to write full-time. He's written several popular series, including the Whispers from Mirrowen trilogy, two novels in the Landmoor series, and two trilogies in the Muirwood universe, the second of which was the Covenant of Muirwood, which we covered here back in 2015.
His latest, The Grave Kingdom trilogy, kicked off this month with The Killing Fog. At Mary Robinette Kowal's blog, Jeff Wheeler contributed a My Favorite Bit entry that piqued my interest — and not just for the Big Trouble in Little China and Kung Fu references (though they definitely didn't hurt). Here's what he said.
When I was young, I used to watch the TV show Kung Fu with David Carradine. I respected the loner monk wandering through America's Wild West and taking out the bad guys. During high school, one of my favorite films was Big Trouble in Little China, just for the great martial art medley of different styles they demonstrated. What many don't know about me is that I've been a practitioner of many forms of Kung Fu for almost thirty years, starting at Wing Lam Kung Fu school in Silicon Valley after my missionary service.

When I was inspired to write The Killing Fog after a month-long trip to China, I chose to set it in a world with the geography of Alaska and the culture of medieval China. Instead of palaces and royalty, I wanted to focus on the martial artists. The protagonist of the story, Bingmei (a name which means 'ice rose' in Chinese), is the granddaughter and daughter of a family who owns a fighting school… Bingmei's world is a lot harsher than the one we live in. While ancient forms of fighting have been passed down within families, history has not. There is no written language, no knowledge of where the ancient buildings and palaces came from. No understanding of why the Death Wall was built and why no one is allowed to cross it. Most importantly, no one knows who left behind magical relics carved from meiwood and imbued with magical power. People collect these relics to hide them away because if their power is invoked, the presence of magic summons a deadly fog which kills any creature caught within it. And no one knows why.

It's Bingmei's destiny to find out.
The KIlling Fog will be followed by The Buried World in June of this year, and The Immortal Words arrives three months later, on September 22. Publishers Weekly calls the opening volume a "winding tale of valor and sacrifice… [an] excellent introduction to the prolific Wheeler's work."
[CLick the images to embiggen.]
Here's a snippet from the PW review.
Wheeler (Broken Veil) opens the Grave Kingdom series with this winding tale of valor and sacrifice, set in a realm where using magic summons a heavy fog that kills every living thing it touches. Twelve-year-old Bingmei was born with a strange ability to smell people's true intentions and was taught to fight from a young age, but she is still unable to save her family when they are attacked. Four years later, she joins a band of elite mercenaries who are charged with finding the mythical ancient palace of Fusang… This excellent introduction to the prolific Wheeler's work will appeal to fans of Asian-influenced fantasy.
And here's a scan of the back over of The Killing Fog.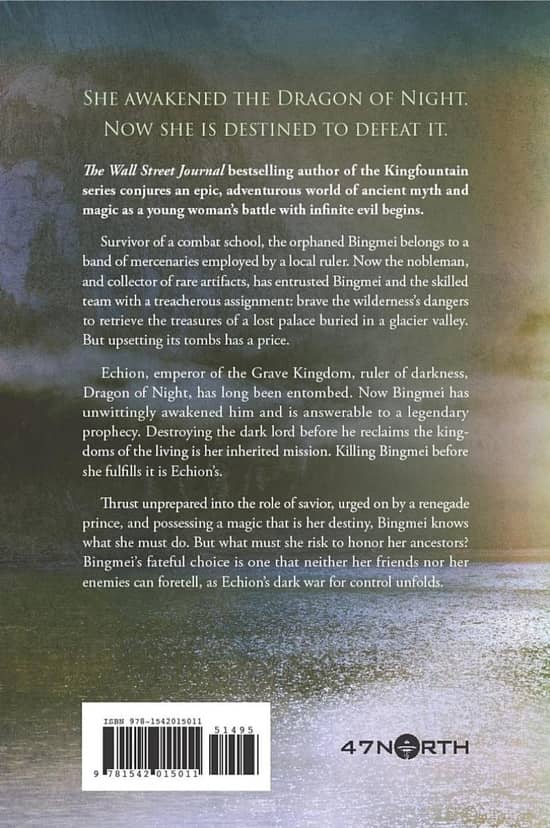 All three volumes are published by 47North. Here's the complete publishing details.
The Killing Fog (411 pages, $14.95 in paperback, $4.99 in digital formats, March 1, 2020)
The Buried World (336 pages, $14.95 in paperback, $5.99 in digital formats, June 23, 2020)
The Immortal Words (??? pages, $14.95 in paperback, $4.99 in digital formats, September 22, 2020)
The cover design is by Shasti O'Leary Soudant.
See all our recent coverage of the best fantasy series here.