When We Catch It, Let's Chase It Again: An Interview with Tales of the Mongoose and Meerkat Author Jim Breyfogle
When We Catch It, Let's Chase It Again: An Interview with Tales of the Mongoose and Meerkat Author Jim Breyfogle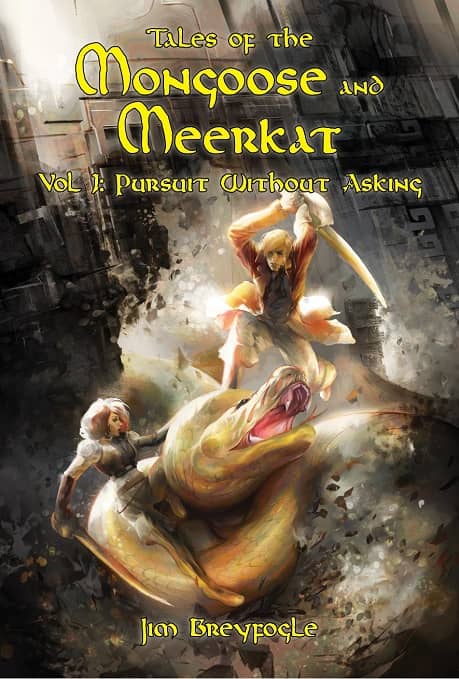 Cover Art by Anton Oxenuk
Cirsova Publishing has been putting out its flagship magazine focusing on action, adventure, and romance in science fiction and fantasy since 2016. Last year Cirsova began branching out, with the two-author anthology, Duel Visions by Misha Burnett and Louise Sorensen, their fully illustrated 70th Anniversary Edition of Leigh Brackett's Eric John Stark Planet Stories [which we covered at Black Gate last year], and the 35th Anniversary Edition of Michael Tierney's Wild Stars.
Cirsova's newest upcoming release is an anthology of Jim Breyfogle's Mongoose & Meerkat adventures, lavishly illustrated by up-and-coming artist DarkFilly. Tales of the Mongoose and Meerkat Volume 1: Pursuit Without Asking collects all of the stories published in the pages of Cirsova Magazine through 2019.
Mangos is a bit of a bravo, ready to knock a few heads for some coin. Kat is a mysterious wanderer with more than her share of street-smarts and a head for ancient history. Together, the Mongoose and the Meerkat are a pair of rogues looking to keep their bellies and wine skins filled. Fitting in a comfy mid-point somewhere between Slayers and Fafhrd & The Gray Mouser, this duo is sure to appeal to fans of classic Sword & Sorcery.
We had a chance to talk with Mongoose & Meerkat author Jim Breyfogle about this thrilling new project.
First of all, thank you for taking the time to answer some of our questions about the series. It's been an incredibly exciting opportunity for us to work with you on it over the last few years, and having the opportunity to put out this anthology has us over the moon.
Tell us a little bit about yourself, where are you from, how long have you been writing?
I'm originally from Michigan, but I've lived in Wyoming and now live in Pennsylvania. I can't really remember a time that I wasn't making up stories. It annoyed my teachers in school and distracted me from classes in college. I've done a lot of things since then but one thing is constant, I love writing stories.
Cirsova has been publishing your short fiction since 2016, starting with "Blood and Bones: Caribbean 1645," and we've been running your Mongoose & Meerkat stories since 2017. How did you first find out about Cirsova?
I was looking for markets to submit stories at the time Cirsova was listed as a new publication. I checked out the guidelines, liked what they were asking for, and thought "Blood and Bones" might work. It wasn't space opera, but it had a bit of throw-back adventure feel while trying to put in a new twist that I hoped they would like.
Mongoose & Meerkat are part of a long tradition of picaresque adventurers; are there any particular authors, stories, or characters you've found that most inspired you to write stories like these?
Tolkien said, what we write grows out of all that we have seen or thought or read, and that obviously includes modern writers, current events, and everything else in our lives. But you can't talk about short, duo-adventurer fantasy without mentioning Fritz Leiber's Fafhrd and the Gray Mouser. I won't digress into a discussion of what is right or wrong about Leiber's work, but there was enough of each that I wanted to try my hand at writing adventure stories that would both bring things up to date and add new ideas.
In Mongoose & Meerkat, there are a couple tips of the hat to Leiber, the idea of a snake guarding an ancient treasure house comes from Rudyard Kipling (though the snake is much bigger!), and there's a touch of Arthur Conan Doyle.
Megan Whalen Turner is a contemporary writer who does fantastic work making her readers want to go back and reread her stories with a different perspective once they know how it ends. I can only hope for that effect.
The first three books in the Queen's Thief series by Megan Whalen Turner.
Greenwillow Books, 2017 paperback reissue; covers by Joel Tippie
We have the latest Mongoose & Meerkat adventure, "The Golden Pearl," out now in the spring issue, plus another story slated to come out later this year; can you give the fans any hints for what will be coming up for Kat and Mangos beyond these?
The stories are chronological, and we can expect that they'll start tying together a little more tightly. We'll learn what they've done with their loot, reference old adventures, and revisit other characters. Mangos's goal has been pretty simple – adventure that leads to fame in Alomar. After that, he wants the better things in life. And a Marin sword. He really wants that Marin sword.
Kat's a bit more cryptic about what she wants. Expect a variety of adventures that test their skill, their courage, and their cunning. And expect them to grow, because if they don't, they won't survive to achieve all their goals.
Can you tell us a bit about the title, Pursuit Without Asking?
It comes from the closing lines of the first story, "Battlefield of Keres." Mangos and Kat have just agreed to form a partnership but haven't settled on another adventure. Mangos says, "Then let us pursue without asking what we chase, and when we catch it, let us chase again!"
One of the stories, "Deathwater," isn't a Mongoose & Meerkat story, but we're including it as a bonus. Does it tie in to the world of Mongoose & Meerkat?
It doesn't. I've tried walk a fine line giving Mongoose & Meerkat a larger world with both history and geography without dragging so much into the stories that it detracts from them. "Deathwater" takes place on a different world that isn't developed beyond the city.
Is Pursuit Without Asking the first time you've published a fully illustrated book? What's it been like to see your characters brought to life by someone like DarkFilly?
I've had other stories chosen for illustrations, but this is the first fully illustrated book. It's really awesome to see how somebody else visualizes my characters, and she does such a great job. I love how she can bring the scenes to life.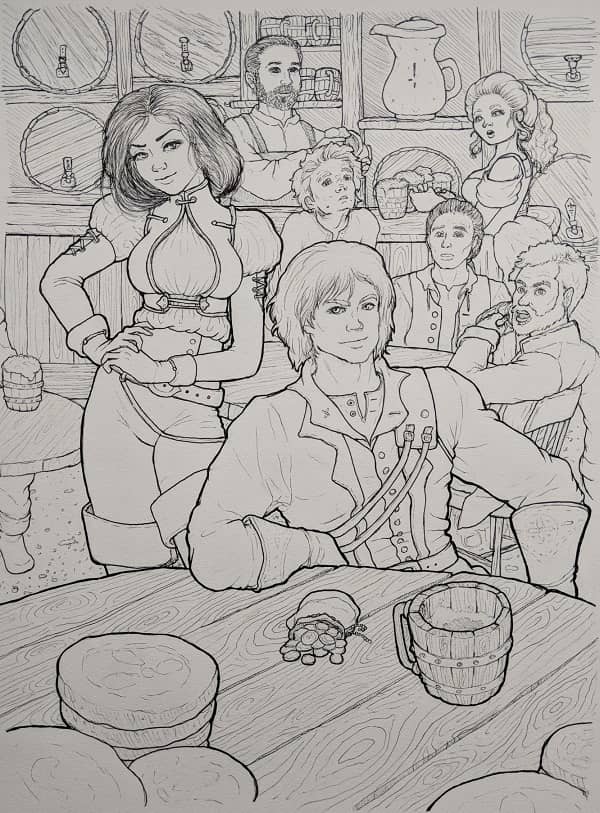 Interior art by DarkFilly
If all goes according to plan, Cirsova Publishing will have Mongoose & Meerkat stories for a few years to come, but what's after that? What else do you have going on? What other irons are in the fire for fans of your writing?
Fans? I have fans? How cool is that? Joking aside, I'm currently working on a collection of novellas. It's tentatively called Tales from a Small Ocean and features stories with Roman, Byzantine, Egyptian, Spanish, and Provencal settings. I also have some short stories and a couple novels projects going on. The truth is, I like writing way more than I like submitting and promoting, so we'll have to see.
Thank you for taking the time to talk with us about Mongoose & Meerkat!
April 1, Tales of the Mongoose and Meerkat, Vol 1: Pursuit Without Asking will be available for pre-order through Kickstarter in Pocket Paperback, Trade Paperback, and Hardcover formats.
The Trade Paperback will be available in general release in August.
For more information or inquiries, visit Cirsova's website.