When We Catch It, Let's Chase It Again: An Interview with Tales of the Mongoose and Meerkat Author Jim Breyfogle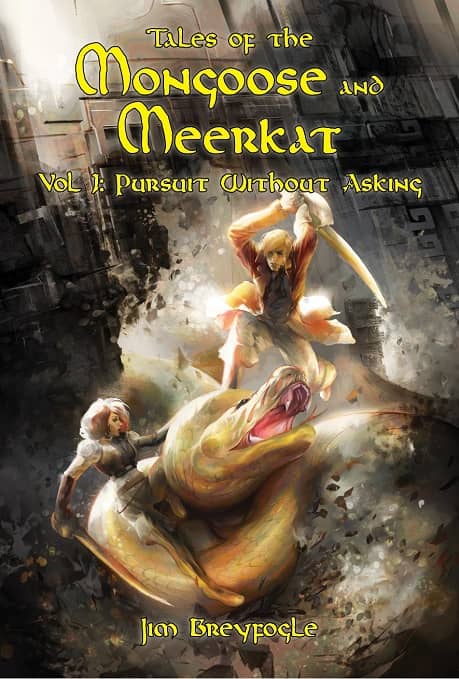 Cover Art by Anton Oxenuk
Cirsova Publishing has been putting out its flagship magazine focusing on action, adventure, and romance in science fiction and fantasy since 2016. Last year Cirsova began branching out, with the two-author anthology, Duel Visions by Misha Burnett and Louise Sorensen, their fully illustrated 70th Anniversary Edition of Leigh Brackett's Eric John Stark Planet Stories [which we covered at Black Gate last year], and the 35th Anniversary Edition of Michael Tierney's Wild Stars.
Cirsova's newest upcoming release is an anthology of Jim Breyfogle's Mongoose & Meerkat adventures, lavishly illustrated by up-and-coming artist DarkFilly. Tales of the Mongoose and Meerkat Volume 1: Pursuit Without Asking collects all of the stories published in the pages of Cirsova Magazine through 2019.
Mangos is a bit of a bravo, ready to knock a few heads for some coin. Kat is a mysterious wanderer with more than her share of street-smarts and a head for ancient history. Together, the Mongoose and the Meerkat are a pair of rogues looking to keep their bellies and wine skins filled. Fitting in a comfy mid-point somewhere between Slayers and Fafhrd & The Gray Mouser, this duo is sure to appeal to fans of classic Sword & Sorcery.
We had a chance to talk with Mongoose & Meerkat author Jim Breyfogle about this thrilling new project.