Discovering Robert E. Howard: Howard Andrew Jones and Bill Ward Re-Read "Beyond the Black River"
Discovering Robert E. Howard: Howard Andrew Jones and Bill Ward Re-Read "Beyond the Black River"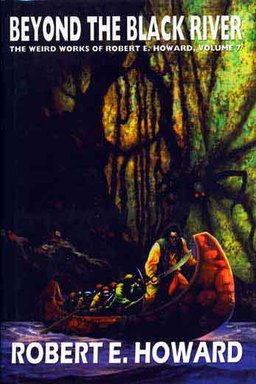 Howard Andrew Jones and Bill Ward continue their re-read of The Conquering Sword of Conan by Robert E. Howard, the third omnibus volume collecting the complete tales of Conan, with "one of the most famous Conan stories of all," and one of the last, "Beyond the Black River." It was originally published in in the May-June 1935 issue of Weird Tales.
"Barbarism is the natural state of mankind," the borderer said, still starring somberly at the Cimmerian. "Civilization is unnatural. It is the whim of circumstance. And barbarism must ultimately triumph."

Bill: So concludes "Beyond the Black River," a story that might almost be REH's thesis on his philosophy of civilization. It is a story that introduces new elements to Conan's world, demonstrating again how flexible and expandable REH's Hyborian blueprint was even after sixteen complete short (and not so short) stories and a novel. But it also maintains a continuity with what has come before, giving us perilous adventure with supernatural antagonists and, of course, Conan being Conan.

Howard: I think it builds nicely on what we've seen before. As it happens, though, it's not exactly a great introduction to Conan himself, or even the Hyborian Age… It's very different from the preceding Conan stories, feeling very much like a tale of Indian warfare, and Conan himself, while busy doing incredible things, is almost a secondary character.
Read the complete exchange here.
Bill and Howard's previous Conan re-reads include:
"The Hyborian Age"
"The Phoenix on the Sword"
"The Tower of the Elephant"
"Queen of the Black Coast"
"Black Colossus"
"Rogues in the House"
"The Devil in Iron"
"The People of the Black Circle"
The Hour of the Dragon
See all of our Conan coverage here.