Best of the Small Magazines: The Digest Enthusiast #11, Pulp Modern: Tech Noir, and Weird Fiction Review #9
Best of the Small Magazines: The Digest Enthusiast #11, Pulp Modern: Tech Noir, and Weird Fiction Review #9
Covers by Rick McCollum, Ran Scott, and Colin Nitta
One of the great pleasures of the science fiction and fantasy genre is the fine selection of small magazines, covering a wide range of specialty interests. It's only the sheer size of SFF fandom that allows these magazines to exist, and for like-minded communities to form around them. Here's a few of my recent favorites.
The Digest Enthusiast was founded by Arkay Olgar in 2014, and has been published every six months by Larque Press since. It's now edited by Richard Krauss, who does a fine job, and in fact issues have been getting bigger and more ambitious every year. Book Eleven, cover dated January 2020, is a whopping 159 pages in full color, and they look gorgeous.
The Digest Enthusiast is dedicated to the world of 20th Century digest magazines, and this issue includes a lengthy feature on Astounding by Ward Smith, Black Gate blogger Steve Carper looks at the time when the cover to Journey to Murder was accidentally overprinted on Terror by Twilight in 1945, and Richard Krauss pens a 32-page retropsective and checklist of one of the best known pulps editors in the 1930s and 1940s, a man who edited more than 70 publications and bought two millions words a month, in "Leo Margulies: Giant of the Digests." The issue also contains interviews with writer and artist Janice Law, writer Paul D. Marks, and Manhunt editor Jeff Vorzimmer, plus fiction by Joe Wehrle, Vince Nowell, Sr., and John Kuharik.
The Digest Enthusiast interiors, rich with high-detail scans of magazine covers on nearly every page, greatly benefit from the full-color treatment. Here's a few samples.
[Click the images for magazine-sized versions.]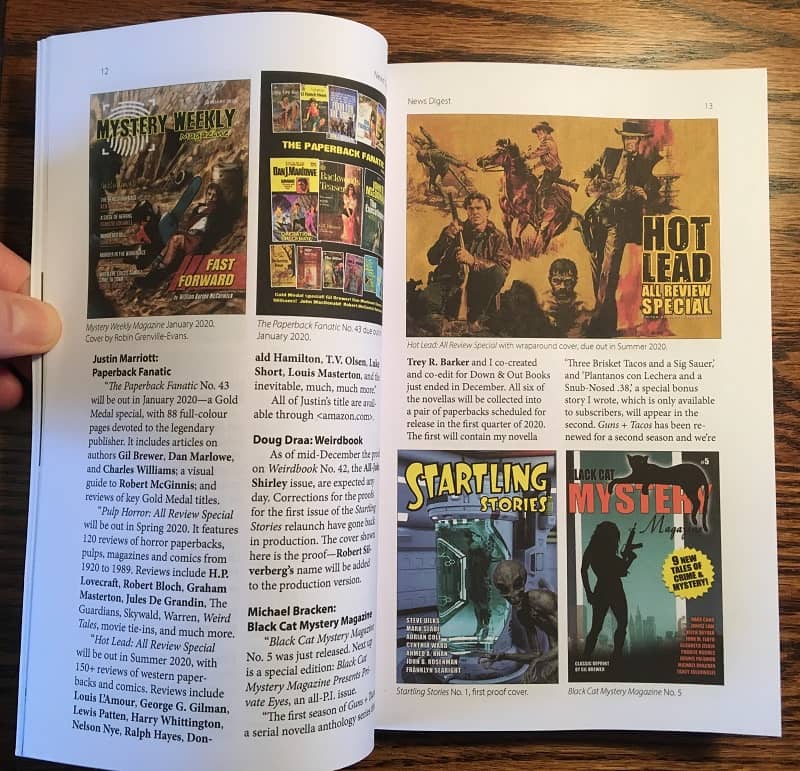 The 16-page News Digest column is essential reading for anyone interested in recent genre magazines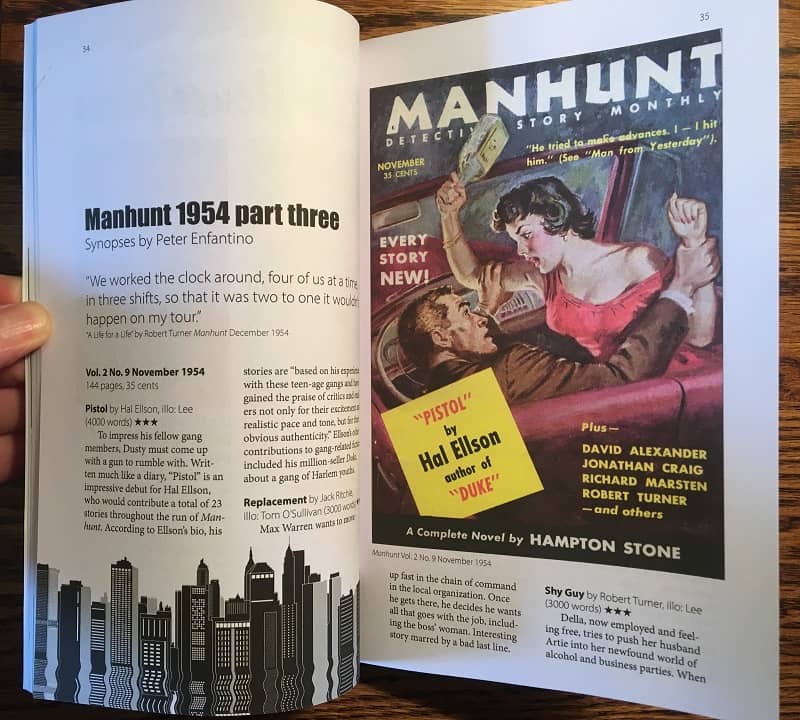 Peter Enfantino's entertaining Manhunt column reviews every issue of the 50s Detective Story Monthly, year by year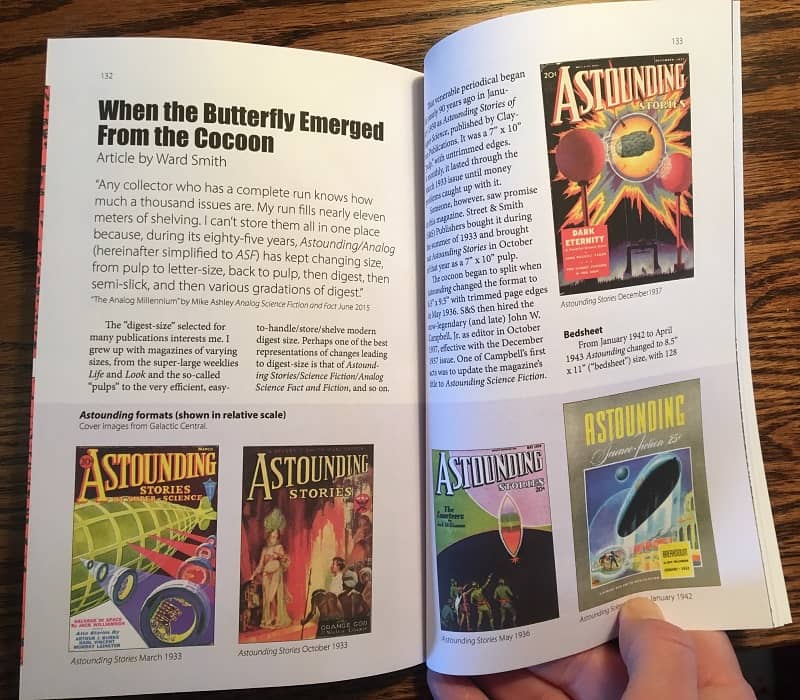 Ward Smith looks at 1,000 issues of Astounding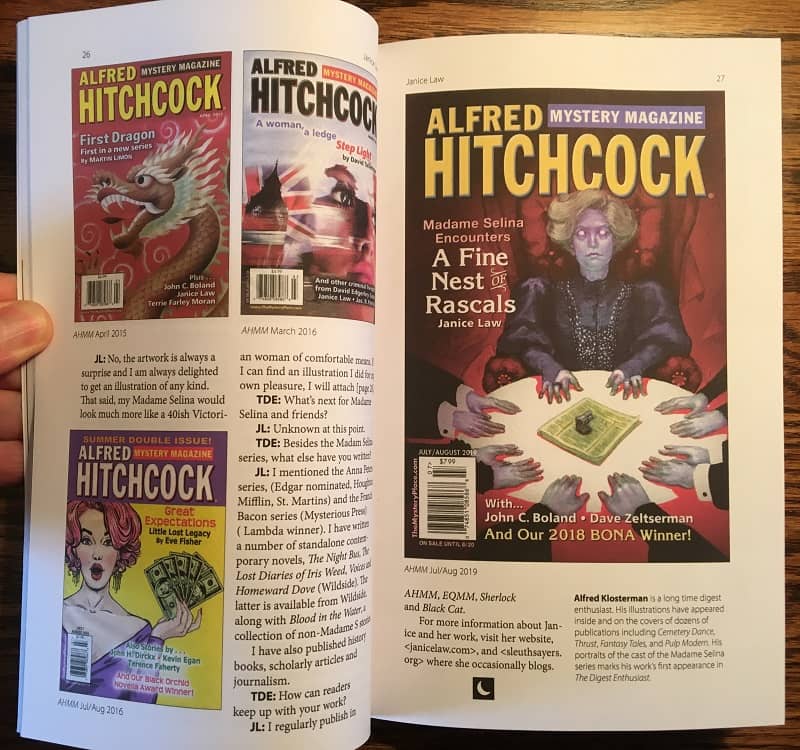 Richard Krauss interviews prolific Alfred Hitchcock writer Janice Law
Our previous coverage of The Digest Enthusiast includes:
The Digest Enthusiast #2 Now on Sale (August 2015)
The Digest Enthusiast #4 Now Available (June 2016)
The Digest Enthusiast #5 Now Available (March 2017)
The Digest Enthusiast #6 Now Available (July 2017)
Get all the details at the magazine's website here.
Larque Press also publishes Pulp Modern, a small press fiction magazine with an emphasis on, you guessed it, modern pulp stories. It is edited by Alec Cizak; Richard Krauss is Art Director, which keeps things all in the family. I've purchased a few issues over the years, most recently the Summer 2019 issue, which I haven't read yet.
Pulp Modern, Summer 2019. Cover by Rick McCollum
Pulp Modern has joined forces with Switchblade magazine to produce Pulp Modern: Tech Noir, an all-fiction special issue published in October 2019. Here's the issue description.
The future's so bleak, we got to throw it some shade! Pulp Modern teams up with the premiere crime fiction journal, Switchblade, to bring you Tech Noir, a special edition loaded with nine science fiction stories chosen by guest editor Scotch Rutherford. Featuring contributions by the hottest independent writers today, including Tom Barlow, C.W. Blackwell, Deborah L. Davitt, Angelique Fawns, Nils Gilbertson, J.D. Graves, Zakariah Johnson, Jo Perry, and Don Stoll. Alec Cizak provides chief editing duties. Richard Krauss continues his outstanding work as art director. And Ran Scott delivers cover-to-cover illustrations to help make this a must-have for fans of science fiction everywhere.
Pulp Modern: Tech Noir is 131 pages, priced at $6.99 in paperback and $2.99 in digital formats. Here's the TOC, and the first page of Alec Cizak's editorial.
Read more at the Larque press website.
Lastly we come to one of my long-time favorite small press magazines, Weird Fiction Review, edited by S.T. Joshi and published by Centipede Press. Weird Fiction Review is one of the most professionally produced and packaged magazines on the market, from any publisher, and browsing it is always a pleasure.
In keeping with its history of pop-culture parodies (issue #3 had a Mad Magazine cover), issue #9 skillfully recreates the cover of Fantastic Four #1, starring Caitlin R. Kiernan, Stephen Graham Jones, Laird Barron, and Victor LaValle. Here's a few screenshots from the interior.
WFR is expensive (the latest issue has a cover price of $35, though it's still available from the publisher for just $22), but you certainly get what you pay for. WFR #9 is over 400 pages, and should keep you occupied for a few weeks.

WFR is published annually right around the beginning of the year, and has been ever since 2011. Sadly, I haven't seen a 2020 issue yet; I hope #9 isn't the last one.
Here' the issue description from the Centipede Press website.
The Weird Fiction Review is an annual periodical devoted to the study of weird and supernatural fiction. It is edited by S.T. Joshi. This ninth issue contains fiction, poetry, and reviews from leading writers and promising newcomers. This issue features fiction by Caitl'n R. Kiernan, Laird Barron, Victor LaValle, Stephen Graham Jones, Scott Bradfield and others, and articles by Stefan Dziemianowicz (an illustrated history of Gnome Press), Adam Groves (on surrealist horror novels), John C. Tibbetts (on Marjorie Bowen), as well as verse and other essays and fiction. The feature of the issue is Chad Hensley's outstanding article on H.R. Giger-inspired Alien toys. The front and back cover, and inside covers, are by artist Colin Nitta. The list price on this item is $35 and it is on sale for $22.

EDITION INFORMATION

Edited by S.T. Joshi
Lengthy interview with David Mitchell.
History of the small press: Gnome Press by Stefan Dziemianowicz.
Several new essays and stories.
Sewn paperback.
Over 400 pages.
Original book price: $35.
Book size 6 × 9 inches.
Published January 2019.
978-1-61347-236-1.
PRICING: Weird Fiction Review #9. Sewn paperback: $22.
And here's our previous coverage.
Weird Fiction Review, and its Doppelganger (2011)
Weird Fiction Review 3 (2013)
Weird Fiction Review #4 Now on Sale (2014)
Weird Fiction Review #5 Now on Sale (2015)
Weird Fiction Review #6 Now on Sale (2016)
Weird Fiction Review #7 Now on Sale (2016)
Copies of issue #9 are still available from Centipede Press.
See all our recent magazine coverage here.