The Digest Enthusiast #2 Now on Sale
The Digest Enthusiast #2 Now on Sale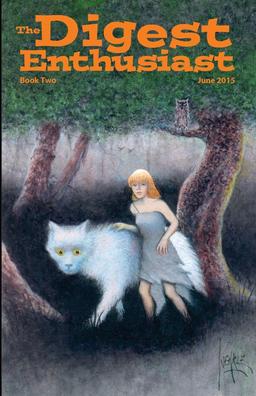 I love a lot of aspects of the fantasy and science fiction genres — books, movies, TV shows, comics, conventions, board games, video games. But it was digest magazines like Analog, Asimov's, and F&SF that first brought me into the field, and which formed the heart of the genre for me. It was in the pages of those magazines that I first discovered my favorite authors, and was exposed to the news, reviews, interviews, art and gossip that gradually taught me just how rich the field was — and taught me to love it.
I share this experience with a lot of older fans, and that's why you see so many reviews of old digest magazines like Galaxy, Venture, Amazing and Fantastic here at Black Gate. It's not just that they contain great old fiction, but because the magazines are so vital to the history of the field. (And, let's face it, because of the great cover art.) SF, fantasy and mystery digests are inexpensive and easy to collect, and at every decent-sized convention or trade show, there's sure to be a few fans selling, buying, and swapping digest magazines.
So I was delighted to see the first issue of The Digest Enthusiast in January of this year. The debut issue was 116 pages and packed with articles on Galaxy, protective sleeves, Walter Gibson's The Big Story, and much more, including interviews with F&SF editor Gordon Van Gelder, Phyllis Galde, editor and publisher of Fate magazine, and more.
But before I could get around to ordering it, the second issue arrived — and this one's even bigger. Weighing it at a whopping 151 pages, it contains articles on Borderline, the Astounding Trading Cards, The Mysterious Traveler Magazine, H.L Gold's Beyond Fantasy Fiction, Archie Comics Digests, and much more. There's also reviews of current magazines, including Monster! #15, Asimov's July 2015, and the July issue of Analog. There's even four pieces of original short fiction!
Needless to say, I ordered a copy of the second issue as soon as it was available. It arrived yesterday, and I'm thoroughly enjoying it. I especially appreciated the reviews of current digests, which I found well written and enthusiastic. Here's Rudolph Schmidt on Black Gate blogger Derek Kunsken's novella "Pollen From a Future Harvest," in the July issue of Asimov's.
Derek Kunsken's novella "Pollen From a Future Harvest" is both the issue's final story and my favorite. One of Kunsken's lines actually describes it quite nicely, "It was astonishing and humbling, like looking at a work of art possessed of dizzying complexity." Although highly engaging, it's not a light read, a tale with a little of everything — murder mystery, espionage, romance, politics and enough thought-provoking concepts to keep most any SF reader happy.

For example communication with the vegetable intelligences: "The intelligences themselves had a series of stomata on their chests that opened and closed, releasing chemical signals that traveled in nearly straight lines through the rarefied atmosphere, to smell receptors on their companions. Some thousand scents made up their vocabulary.
Here's the complete Table of Contents:
Interviews
Gary Lovisi: Gryphon Books, Paperback Parade, Sherlock Holmes
Steve Darnall: Nostalgia Digest, Those Were the Days, Radio's Golden Age
Robert Lopresti: Alfred Hitchcock, Ellery Queen, Mike Shayne
Articles
Borderline (James Dean & Vampira, L. Ron Hubbard) by Tom Brinkmann
Astounding Trading Cards
The Mysterious Traveler Magazine (Robert Arthur and David Kogan)
The Italian Mister No Digest Comics by Joe Wehrle, Jr.
H.L Gold's Beyond Fantasy Fiction by Joe Wehrle, Jr.
Australia's Action and Leisure Pulp Crime Digests by Gary Lovisi
Archie Comics Digests By the Numbers by Matthew Turcotte
Reviews
Monster! #15 edited by Timothy Paxton & Steve Fenton
Shanks on Crime by Robert Lopresti
Pulp Crime Digests by Gary Lovisi
Asimov's July 2015 edited by Sheila Williams
Big Fiction #7 edited by Heather Jacobs
Dead Weight by Frank Kane
Paperback Parade #88 edited by Gary Lovisi
Analog #1000 edited by Trevor Quachri
Fiction
"Passenger for the Night Train" by Joe Wehrle, Jr.
"Sweet and Sour" by D.D. Ploog
"Painesville" by Richard Krauss
"In the Fight for His Life" by John Kuharik
Artwork
Joe Wehrle, Jr. (cover & illustrations)
Brad Foster (gag cartoon)
Andrew Goldfarb (illustrations)
Michael Neno (illustrations)
D.D. Ploog (photo art)
Bob Vojtko (gag cartoons)
The magazine is clearly produced by people who share my love of digests old and new, and they clearly aim for a wide audience. It's even introduced me to a few new digests! Editor Arkay Olgar says in his introduction:
We've expanded our page count to ~150 pages and intend to settle there in future editions. Our goal is to provide a mix of crime, fantasy, science fiction, supernatural and comics content each outing. Things may skew a little in one direction or another, but the intent is to touch on every category, every time.
But you don't need to be a grizzled old fan to enjoy The Digest Enthusiast. Many of the articles are geared towards those new to the hobby. Whether you're a long time collector or just someone curious about what's new in digests today, you'll find it fascinating and entertaining. My verdict: Highly recommended.
The Digest Enthusiast is edited by Arkay Olgar and published, I dunno, roughly every six months? by Larrque Press. Issue #2 was published in June 21, 2015. It is 151 pages, priced at $8.99. There is no digital edition. The cover is by Joe Wehrle, Jr.
Copies are available directly through Barnes & Noble, Amazon.com, and at their website.
See our August Fantasy Magazine Rack here, and all of our recent magazine coverage here.