Weird Fiction Review #4 Now on Sale
Weird Fiction Review #4 Now on Sale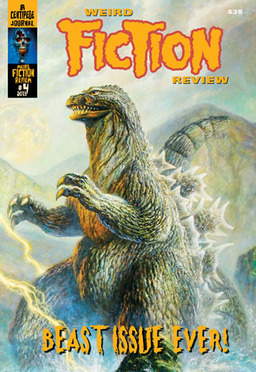 While I was wandering around the Dealer's Room at the World Fantasy Convention, I spotted this little gem on Greg Ketter's table. It's the fourth issue of Weird Fiction Review, S.T. Joshi's annual magazine devoted to the study of weird and supernatural fiction. And yeah, that's our boy Godzilla on the cover.
Joshi has a rep as a serious scholar of weird fiction and he's edited numerous collections and anthologies, including the brand new The Madness of Cthulhu, The Dark Eidolon and Other Fantasies by Clark Ashton Smith, and the long-running magazine Lovecraft Studies. But the thing that's surprised me about Weird Fiction Review is the delightful sense of whimsy it exhibits, especially with cover art. The cover of the previous issue, for example, featured Mad magazine poster child Alfred E. Neuman with Cthulhu tentacles. That's some serious satiric genius right there.
The massive fourth issue contains fiction from J.C. Hemphill, Lynne Jamneck, Donald Tyson, Mark Fuller Dillon, Michael Kelly, Clint Smith, Michael Washburn, and a classic reprint by Nigel Dennis. The cover is by Bob Eggleton (click the image at left for the glorious wrap-around version.)
There's also some terrific articles — John Butler contributes a lengthy (30-page) review of The New Monster Magazines and a retrospective of E.C. artist Jack Davis, Jason V. Brock looks at "Forrest J. Ackerman: Fan Zero," there's a lengthy interview with Patrick McGrath, there's an 8-page full-color gallery of art by Bob Eggleton, plus regular columns by Danel Olson and John Pelan, and much more, including poetry, and reviews.
The only serious drawback, in fact, is the price: $35. Like almost everything Centipede publishes, it has a limited print run (500 copies.) However, it is available through Amazon at a 45% discount (for $19.17).
Here's the complete Table of Contents:
"Rare breeds," short fiction by J.C. Hemphill
"Linguistica Obscura," short fiction by Lynne Jamneck
HPL and WHH: Ships in the Night, essay by Sam Gafford
"Stranger on a Bus," short fiction by Donald Tyson
"The Pukes," classic short story by Nigel Dennis
The Twilight Zone: American Alien-Nation, article by Christopher Cappelluti
"The Vast Impatience of the Night," fiction by Mark Fuller Dillon
Halsey and the Padré: a Fourteen-Year Old's Perspective on Henry S. Whitehead, article by David Goudsward
Wales and the Weird Tale, article by Mark Howard Jones
Heh, Heh, it's Jack Davis, a look at the classic E.C. illustrator by John Butler
"This Red Night," fiction by Michael Kelly
"The Tell-Tale offal," fiction by Clint Smith
The Haunted Wood: Algernon Blackwood's Canadian Stories, article by James Goho
Artist portfolio: eight pages of stunning full-color work by Bob Eggleton!
The New Monster Magazines, article by John Butler
Forrest J. Ackerman: Fan Zero, article by Jason V. Brock
"An Offer You Can't Refuse," fiction by Michael Washburn
Dennis Etchison's The Dark Country: After Bradbury, article by Simon MacCulloch
Through Haunted Minds: an interview with Patrick McGarth, by Danel Olson
Casket Letters, the gothic year in review by Danel Olson
Forgotten Masters of the Weird Tale," John Pelan talks about Edmund Snell
And here's a pair of sample pages from John Butler's The New Monster Magazines: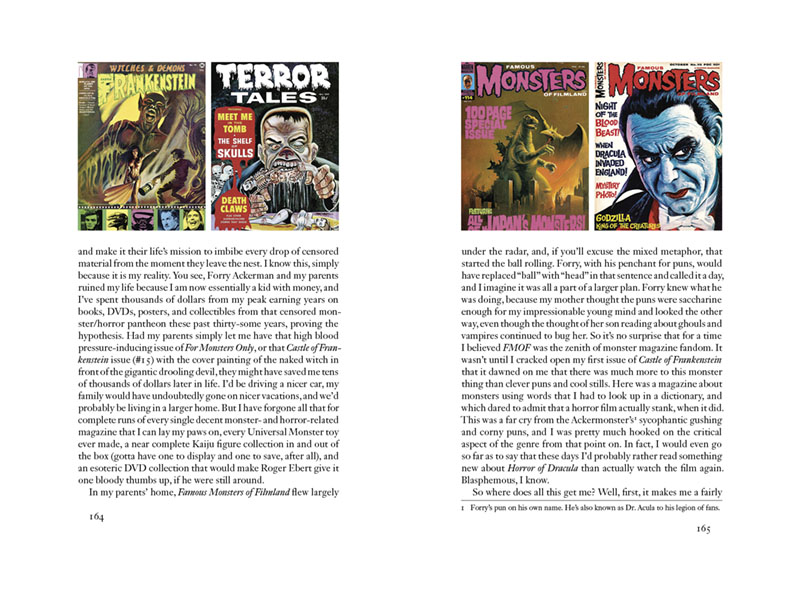 So far, the magazine has more or less stuck to its annual publication schedule. We covered two previous issues, WFR 1 and WFR 3.
Weird Fiction Review 4 was edited by S.T. Joshi and published by Centipede Press on May 13, 2014 (cover dated 2013). The issue is printed on high quality paper with lots of color. It is 271 pages, priced at $35 for the sewn trade paperback, and limited to 500 copies. The cover is by Bob Eggleton. Get more detail and order copies at Centipede Press.