New Treasures: The Elementals by Michael McDowell
New Treasures: The Elementals by Michael McDowell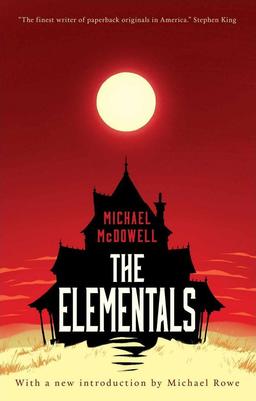 I spent only four days at the World Fantasy Convention in Washington D.C. last weekend, but I picked up enough new books to fuel a few months of New Treasures. It was extremely rewarding just to spend a few minutes at each booth in the Dealers Room, perusing the handsome titles on display. I was familiar with many of the various publishers, of course, but more than a few — like the amazing Hippocampus Press, whom I talked about on Friday — were new to me, and discovering all of their titles at once, I felt like a kid in a candy store.
That was the case with the impressive Valancourt Books, who describe themselves as "an independent small press specializing in the rediscovery of rare, neglected, and out-of-print fiction." The team behind the table was very friendly and enthusiastic, but I remember almost nothing of our conversation because I was so taken with their wide range of horror titles. I'll have a lot more to say about their catalog in a future post, but for now I want to highlight the first book I picked up, a gorgeous reprint of Michael McDowell's 1981 mass market paperback The Elementals.
After a bizarre and disturbing incident at the funeral of matriarch Marian Savage, the McCray and Savage families look forward to a restful and relaxing summer at Beldame, on Alabama's Gulf Coast, where three Victorian houses loom over the shimmering beach. Two of the houses are habitable, while the third is slowly and mysteriously being buried beneath an enormous dune of blindingly white sand. But though long uninhabited, the third house is not empty. Inside, something deadly lies in wait. Something that has terrified Dauphin Savage and Luker McCray since they were boys and which still haunts their nightmares. Something horrific that may be responsible for several terrible and unexplained deaths years earlier — and is now ready to kill again…
A haunted house story unlike any other, Michael McDowell's The Elementals (1981) was one of the finest novels to come out of the horror publishing explosion of the 1970s and '80s. Though best known for his screenplays for Tim Burton's Beetlejuice and The Nightmare Before Christmas, McDowell is now being rediscovered as one of the best modern horror writers and a master of Southern Gothic literature. This edition of McDowell's masterpiece of terror features a new introduction by award-winning horror author Michael Rowe. McDowell's first novel, the grisly and darkly comic The Amulet (1979), is also available from Valancourt Books.
The Stephen King quote at the top of the cover (calling McDowell "The finest writer of paperback originals in America") is a fine endorsement, but truthfully it was the cover and back-cover text that captured my attention.
The Elementals was published by Valancourt Books on June 17, 2014. It is 219 pages, priced at $15.99 in trade paperback or $7.99 for the digital edition. The cover is by M.S. Corley.