Future Treasures: The Madness of Cthulhu, edited by S.T. Joshi
Future Treasures: The Madness of Cthulhu, edited by S.T. Joshi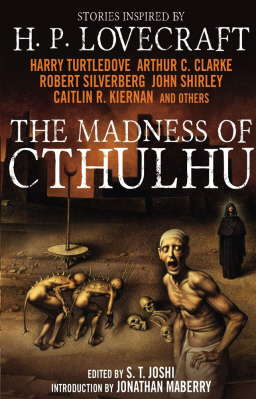 With all the recent discussion we've had on collecting H.P. Lovecraft, I thought S.T. Joshi's latest Mythos-inspired anthology The Madness of Cthulhu, due to be released next month, might be of interest. It's certainly got my attention.
The Madness of Cthulhu collects fourteen new tales — and two reprints — inspired by Lovecraft's masterpiece At the Mountains of Madness. Authors include Arthur C. Clarke, Robert Silverberg, Caitlin R. Kiernan, John Shirley, and Harry Turtledove.
According to Joshi's blog, this is the first of two volumes, with the second to be released Summer 2015. This volume is introduced by Jonathan Maberry. Here's the book description:
Sixteen stories inspired by the 20th century's great master of horror, H.P. Lovecraft, and his acknowledged masterpiece, At the Mountains of Madness, in which an expedition to the desolation of Antarctica discovers evidence of an ancient ruin built by horrific creatures at first thought long-dead, until death strikes the group. All but two of the stories are original to this edition, and those reprints are long-lost works by science fiction masters Arthur C. Clarke and Robert Silverberg.
The Madness of Cthulhu, Volume One will be published by Titan Books on October 7, 2014. It is 304 pages, priced at $15.95 in trade paperback and $9.99 for the digital version. I can't find a cover credit, but it sure looks like John Jude Palencar (click for bigger version).
See all of our recent New Treasures here.