Horror of the Highest Kind: A Review of The Weird
Horror of the Highest Kind: A Review of The Weird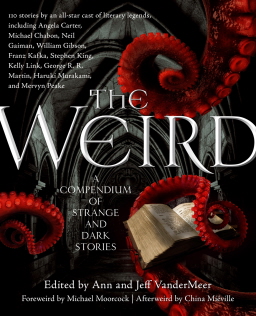 I've just finished the largest book I've ever read: The Weird: A Compendium of Strange and Dark Stories, edited by Ann and Jeff VanderMeer.
This massive tome comes in at a whopping 1126 double-columned pages. The weight, length, and scope of this massive paperback give you the sense that you're reading some old Bible! This being the case, I think The Weird should probably be referenced in the coming years as the Bible of twentieth (and early twenty first) century weird stories.
But what exactly is the weird? What sort of stories fit in this genre? As the foreweird contributor Michael Moorcock and the afterweird contributor China Miéville seem to agree, it's a bit hard to categorize. Surprise, surprise.
For myself, I've often associated the genre term "weird" with a certain kind of horror, a horror of the highest kind that leaves you with a feeling of unease. (This is actually fairly close to what Moorcock and Miéville both seem to gesture at.)
The VanderMeers' anthology seeks to make a case that the weird is more than just one slice of horror: it covers a vast array of examples, from the typical horror and ghost stories all the way to the absurd and dark fantasy. Thus the spread of stories within The Weird are quite sundry.
But this book can also be viewed as a Who's Who of the greatest weird writers of the past one hundred years or so. Included are those authors whom many will immediately associate with the weird: H. P. Lovecraft, Algernon Blackwood, and Clark Ashton Smith, as well as others who were active in the vaunted days of the early pulps, such as F. Marion Crawford.
But the VanderMeers also include in The Weird some of the most well-known and greatest horror authors of the past century, such as Robert Aickman, Clive Barker, Laird Barron, Robert Bloch, Ramsey Campbell, Dennis Etchison, Thomas Ligotti, and of course Stephen King. One can also find stories from many of the century's greatest writers from across the genres of science fiction and fantasy, such as Ray Bradbury, Michael Chabon, Harlan Ellison, Neil Gaiman, William Gibson, Caitlín Kiernan, Margo Lanagan, Kelly Link, China Miéville, and Lucius Shepard.
Some may even seem a bit odd, given the type of stories they're best known for. For example Mervyn Peake — known primarily for his Gormenghast "fantasy" trilogy — has a weird story within, along with George R. R. Martin — his famous "Sandkings" — who is of course more well-known nowadays for his fantasy work as well.
I found the inclusion of existentialist or absurdist writers encompassed very interesting, writers like Franz Kafka, Jorge Luis Borges, and Haruki Murakami. I had never really thought of these sorts of writers as part of the weird before.
But perhaps the boldest thing about this book (beyond its sheer size!) is the attempt to show how weird literature is not merely an Anglo hobbyhorse, but a truly international phenomenon. There are multiple stories that have been translated into English from various places throughout the world.
So The Weird: A Compendium of Strange and Dark Stories is huge book with a vast array of stories included under the rubric of weird. That being the case, I doubt anyone will be thrilled with every story within. For example, I personally found most of the translated works to be difficult to get through. It seemed to me that these works did not carry over their thoughts very well from their original language, which is to be expected to some degree, I guess.
Also, I would not recommend reading this anthology the way I attempted: from beginning to end. An anthology of this size seems to me better suited to being parsed out in bits and pieces. I often had to lay the book down for days or weeks before returning to it — something I rarely do with a book once I've started it.
However, I do recommend this book if you are into the darker side of SF & F. As I've tried to communicate, there's more than just horror within. There are a variety of stories that should be very familiar to SF & F readers, which, when taken together, show themselves to have a common undercurrent or frisson that was perhaps there all along.
Also notable, I found the small intros added by Ann and Jeff VanderMeer at the beginning of each story to be very insightful and helpful.
I have one small, but very sharp, quibble about one author who was not included, though. In my mind T. E. D. Klein is one of the greatest masters of the weird in the twentieth century. I think it's a shame that not even one of his short stories made this anthology. However, given the size of this volume, I'm sure that the VanderMeers couldn't include every author or story that they wanted to.
The Weird: A Compendium of Strange and Dark Stories was published by Tor on May 8, 2012. It contains 110 stories and comes in at 1152 total pages. It's priced at $22.49 in paperback and $14.99 for the digital edition.