New Treasures: Sword & Mythos, edited by Silvia Moreno-Garcia and Paula R. Stiles
New Treasures: Sword & Mythos, edited by Silvia Moreno-Garcia and Paula R. Stiles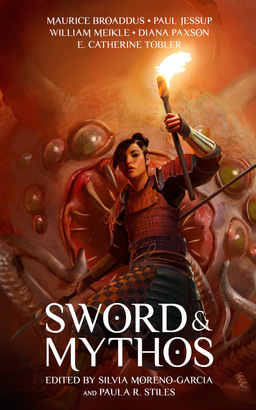 Innsmouth Free Press has done some really terrific work recently, including the groundbreaking anthologies Future Lovecraft (2011) and Historical Lovecraft (2011), and the splendid Innsmouth Magazine (which we discussed here).
The Editor-in-Chief of Innsmouth Free Press, Paula R. Stiles, may be familiar to Black Gate readers as the author of the dark fantasy featuring the Queen of Hell, "Roundelay," in Black Gate 15. With her latest anthology, Sword & Mythos, Stiles and her co-editor Silvia Moreno-Garcia have assembled another dynamite collection of stories, this one featuring sword & sorcery heroes and heroines coming face-to-face with monstrosities out of the Cthulhu Mythos.
The Blades of Heroes Clash Against the Darkest Sorcery

Aztec warriors ready for battle, intent on conquering a neighboring tribe, but different gods protect the Matlazinca. For Arthur Pendragon, the dream of Camelot has ended. What remains is a nightmarish battle against his own son, who is not quite human.

Master Yue, the great swordsman, sets off to discover what happened to a hamlet that was mysteriously abandoned. He finds evil. Sunsorrow, the ancient dreaming sword, pried from the heart of the glass god, yearns for Carcosa.

Fifteen writers, drawing inspiration from the pulp sub-genres of sword and sorcery and the Cthulhu Mythos, seed stories of adventure, of darkness, of magic and monstrosities. From Africa to realms of neverwhere, here is heroic fantasy with a twist.
Sword & Mythos was published by Innsmouth Free Press on May 1, 2014. It is 315 pages, priced at $15 in trade paperback and $5 for the digital edition. The cover is by Nacho Molina Parra. Order a copy or get more details at the Innsmouth Free Press website.