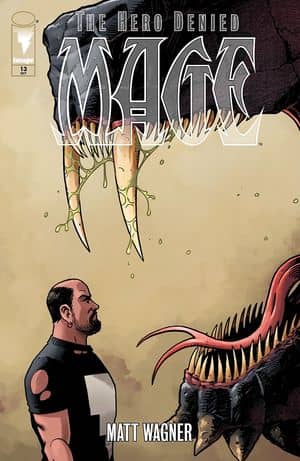 "Remember, Kevin, in the world of magic … things aren't always as they seem!"
That's a line from Mirth in this latest issue. This time, I'll talk about what we see in this issue (spoilers), as well as what I think is really going on (double spoilers).
So, it opens with Mirth appearing before Kevin and Miranda, telling them that his power has been greatly reduced as Kevin's power has grown. All he can do at this point is guide them to the Umbra Sprite's lair and advise them along the way.
Meanwhile, Magda and Hugo are still wandering through the Umbra Sprite's lair when they are approached by one of the Gracklethorns. This one is taken out rather easily with a can of magic hairspray. And by "taken out," I mean killed, because Magda tells her son that they have to hide the body before they move on. They choose to hide in a closet and re-think their strategy, but the closet door that Magda opens leads into a vast cavern complex.
Back to Kevin and Mirth, with two pages of dialogue that I think gives away the game. Kevin mentions that Mirth's hair has gone from white to black again, assuming that he has finally recovered from being trapped in a bank teller machine way back in the first series. Mirth mentions that the bandages that cover his legs (or specifically the spaces where his legs once were) are now also covering his arms, as he's acquired new scars. He then ridicules Kevin for thinking that his one bat-strike against the Umbra Sprite in the second volume could have done anything more than annoy it.
Eventually, Mirth is able to dispel the illusion that hides the Umbra Sprite's tower. Kevin manages to defeat a two-headed acid-spewing dragon and then Kevin, Mirth, and Miranda make their way into the cavern at the base of the tower. Of course, the caverns that they enter at the bottom of the tower look similar to the caverns that Magda and Hugo enter near the top of the tower, implying that they'll meet each other somewhere in these caverns, probably next issue. It's also significant that we see the imp hiding behind a rock, observing Kevin, Mirth, and Miranda.
The issue ends with Karol Gracklethorn, working in a rescue mission in her human guise, being approached by a one-legged hippie who announces that he is the Fisher King and that he knows she's been looking for him. And that's the issue.
---