Future Treasures: The Brotherhood of the Wheel by R. S. Belcher
Future Treasures: The Brotherhood of the Wheel by R. S. Belcher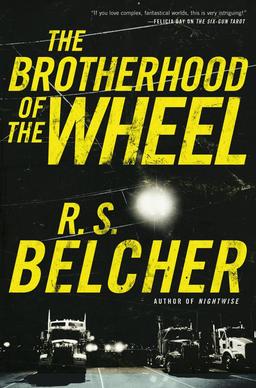 R. S. Belcher's previous novels include two acclaimed weird westerns set in the town of Golgotha, The Six-Gun Tarot and The Shotgun Arcana, and an urban fantasy that explores a gritty occult underworld, Nightwise.
His latest is the opening volume in a new urban fantasy about a mysterious society of truckers known only as The Brotherhood of The Wheel. It's available in hardcover from Tor Books next week.
In 1119 A.D., a group of nine crusaders became known as the Poor Fellow-Soldiers of Christ and of the Temple of Solomon–a militant monastic order charged with protecting pilgrims and caravans traveling on the roads to and from the Holy Land. In time, the Knights Templar would grow in power and, ultimately, be laid low. But a small offshoot of the Templars endure and have returned to the order's original mission: to defend the roads of the world and guard those who travel on them.

Theirs is a secret line of knights: truckers, bikers, taxi hacks, state troopers, bus drivers, RV gypsies — any of the folks who live and work on the asphalt arteries of America. They call themselves the Brotherhood of the Wheel.

Jimmy Aussapile is one such knight. He's driving a big rig down South when a promise to a ghostly hitchhiker sets him on a quest to find out the terrible truth behind a string of children gone missing all across the country. The road leads him to Lovina Hewitt, a skeptical Louisiana State Police investigator working the same case and, eventually, to a forgotten town that's not on any map — and to the secret behind the eerie Black-Eyed Kids said to prowl the highways.
The Brotherhood of the Wheel will be published by Tor Books on March 1, 2016. It is 384 pages, priced at $27.99 in hardcover and $14.99 for the digital edition. See all of our coverage of the best upcoming fantasy here.