New Treasures: The Shotgun Arcana by R. S. Belcher
New Treasures: The Shotgun Arcana by R. S. Belcher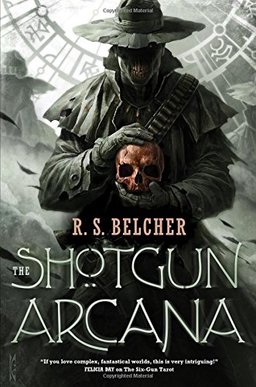 We covered R.S. Belcher's first Golgotha novel, The Six-Gun Tarot, in April, as part of my review of the current crop of Weird Westerns. Now Belcher returns to the bustling frontier town of Golgotha, Nevada, a place that hides more than its fair share of unnatural secrets, in The Shotgun Arcana.
Don't know much about this R. S. Belcher fellow. He doesn't have a website, and his only other publications are two short stories that appeared in Star Trek: Strange New Worlds 9 and Deep Cuts.  A background check on the Black Gate supercomputer reveals that he runs Cosmic Castle, a comic book shop in Roanoke, Virginia, and that Tor.com interviewed him in October. That's enough to make him alright in our book.
1870. A haven for the blessed and the damned, including a fallen angel, a mad scientist, a pirate queen, and a deputy who is kin to coyotes, Golgotha has come through many nightmarish trials, but now an army of thirty-two outlaws, lunatics, serial killers, and cannibals are converging on the town, drawn by a grisly relic that dates back to the Donner Party… and the dawn of humanity.

Sheriff Jon Highfather and his deputies already have their hands full dealing with train robbers, a mysterious series of brutal murders, and the usual outbreaks of weirdness. But with thirty-two of the most vicious killers on Earth riding into Golgotha in just a few day's time, the town and its people will be tested as never before — and some of them will never be the same.
The Shotgun Arcana was published by Tor Books on October 7, 2014. It is 400 pages, priced at $25.99 in hardcover and $12.99 for the digital version. The deliciously creepy cover is by Raymond Swanland.