Goth Chick News: Jerry Dandridge, Vampire Santa and the Best of Days of the Dead
Goth Chick News: Jerry Dandridge, Vampire Santa and the Best of Days of the Dead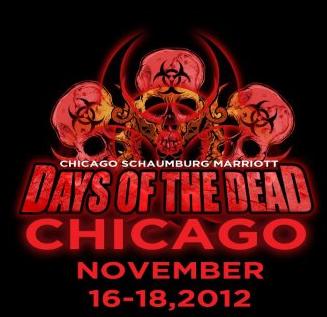 Being fully aware that my genre of choice tends to attract a rabid following that in some cases is actually rabid, I nonetheless underestimated what I would encounter when I was invited to a horror convention held in a very pedestrian suburb of Chicago.
I readily admit that Chicago isn't Los Angeles or even New Orleans when it comes to sub-cultures, though the elements that do exist are certainly worth wading into — if you know where to look.
But the suburbs… seriously?
Two weeks ago, Schaumburg, IL was the launch city for the Days of the Dead convention tour. Schaumburg, whose primary claim to fame is being the home to the second largest quantity of retail square footage under one roof.
True, the walking dead can often be observed there dragging their ragged-flannel-wearing selves between Aeropostale and Abercrombie, but that hardly seemed reason enough to situate a horror convention a couple of blocks away – in a Marriot Hotel, no less.
Days of the Dead is in its second year; a self-termed "by the fans, for the fans," convention which had its inaugural show in Indianapolis in July, 2011 and will be headed to Atlanta and LA, then ending in Indy in the coming months. The press kit explained:
Chock full of special events tailored just for the fans, an active after hours scene of horror themed parties, and a massive guest list of the hottest celebrity guests, artists, and up and coming independent film makers, Days of the Dead has already began rewriting the script and setting the bar for what a true horror convention weekend should look like.
And in this case, all located within walking distance of the USA's second largest monument to consumerism. This could be fun.
And it certainly was…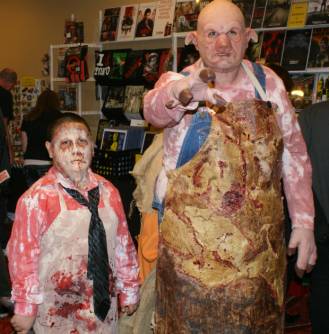 To start, Days of the Dead "Chicago" was to be the chosen location for a reunion that I just couldn't miss – the cast of the original 1985 classic, Fright Night.
Yes, that's right – I got a chance to be up close and personal with Chris Sarandon, who not only played the vampire Jerry Dandridge (reworked by Colin Farrell in the 2011 version) but also famously voiced Jack Skeleton in The Nightmare Before Christmas.
Not to mention playing the handsome and evil Prince Humperdinck in The Princess Bride, and being the man who was married to Susan Sarandon when she starred in Rocky Horror Picture Show.
Okay, I admit it. I was more than a little star struck in this case and once I stopped stuttering, got down to asking Sarandon a few questions about his upcoming film, the indy gothic thriller East of Acadia due out in early 2013.
GC: Can you tell me a bit about East of Acadia?
CS: It's a very ambitious story; it juggles a lot of characters, and is crammed with ideas; it's a kind of noir mystery, set in rural Maine that explores spiritual awakening, creativity and family dynamics.
The plot centers on a Brooklyn woman undergoing an emotional breakdown. After therapy fails to relieve her condition, she travels to a farm in Maine to reconnect with her past.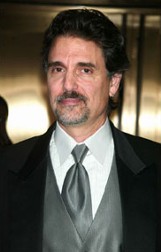 I had the pleasure of working with Ellen Albertini Dow on the project (GC: The 92-year-old perhaps best known for playing a feisty grandmother in "The Wedding Singer" and "Wedding Crashers.") and shooting in a setting that was equally spectacular and creepy.
GC: The Princess Bride just had its 25th anniversary. Did you participate in any special events to commemorate that milestone?
CS: Yes indeed it was fabulous! The movie was shown at the New York film festival and we did a Q&A after the screening. The audience was just wildly enthusiastic.
In fact I just got back from Austin, TX doing an introduction to a couple of different screenings of Princess Bride. So it's just amazing that there are fans everywhere.
GC: It is true that I'm hard pressed to know which of your evil characters I love most, but I have to go with Jerry Dandridge.
CS: That was a fun one wasn't it? That's another film with a great fan base. I had a lot fun doing a cameo in the remake as well. Colin did a fabulous job with Jerry. (GC: He has a cameo as the man who hits the Brewsters' car and is subsequently bitten by Jerry.)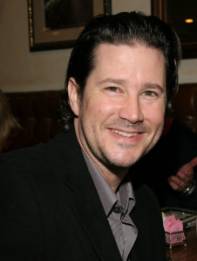 Mr. Sarandon then graciously signed a photo for me, while I did my best not to drool on it.
I then spent a few minutes with Sarandon's Fright Night co-star William Ragsdale, aka the vampire-plagued Charlie Brewster. He's staring in a new movie along with Russell Crowe and Mark Wahlberg called Broken City, due to hit theaters in January.
I actually had a "moment" when I saw the Broken City trailer during a recent trip to the theater; there was Ragsdale up on the big screen, and I got to whisper to anyone who would listen that "Psst, I met him you know."
Okay, whatever. Here's what Ragsdale had to say about Broken City:
It's about a scandal that took place in the 1980's between a charismatic mayor and a cop that he hired to spy on his wife. It's a twisted story for sure. I play Mark Wahlberg's lawyer defending him in a trumped up murder charge.
Sadly, I was so busy being enamored with Sarandon and Ragsdale that I missed my window of opportunity to chat with Amanda Bearse.
No matter. There are a lot of other people I would like to introduce you to.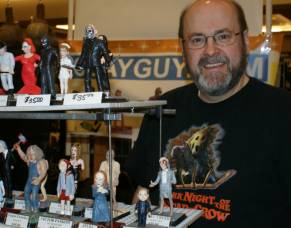 For instance…
The Clay Guy: Barry Crawford is the artist behind an amazing collection of detailed sculptures and there isn't a character in horror, comics or action movies that he hasn't created out of clay.
Each figurine is around six inches high and is available painted (from $35) as well as unpainted (from $20) on Barry's web site and shipping is available worldwide.
With the holidays just around the corner this could be about the coolest gift ever.
PS: Do a little surfing around Barry's offerings and you'll see that he has a few pieces uniquely suited to your friends with a pervy sense of humor.
Filthy Gorgeous: Run by special effects makeup artist Bonnie "Bones" White, Filthy Gorgeous is a collection of artistic and disturbing accessories of dead designs for your living self.
For instance, there's a lovely red silk flower for your lapel, with a rather lethal-looking spider making its way up a pedal, and gorgeous bone hair picks made from real bones.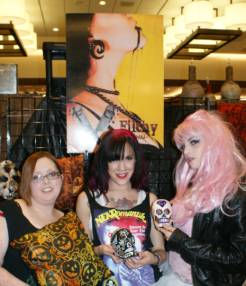 I was particularly fond of the interesting looking "statement" necklace that was actually a vertebra on a chain.
Yes, a bit of spine on a chain. I couldn't make this stuff up if I tried.
Bonnie also had a collection of Día de los Muertos pillows and accessories which were down right cute if you like skull art. You'll be intrigued, so have a peruse around her site. Just another source of fabulous holiday gift-giving if you ask me.
Blood Brood FX: It was the evil teddy bears that got me; as in stuffed bears with their faces replaced by coyote skulls, bobcat skulls and other disturbing skeletal structures. Oh and with googly, blood-shot eyes hanging out as well.
Mike Krohn is the owner of Blood Brood FX, is a custom prop and set designer who works with everyone from movie folks to people setting up home haunts and Halloween parties.
Yes, this man will design a tableau at your house that will cause the neighbor kids to need therapy for the rest of their lives.
Mike and his partners Randal Heike and Dean Hacker will also rent you what you need and ship it right to your door, including a selection of 6 foot tall coffins designed to look as though they were just dug up yesterday.
Blood Brood FX also has a collection of skulls for sale, all resin cast from the real thing and priced at around $20. The possibilities are endless and I for one have already put in my order for next October.
Vampire Santa: I dare you not to stop and stare if the jolly rotund fellow with the white beard and the red velvet overalls turned blacked out eyeballs on you and smiled a razor toothed grin in your direction.
After trying to walk past Sal Lizard (aka Vampire Santa) I found myself compelled to do just that, and Lizard will go down in my personal history as one of the most interesting people I have ever met.
Believe me, in my case that's saying a lot.
Owner of Laughing Zombie Productions, Sal Lizard is an actor (he has 13 titles to his credit including Young Blood: Evil Intentions which was released in September), producer, stand-up comic, and writer.  He's also a "legitimate" Santa, so his busy time of year runs from October – December.
In his child-friendly persona he's written a very charming and highly acclaimed book entitled Being Santa Claus: What I Learned About the True Meaning of Christmas.  Though it was only just released, Lizard has already been approached by a studio about the film rights.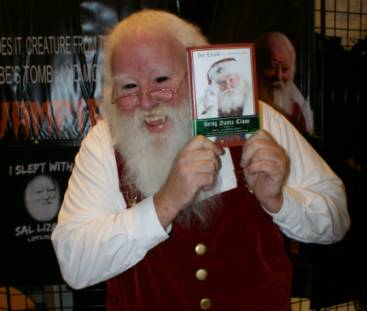 Nice. But it's Lizard's naughtier persona I was more interested in.
Lizard's movie resume is primarily focused horror films which caused endless questions about his December activities and how the two careers could comfortably co-exist.
It was then that Lizard decided perhaps they didn't necessarily have to. Out came the black-out contact lenses and the dental-quality fangs, and Vampire Santa arose.
As a standup comic, Lizard leaves the Santa suit at home and opts for a zombie getup instead. Why? Because believe it or not, there is little tolerance in comedy clubs for Santa working blue. Apparently zombies on the other hand, aren't expected to have moral compasses.
Ron Jeremy (kids, avert your eyes) apparently met Lizard at a convention where Lizard appeared as Vampire Santa. Afterwards Jeremy shook his hand and called him an "f-ing genius".
This was because normally, if an older gentleman with a long white beard and a Santa suite were to flirt with a woman, he'd be considered a dirty old man. But as Vampire Santa, Jeremy observed that the ladies clamored for Lizard's attention, asking him to bite them and generally get away with behavior that Santa himself would likely do time for. Wistfully, Jeremy mused that Lizard had found a way to make Santa sexy.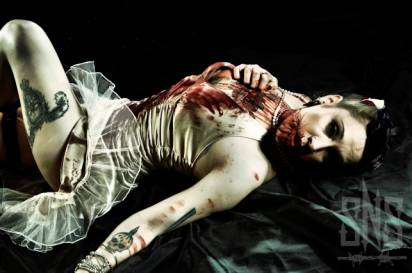 Lizard was utterly charming and disturbing in equal measures. Maybe it was the black eyes, or the real beard, or the fangs… I began to feel compelled to sit on his lap and ask him to bite my throat…
Moving on.
SNS Photo: Based in Chicago, SNS is home to photographer Jim Sorfleet who specializes in Boudoir, Glamour, and Artistic photography.
In an SNS photo shoot you'll be invited depict the darker side of your nature whether you are looking to capture the beauty (or the beast) that dwells within you.
SNS has also been the source of cover art for Gothic Noir magazine as well as Gothic Beauty and several book covers.
Jim's studio is the place to make your naughty photo fantasies come true and with that smooth, dark voice of his, it's easy to imagine he could bring out the best (or worst) in his subjects.  Shoot packages start at $125.
Joseph Spencer:  We couldn't exit an event like this without introducing you to a new author.  So everyone, meet Joe Spencer – Joe, meet everyone.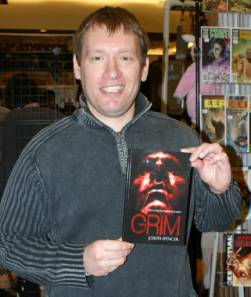 Joe is the author of Grim, a supernatural crime novel that sounds like a cross between Batman and Dexter.
When bodies start showing up again at an abandoned mental hospital with a notorious past, Detective Adam White fears Prairieville's most prolific slasher, The Reaper, has returned.

The blood trail leads to eccentric millionaire Heath Grim, a recluse with a face so scarred he never leaves home without his mask. Haunted by guilt from being tricked into murdering his lover during a tour of duty in Iraq and consumed with seeking vengeance for his murdered father, Grim agrees to be possessed by a mysterious supernatural entity, Abaddon, which harvests the souls of murderers.
Alright Joe, you've got our attention.  Grim is available at Amazon and Barnes and Nobel where the reviewers agree; it's a gory ride that's almost impossible to put down.
After reading this did you knock off some of your most hard-to-buy-for names on your holiday shopping list? If so, we're dying to hear about it. Post a comment or drop a line to sue@blackgate.com.