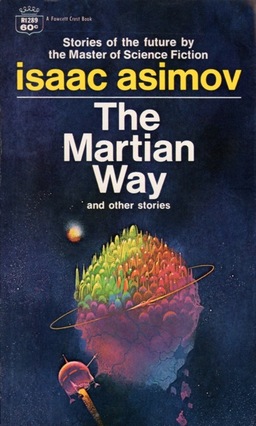 Last week we invited the readers of Black Gate to submit a one-sentence review of their all-time favorite novellas.
Every qualifying entry was entered into our contest to win one of Tor.com's March novella releases: The Devil You Know by K. J. Parker, Forest of Memory by Mary Robinette Kowal, or Pieces of Hate by Tim Lebbon.
We received a huge number of entries, covering a vast number of novellas both famous and obscure — proof once again (as if we needed it) that you folks are the most widely-read fantasy fans on the planet. At the bottom of this article we announce our three winners.
But first, we've selected ten of the best entries to share with you here. The very first one we received was from Jeff Rogers, who kicked things off with an old school classic from a science fiction master, Isaac Asimov:
Hard to beat the classics: "The Martian Way" by Asimov stands out for its elevation of rational, evidence-based thought; its portrayal of can-do attitude mixed with engineering know-how; and its foreshadowing of The Expanse in setting!
Nice one, Jeff. I re-read "The Martian Way" just a few months ago, and you're quite right… it put me in mind of The Expanse immediately.
Next up is Andrew Slater, who went really old school.
---