Profound Enough to Hurt: Amal El-Mohtar on Ken Liu's The Paper Menagerie and Other Stories
Profound Enough to Hurt: Amal El-Mohtar on Ken Liu's The Paper Menagerie and Other Stories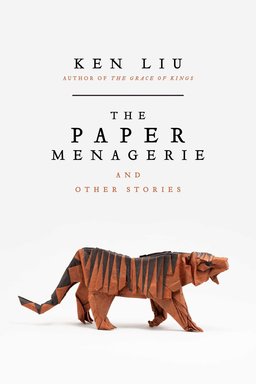 I read a lot of reviews (no, seriously. A lot. Of reviews). But, like everyone else, I have favorite reviewers — those who've guided me towards books I might not have selected on my own, or whose taste aligns splendidly well with (or is a heckuva lot better than) mine.
These days one of my go-to reviewers is Amal El-Mohtar, occasional Black Gate blogger and author — whose own short story "Madeleine" is a 2016 Nebula finalist for Best Short Story. Earlier this week Amal reviewed Ken Liu's new short story collection The Paper Menagerie for NPR… and had more to say about it on her website.
I have never been so moved by a collection of short fiction. I was at times afraid to read more. Every single story struck chords in me profound enough to hurt, whether about the love and cruelty of families; the melancholy of thermodynamics; the vicious unfairness of history and the humbling grace with which people endure its weight. Stories so often take us out of ourselves; Liu's stories went deep into my marrow, laying bare painful truths, meticulously slicing through the layers of pearl to find the grain of sand at its heart.
The Paper Menagerie and Other Stories was published by Saga Press on March 8, 2016. It is 464 pages, priced at $24.99 in hardcover and $7.99 for the digital version. That origami tiger on the cover was designed, folded and photographed by Quentin Trollip. We covered the complete contents here.
See all of our coverage of the best in new fantasy book here.