Clarkesworld 114 Now Available
Clarkesworld 114 Now Available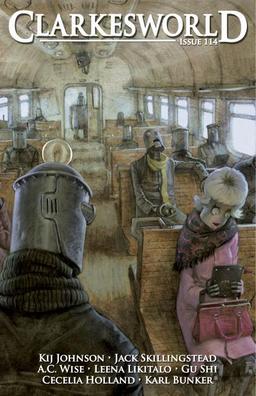 Clarkesworld is one of the most-reviewed genre magazines out there. So if you're too busy to read every issue, there are plenty of places that will point you towards the stories that might appeal to you most.
Take issue #114 for example. Just about everything in the TOC looks interesting, but I only have time for one story tonight. Enter Charles Payseur at Quick Sip Reviews, who's done an admirable job of profiling the entire issue. Sixty seconds is all it takes to determine that the story for me is Leena Likitalo's "The Governess with a Mechanical Womb."
This is a rather bleak story about humans on the edge of extinction and a young woman and her sister facing it under the care of a governess, under the care of something that used to be human but… isn't quite any longer. The story excels at building an isolated and strange atmosphere, which seems to be a theme in this month's issue, here rendered in a post-apocalypse where aliens have come to Earth and destroyed everything for reasons unknown, then started guarding [people] from themselves. It's an unsettling story, and one with a heavy sense of mystery… It's tense and it's effectively done, a story about sisters and about guardians and about control and love. It is incredibly dark, as well, and I will admit that the ending was rather difficult, a mix of love and change that left me a bit unsure what to think. But it's a neat piece with a great weirdness to it, and it's worth checking out.
Of course, your mileage will vary. Check out the complete review at Quick Sip Reviews here.
Neil Clarke highlights three Clarkesworld stories nominated for a Nebula in his editorial this issue.
That's a very impressive showing — congratulations to all the nominees, and editors Neil and Sean Wallace, on another great year!
In fact, if you're curious about what you missed in the magazine last year, why not try their 448-page Clarkesworld: Year Eight anthology? It collects all the stories from last year in one massive anthology, and the proceeds go towards supporting the magazine.
Issue #114 of Clarkesworld has five new stories by Jack Skillingstead, A.C. Wise, Leena Likitalo, Kij Johnson, and Gu Shi, and two reprints by Cecelia Holland, and Karl Bunker.
Short stories featured this issue are:
"Salvage Opportunity" by Jack Skillingstead
"Seven Cups of Coffee" by A.C. Wise
"The Governess with a Mechanical Womb" by Leena Likitalo
"Coyote Invents the Land of the Dead" by Kij Johnson
"Chimera" by Gu Shi, translated by S. Qiouyi Lu and Ken Liu
"The King of Norway" by Cecelia Holland (from Warriors, 2010)
"Gray Wings" by Karl Bunker (from Asimov's Science Fiction, April-May 2013)
And the non-fiction:
The Age of the Excessive Machine: Psychedelic SF, On-Screen and Off by Mark Cole
All the Words in the Sky: A Conversation with Charlie Jane Anders by Chris Urie
Another Word: How to Clothe A Character, Using Only Star Wars References by Genevieve Valentine
Editor's Desk: Nebula Nominees and Reader's Poll Winners by Neil Clarke
And three Podcasts:
Salvage Opportunity by Jack Skillingstead, read by James Patrick Kelly
Seven Cups of Coffee by A.C. Wise, read by Kate Baker
The Governess with a Mechanical Womb by Leena Likitalo, read by Kate Baker
We last covered Clarkesworld with Issue 113.
Clarkesworld is edited by Neil Clarke and Sean Wallace, and published by Wyrm Publishing. The contents are available for free online; individual issues can be purchased for $3.99, and monthly subscriptions are $2.99/month. A 6-month sub is $17.94, and the annual price is $35.88. Learn more and order individual issues at the magazine's website.
This issue's cover, "We are the robots," is by Waldemar Kazak.
See the complete issue here.
Our Mid-March Magazine Rack is here. See all of our recent fantasy magazine coverage here.