Future Treasures: The Grace of Kings by Ken Liu
Future Treasures: The Grace of Kings by Ken Liu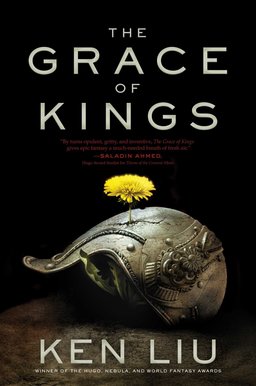 Saga Press is the brand new fantasy and science fiction imprint of Simon & Schuster. I met Navah Wolfe, the editor for Saga Press, at the World Fantasy convention last November, and she really impressed me with her enthusiasm and knowledge of the field.
Their first book, Ken Liu's debut novel The Grace of Kings, hits the stands in two weeks, and it looks like a major new heroic fantasy. In his short career Liu has won the Hugo, Nebula and World Fantasy Awards for his short fiction, and — based on the pre-release buzz — it seems apparent his first novel will make a major splash.
As the Empire Falls, A War Will Consume All in the Name of Justice.

The archipelago of Dara was once divided into seven kingdoms, with shifting alliances and constant battles — a tempest of diverse dialects and cultures. When a relentless king united the seven lands into one empire, some thought it would bring peace, an end to the turmoil. Instead, it brought stagnation and suffering, the anger of the gods, and, finally, a rebellion.

Kuni Garu is a wily bandit who is more concerned with finding his next drink and being well-liked than with the affairs of the empire, until he meets his match: Jia. This free-spirited daughter of a well-regarded family has a prophetic vision about Kuni that transcends his slovenly beginnings: He has greatness within him and may be the key to freeing Dara from a cruel despot. Driven by Jia's love and touched by the grace of the common people, Kuni sets out on an unlikely path to heroism — and perhaps a daring wager against the gods.
Mata Zyndu, the last son of a martyred duke, and the scion of a family of renowned warriors and generals, is favored by the gods. Standing seven and a half feet tall, broad-shouldered and double-pupiled, Mata looks like a hero out of ancient legends. Determined to reclaim his stolen heritage, Mata catches wind of a revolution — and begins a war that will start him on a journey to become the greatest warrior of his age.

When Mata and Kuni meet, they become fast friends. They are two men with the same goal and whose strengths complement each other. Calling one another brother, Kuni and Mata wage separate wars against vast conscripted armies and silk-draped airships in order to wrest Dara from cruelty as the empire's weaknesses are exploited.

Fans of intrigue, intimate plots, and action will find a new series to embrace in this highly anticipated debut by multiple award-winning author Ken Liu.
The Grace of Kings is the first novel in The Dandelion Dynasty. See the complete line up of upcoming Saga titles, including books from Genevieve Valentine and Lee Kelly, here.
The Grace of Kings will be published by Saga Press on April 7, 2015. It is 620 pages, priced at $27.99 in hardcover and $7.99 for the digital edition. The cover illustration is by Sam Weber.
See all of our upcoming fantasy releases here.