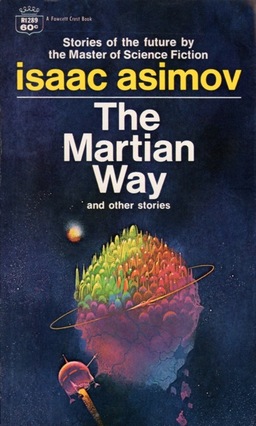 Last week we invited the readers of Black Gate to submit a one-sentence review of their all-time favorite novellas.
Every qualifying entry was entered into our contest to win one of Tor.com's March novella releases: The Devil You Know by K. J. Parker, Forest of Memory by Mary Robinette Kowal, or Pieces of Hate by Tim Lebbon.
We received a huge number of entries, covering a vast number of novellas both famous and obscure — proof once again (as if we needed it) that you folks are the most widely-read fantasy fans on the planet. At the bottom of this article we announce our three winners.
But first, we've selected ten of the best entries to share with you here. The very first one we received was from Jeff Rogers, who kicked things off with an old school classic from a science fiction master, Isaac Asimov:
Hard to beat the classics: "The Martian Way" by Asimov stands out for its elevation of rational, evidence-based thought; its portrayal of can-do attitude mixed with engineering know-how; and its foreshadowing of The Expanse in setting!
Nice one, Jeff. I re-read "The Martian Way" just a few months ago, and you're quite right… it put me in mind of The Expanse immediately.
Next up is Andrew Slater, who went really old school.
Like Gregor Samsa, we are all of us transforming, we have all of us felt ugly, absurd, lost, alienated, and powerless; Kafka's The Metamorphosis is brilliant, sardonic, and most of all: true.
Not all our contestants stuck to the classics. The most popular novella among our readers (by a pretty wide margin) was Daniel Polansky's The Builders. Folks just seemed to love describing it in one sentence!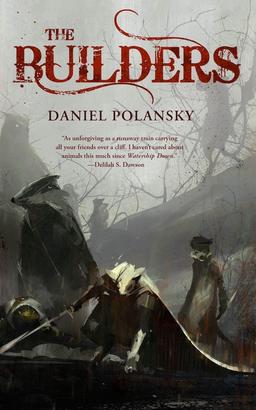 Here's three of the best examples, starting with Greg Hersom:
The Builders by Daniel Polansky is Beatrix Potter as directed by Sam Peckinpah.
And Rich Miller:
The Builders by Daniel Polansky: Redwall meets The Wild Bunch, and it all goes to hell.
And finally Lee Hunter.
The Builders is the best critter tale ever: Winnie the Pooh this ain't!
Wolf Bogacz picks Stephen King's 2009 novella written exclusively for the Amazon Kindle, and collected (in a heavily revised form) in his 2015 collection The Bazaar of Bad Dreams.
"Ur," by Stephen King, read it for understanding the danger in believing the future you want is in your power to design and live.
Margaret Kingsbury chooses Cat M. Valente's Locus Award-winning novella Six-Gun Snow White (which was recently re-released by Saga Press.)
Fairytale retelling Six-Gun Snow White by Catherynne M. Valente moves fast and hot like a bullet and ends with a whisper, a whisper that speaks to choice, to free agency, to self-fulfillment.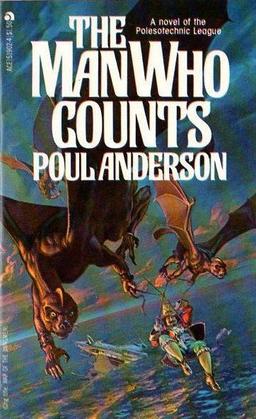 Richard Robinson, a man after my own heart, takes us back to 1958,  with a novella originally published in three installments in Astounding Science Fiction.
The Man Who Counts by Poul Anderson: Nicholas Van Rijn, head of Solar Spice & Liquor and one of the most richly-drawn characters in all of science fiction, finds himself stranded on a planet where, using a combination of threat and guile, he must stop a war in order to focus the natives on his own rescue.
Finally we come to Kai Ashante Wilson's The Sorcerer of the Wildeeps, another popular selection — and the first title in Tor.com's new novella line. Two of our entrants selected it as their favorite novella.
Here's Maria Haskins:
The Sorcerer of the Wildeeps, by Kai Ashante Wilson: Deliriously beautiful prose, dialogue somewhere between the street and heaven, and a story that reveals itself in mysterious glimpses and flashes of science fantasy.
And Dan Campbell:
Kai Ashante Wilson's The Sorcerer of the Wildeeps is enthralling, rich in one's senses and unabashedly full — with life, love, loss, regret, remembrance, and renewal.
Some great selections! Thanks to everyone who entered our contest.
Without further ado, we'd like to announce the winners of the March titles from Tor.com. Three winners were selected from the pool of eligible entries by the most reliable method known to modern science: D&D dice.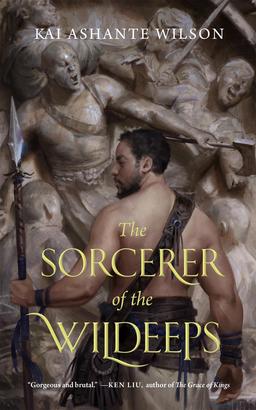 The winners are:
Andrew Slater – The Devil You Know by K. J. Parker
Rich Miller – Pieces of Hate by Tim Lebbon
Margaret Kingsbury – Forest of Memory by Mary Robinette Kowal
Congratulations all!
Once again, we'd like to thank Tor.com for providing the prizes and making the contest possible.
If you're interested in our previous efforts in this vein, you may enjoy:
Your Favorite Michael Moorcock Tale in One Sentence
The Best Nazi Science Fiction Stories in History
Who Should Be Writing the Cthulhu Mythos Today?
The Best One-Sentence Reviews of Edmond Hamilton
The Finest Sword & Sorcery
What Makes a True Hero?
The Best One-Paragraph D&D Adventures
The Best One-Sentence Reviews of Manly Wade Wellman
The Best One-Sentence Reviews of H.P. Lovecraft
The Perfect Lovecraft Team-Up
Stay tuned for another great contest, sponsored by Tor.com!