Who Should Be Writing the Cthulhu Mythos Today? Announcing the Winners of Weirder Shadows Over Innsmouth
Who Should Be Writing the Cthulhu Mythos Today? Announcing the Winners of Weirder Shadows Over Innsmouth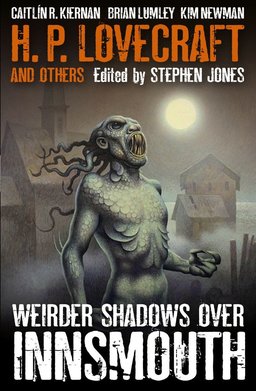 Three weeks ago we invited Black Gate readers to win a copy of the new Lovecraft-inspired anthology Weirder Shadows Over Innsmouth, by suggesting who should be writing Lovecraftian horror today.
To make it challenging, all entries had to be a single sentence.
We received a near-record number of entries for this contest, too many to print here. But I've selected 20 of the more interesting, and reproduced them below.
Two winners were randomly drawn from a list of all qualified entries, and those two lucky readers will both receive a copy of Stephen Jones's new horror anthology Weirder Shadows Over Innsmouth, on sale now in trade paperback and digital formats from Titan Books.
First up is Jeffery Helms:
The writer I would most like to see write a Lovecraftian horror story today is Scott Snyder, whose comic work has elements of history, folklore, myths, and horror.
That's certainly a fascinating choice. Scott Snyder's work on American Vampire and Batman has garnered a lot of attention, and I'd like to see what he could do in Lovecraft's back yard, too.
Henry Lopez has a more traditional suggestion:
I would most like to see Richard Tierney return to writing Lovecraftian horror, as I have greatly enjoyed his Simon the Magus tales, especially The Gardens of Lucullus and The Drums of Chaos.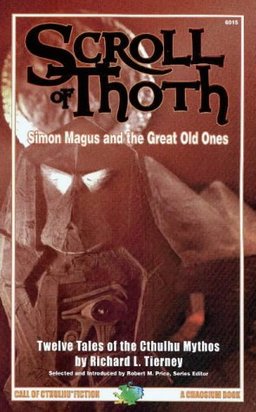 Richard Tierney's Simon the Magus tales were collected by Chaosium in a nearly 400-page trade paperback collection titled Scroll of Thoth back in 1999. It's a tricky book to track down these days, but well worth it if you can find a copy.
I certainly expected some unconventional entries, and Anthony Amenta did not disappoint.
I would like to nominate E. L. James for a Fifty Shades of Cthulhu Grey type piece… somebody needs to bring the sexy to the shoggoth.
Combining Lovecraft and E.L. James… now that's horror on a cosmic scale.
Daniel Davis brings us back to earth by suggesting a modern sword & sorcery master:
Charles Saunders' Imaro, with its worldlier take on Howard and the Hyborian age, was unique and compelling enough to make [me] wish he would do the same for Lovecraft.
Guillermo Cantu suggests the author of Mr. Monster and I Am Not a Serial Killer:
The writer I'd like to write a Lovecraftian tale is Dan Wells, as I think his weird-horror imagination would do Lovecraft justice.
While Thomas Parker takes us in a different direction:
I would like to see Cormac McCarthy write a Lovecraftian horror story because, as everyone knows, the first thing Cthulhu would do on taking over our dimension would be to eliminate all punctuation.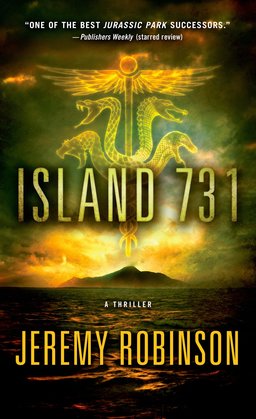 Indeed.
Donald Nutting makes one of the more intriguing suggestions on our list:
Island 731 by Jeremy Robinson had me curled up in the fetal position whimpering and scared for my life; if he can do that about a kaiju, then he could do it with Cthulhu.
To be honest, I wasn't previously familiar with Jeremy Robinson's novels… but now that I am, I really want to read them. And I think he's a fine selection.
Rich Miller takes us into another strange direction… but in a good way:
The author I'd most like to see write a Lovecraftian horror story is Terry Pratchett… I know he used Lovecraftian elements in some of his early Discworld books, but no stories that could be considered part of the Lovecraft mythos.
Keith Sloan would like to see Lovecraftian horror crossed with the English historical:
I'd like to see Bernard Cornwell just because.
And John Burt clearly likes Gone Girl:
My idea for a Cthulhu pastiche writer would be Gillian Flynn, as she seems to write about malevolent and creepy very well.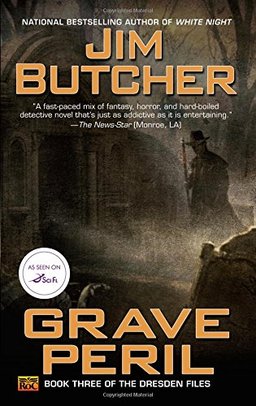 Okay, I think we're starting to wander into a weird area. Alan Ziebarth confirms it with his choice:
I would like to read a Lovecraftian tale written by Jonatham Lethem.
John J. Miller keeps it short and sweet:
Dean Koontz
At least Dean Koontz is a horror novelist. In fact, I find it hard to believe he hasn't done anything Lovecraftian already.
John Curtis takes us out of the horror section again… but not very far:
The writer I'd most like to write a Lovecraftian horror story today is… Jim Butcher.
While Caleb Rudd brings us right home again:
Put me in the running John. I would love to see a Lovecraft style story from Dan Simmons.
Here's Amy Harlib:
I'd love to see Ursula Le Guin bring her unique humanistic perspective to a Lovecraftian tale – would be rather refreshing!
I don't think I would have thought of Le Guin on my own… but the more I think about it, the more sense it makes.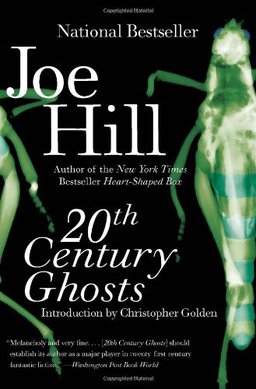 John McCollum suggests another bestselling author:
I'd like to read a Lovecraftian-style story by J.K. Rowling!
And Christopher & JoAnne Vitaliti offer up another fast-rising horror star:
I'd love for Joe Hill to write a Lovecraftian horror story, [as] I was enraptured by 20th Century Ghosts from start to finish — I haven't had that experience reading a single author collection in a long time.
Leland Eaves says what was on a lot of readers minds:
George RR Martin in a crossover with A Game of Thrones… The coming of the Old Ones is how he ends the series when it becomes increasingly clear he has no idea how to finish the darn thing.
It was good to see such a diverse range of selections — so diverse, in fact, that there was almost no consensus at all.
But one writer did stick out above the rest. Congratulations to the most popular writer in the Black Gate poll on Who Should Be Writing the Cthulhu Mythos Today — Howard Andrew Jones.
Here's J.A. Woods
Well, how about BG's own Howard Jones — could it get much cooler than Dabir and Asim matching wits and mettle with some cosmic monstrosity?
Michael J. Gall agrees:
I'd have to nominate my recent favorite, Howard Andrew Jones. I'm re-reading Desert of Souls right now, and he's definitely touched on some Lovecraftian stuff, but would love to see his heroes Dabir and Asim take some on!
Well, that was certainly a lot of fun. Thanks for all the great entries — you folks really know how to keep things interesting!
But it's time to announce the winners of a free copy of Weirder Shadows Over Innsmouth. Using the only truly random system known to modern Atomic Science (D&D dice), we selected two winners from all the eligible entries. And here they are:
Keith Sloan
John Burt
Congratulations to the winners! Once again, we'd like to thank Titan Books for providing the prizes and making the contest possible.
If you're interested in our previous efforts in this vein, you may enjoy:
The Best One-Sentence Reviews of Edmond Hamilton
The Finest Sword & Sorcery
What Makes a True Hero?
The Best One-Paragraph D&D Adventures
The Best One-Sentence Reviews of Manly Wade Wellman
The Best One-Sentence Reviews of H.P. Lovecraft
Weirder Shadows Over Innsmouth was published on January 27, 2015 by Titan Books. It is 480 pages, priced at $45.95 in trade paperback and $9.99 for the digital version.