Amazing Stories, March 1964: A Retro-Review
Amazing Stories, March 1964: A Retro-Review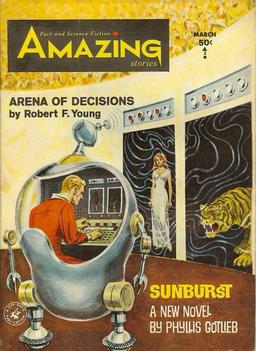 Here's a latish Cele Goldsmith issue… indeed, she became Cele Lalli with the August issue (and her tenure ended with the June 1965 issue). This one has a cover by Emsh for Robert F. Young's "Arena of Decisions." Interiors are by George Schelling and Virgil Finlay.
Norman Lobsenz' Editorial is about SFnal games, referring to Lewis Carroll's notion of Circular Billiards. In the book review column, The Spectroscope, a new reviewer is introduced: Lester del Rey. The column had missed one issue, with the January issue having been longtime reviewer S. E. Cotts' last. Curiously, del Rey lasted only one issue, though the Editorial implies a long run was coming. Robert Silverberg took over with the next issue – I don't know the story behind this. Del Rey did later have long runs at If and Analog doing review columns. In this issue he praises Simak's Way Station and (with reservations) Dean McLaughlin's The Fury from Earth, and he is quite negative about Heinlein's Glory Road.
The letter column features Jeff Rensch (wants to ditch the magazine's name), Jim Hawkins, Ricky Hautala, Georgia Covington, Michael L. Abraham, and Robert Lewis. Of those I know Hautala's name – he was a fairly prolific horror novelist in the '80s.
Ben Bova contributes the Science article, "The Time of Great Dying," which discusses the Cretaceous Extinction, summarizing the current theories and adding one of his own (the proliferation of grasses led to the extinction of the dinosaurs). Bova's summary is sensible and clear, but as with almost all such on this particular event, it can largely be thrown in the dustbin of history. (He does suggest a nearby supernova as a possibility, though.)
The fiction, then:
Sunburst (part one of three), by Phyllis Gotlieb (18500 words)
"Arena of Decisions," by Robert F. Young (6,800 words)
"Now is Forever," by Dobbin Thorpe (5,200 words)
"Jam for Christmas," by Vance Simonds (7,300 words)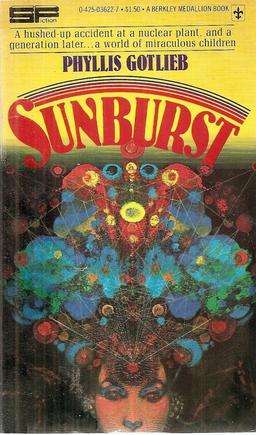 I've discussed Sunburst briefly before – it remains a novel I've not read. What I wrote, in discussing the May issue, with its conclusion, was:
Phyllis Gotlieb was born in 1926 in Toronto, and died in 2009. Sunburst was her first novel, and it has a good reputation, though I confess I've never read it (the theme (mutants as a result of a nuclear accident) doesn't thrill me, and one review I read, while praising Gotlieb's writing, suggested it was a bit creaky in today's terms as to the idea, and as to some other dodgy aspects). Gotlieb wrote a number of further novels, and a lot of poetry as well. She is a very significant figure in the history of Canadian SF. The Sunburst Award, for the best book-length work of Speculative Fiction by a Canadian each year, is named for this novel.
The least known of these writers is Vance Simonds, and his story is the least of those here. Simonds published three stories in the field, in 1963 and 1964, all of them for Amazing or Fantastic. "Jam for Christmas" is one of two featuring Everett O'Toole, a "telempath." In this story he's on the Moon, trying to help find out the Russian plans to jam a big Christmas TV special that will be broadcast from the Moon to the whole world. The story goes on for a way too long, and comes to a kind of obvious conclusion.
Robert F. Young was a regular in Goldsmith's magazines. His career in the field began in 1953 and continued until his death in 1986. He was a very prolific writer of short fiction, though he only published four novels, all late in his career. "Arena of Decisions" is openly based on Frank Stockton's famous story "The Lady or the Tiger," with a bit of a twist at the end. Jaskar Prell is a tax collector ("taxfaxman" in Young's curious coinage) who has come to the planet-satrapy Ingcell. He falls in love with the beautiful Lady Bri-Laithe, daughter of the Satrap, but the planet is very jealous of its genetic purity, and marrying a man from another planet is forbidden.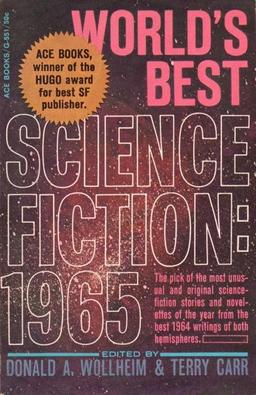 But Prell – a very nasty man (one feels that his profession is Young stacking the deck against any sympathy for him) – has a plan: Ingcell's laws call for people charged with a capital crime, if there is any doubt of their guilt, to face a random choice of two doors: one with a lady behind it, the other a tiger. If you choose the tiger, you get eaten. If you choose the lady, you marry her. So, simple: commit a capital crime, pick Bri-Laithe to be the lady behind the door, and use your profession to blackmail her father… all goes well, but there's a bit of a catch. The ending twist is a bit of a stretch in the way it's set up, but it works fairly well, anyway. Not a great story, but enjoyable enough.
Finally, a major story by a major writer. Wait a minute, you might say: Dobbin Thorpe? Who he? Well, Dobbin Thorpe was a pseudonym used by Thomas M. Disch for three early stories that appeared in Amazing and Fantastic. I have no idea why he used a pseudonym. He was a Goldsmith discovery: with Zelazny and Le Guin one of the really significant writers nurtured in her magazines, and many other Disch stories appeared in Amazing or Fantastic under his own name.
"Now is Forever" was probably Disch's first story to make a real splash. It was reprinted in the first Wollheim/Carr World's Best SF, under Disch's real name. ("Descending," later that year in Fantastic, is probably even more significant, and it was reprinted in Judith Merril's Year's Best.) "Now is Forever" considers a theme taken up by many writers, notably Damon Knight: the disastrous effects of a matter replicator on the economy, and indeed on humanity. It follows Charles Archold, a banker who has, of course, been ruined by the ability of anyone to make anything with a replicator (called a Reprostat here). He comes to his bank, talks with his old black janitor Lester Timburly, finds the place squatted in by nihilistic teens, is pressed to open the safe with all the money, as the teens dance and party and plan to die… Things come to a wholly plausible dark conclusion, with Charles' wife Nora and the janitor Lester and the teens and Charles himself all deluded in their own ways by the meaninglessness of this life of easy abundance. The story stumbles a bit towards the end, telling too much perhaps, but then twists the knife nicely at the close.
---
Rich Horton's last Retro-Review for us was the November 1971 and October 1972 issues of Analog. See all of his BG reviews here.