Future (Video Game) Treasures: Conan – Age of Exiles
Future (Video Game) Treasures: Conan – Age of Exiles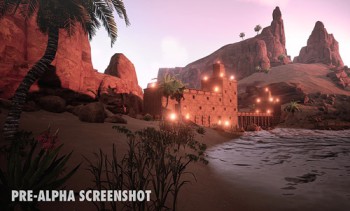 Funcom is the developer of the MMO Age of Conan – Unchained. AoC is the only MMO I ever played more than a few times and stuck with. I think it's an excellent game with a novel fighting system and superb graphics. It did a nice job of using the Conan world setting and I enjoyed playing it.
Sadly, as with most MMOs which aren't named World of Warcraft, it just doesn't have a ton of players. There were many times I would roam an area and only see one or two other characters. But it if you're looking to check out an MMO, I highly recommend it.
Well, Funcom is bringing Conan to PCs and consoles with Conan Exiles:
An open-world survival game in the brutal lands of Conan the Barbarian.

You are an exile, one of thousands cast out to fend for themselves in a barbaric wasteland swept by terrible sandstorms and besieged on every side by enemies. Here you must fight to survive, build and dominate.
Hungry, thirsty and alone, your very first battle is that against the harsh environment. Grow crops or hunt animals for food. Harvest resources to build weapons and tools. Build a shelter to survive. Ride across a vast world and explore alone, or band together with other players to build entire settlements and strongholds to withstand fierce invasions.
When strong enough, march forth into battle and wage war against your enemies as you fight to dominate the exiled lands. Sacrifice enemy players on the altars of the gods and shift the balance of power your way. Unleash your fury in savage, fast-paced combat and execute bloody and bone-crushing attacks that will see heads rolling and limbs flying.

Early Access on the PC coming summer 2016. Full launch on PC and console to follow.
Funcom wanted to make a survival game (Minecraft, Day Z) in the world of Conan. The player needs to harness resources and craft items to build a new country. The neighbors are less than thrilled and send armies to stomp out the newcomers. The Gods of Hyboria will play a large part and whom the player chooses to worship will impact how they play the game.
It's an online game with shared virtual worlds, as well as a single-player experience. There will be an open beta for PCs this summer.
I posted recently about the extremely successful kickstarter from Modiphius Games for their upcoming Robert E. Howard's Conan: Adventures In An Age Undreamed Of RPG. The new Conan RPG will include a sourcebook that ties in with Age of Conan. In the waning days of the kickstarter, the also announced that there will be a sourcebook related to Age of Exiles.
---
You can read Bob Byrne's 'The Public Life of Sherlock Holmes' column here at Black Gate every Monday morning.
He founded www.SolarPons.com, the only website dedicated to the 'Sherlock Holmes of Praed Street' and blogs about Holmes and other mystery matters at Almost Holmes.
His "The Adventure of the Parson's Son" is included in the largest collection of new Sherlock Holmes stories ever published. Surprisingly, they even let him back in for Volume IV!