Goth Chick News: Comics, Cosplay and Speed Dating — ComicCon Swings Into Chicago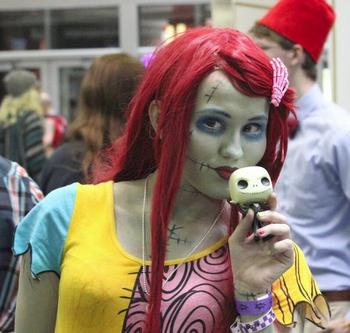 For one glorious weekend each summer, Chicago stops being The Windy City and instead becomes Metropolis. The urban crime rate takes a giddy plunge, not for lack of playing host to some fairly spectacular villains, but likely because the bad guys are too busy comparing breathable fabrics with their super hero arch-enemies.
Yes it's August – ComicCon time in the city…
Wizard World Chicago, commonly known as the Chicago ComicCon, is the annual bacchanalia of pop culture held at the fairly ginormous Donald E. Stephens Convention Center near O'Hare airport. The four day event is among the largest comic book convention in the United States, in third place for overall attendance behind only the New York ComicCon, and the granddaddy of all entertainment cons; ComicCon International in San Diego.
Chicago ComicCon consumed nearly the entire 840,000 sq/ft facility and though at this time, attendance numbers for the 2015 event have not been officially stated, local media estimates the participants at well over 100,000.
Originally showcasing comic books and related popular arts, the convention has expanded over the years to include a larger range of pop culture elements, such as professional wrestling, science fiction/fantasy, film/television, horror and animation.
In addition to an impressive array of vendors, ComicCon played host to a large, daily offering of programming and events such as, "Advanced Costuming and Armor," "Costumes + Playing = Cosplay," and "Legal Basics for Game Developers."