New Treasures: The Winter Long by Seanan McGuire
New Treasures: The Winter Long by Seanan McGuire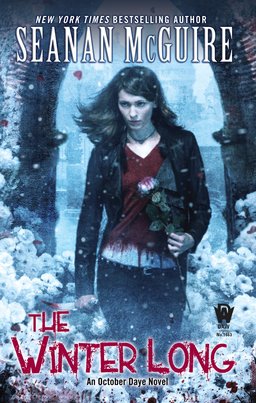 Seanan McGuire published her first novel, the urban fantasy/detective story Rosemary and Rue, on September 1, 2009, barely five years ago. In the last five years, she has come dangerously close to conquering the entire field.
To start with, she's produced seven additional novels in what's now known as the October Day series — including the latest, The Winter Long. In between she's also published three novels in her InCryptid series (with one more on the way.) Both series have put her on the New York Times bestseller list. Because 11 novels isn't enough in five years, she's also written five novels under her pseudonym Mira Grant, including the Newsflesh zombie trilogy and two novels in the new Parasitology trilogy, plus at least one standalone novel. I'm not sure how many novels that is in total, because I've lost count.
Blackout, the final Newsflash novel, received a 2013 Hugo Award nomination — and in fact, that year McGuire received a record five Hugo nominations, two for Grant and three under her own name. In 2010, she was awarded the John W. Campbell Award for Best New Writer at the 2010 World Science Fiction Convention. I'm telling you, this woman intends to conquer the entire genre, and she's perilously close. If you haven't been paying attention to Seanan McGuire, it's probably time to change that. Here's the compact blurb for her latest novel, The Winter Long.
Toby thought she understood her own past; she thought she knew the score.

She was wrong.

It's time to learn the truth.
The Winter Long was published by DAW Books on September 2, 2014. It is 358 pages, priced at $7.99 in paperback and $6.99 for the digital version. The cover is by the ubiquitous Chris McGrath.