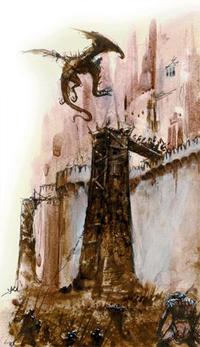 Welcome to Boxing Day. For many of us, this brings about the post-holiday dinner blues and bloating. As you chew on your cold leftover turkey leg and your congealed gravy, I offer you a list of fantasy land-approved activities to consider for warding off the blues, enjoying the winter scenery (should you have it) and working off some holiday pounds. To help you select an activity, I've even included a list of pros and cons!
Disclaimer: Neither the writer of this blog nor Black Gate can be held responsible for any legal, moral, personal or logistical penalties resulting from following any of the suggestions below. Should you find yourself seriously considering following any of these, we strongly suggest throwing on a Hitchcock marathon, re-reading all of Moorcock's works, or picking up a hobby, like making papier-mâché squirrels wearing tiny armor.
Lay Siege to Your Neighbor's Home
Difficult to do in a townhouse/apartment situation, but not impossible. Remember, the trick is to cut off their supply line. Consider first going for the water line (no toilets post-holiday meal will flush them out faster), and don't forget to bring pots to bang outside their home while they consider the direness of their situation.
PRO: You don't have to clean the banging pots, so you save some dish time!
CON: Everyone has cell phones, so cutting off their phone lines won't really work. That, and this is pretty annoying and illegal.
---