The Top 20 Black Gate Fiction Posts in April
The Top 20 Black Gate Fiction Posts in April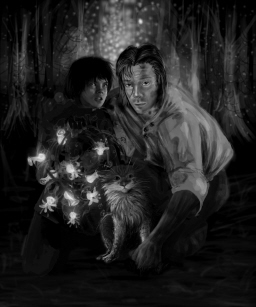 There's a new sheriff in town. And he has a cat.
Gallery Hunters Gloren Avericci and Yr Neh, last seen in "The Daughter's Dowry" (published here October 2012) and "The Sealord's Successor" (March 2013), accept a dangerous commission to investigate a deadly island in Aaron Bradford Starr's compelling fantasy mystery, "The Tea-Maker's Task," which vaulted to the very top of our fiction charts last month. Louis West at Tangent Online called it:
An entertaining, tongue-in-cheek fantasy… Their adventures take them from the rancid food of Burrow Deep Lane in the city of Ravanon to the workshop of a Tea-Making master then through the forests of Candelon, wherein lurks the Walker of the Woods, until they finally reach the ruined city of Vandelon. All the while, Gloren and the cat engage in constant, silent banter, much like two brothers or war buddies… I wanted more.
Steven H Silver's tale of the strange astral adventures of Hoggar the Cremator, "The Cremator's Tale," extended its run at the top of the charts, taking second place this month.
Next was Mark Rigney's adventure fantasy, "The Find," the second part of the tale of Gemen the Antiques Dealer.
Also making the list were exciting stories by Janet Morris and Chris Morris, Joe Bonadonna, Martha Wells, Peter Cakebread, E.E. Knight, Gregory Bierly, Dave Gross, Ryan Harvey, Jason E. Thummel, C.S.E. Cooney, Jon Sprunk, Michael Shea, Harry Connolly, John C. Hocking, Tara Cardinal and Alex Bledsoe, and John R. Fultz.
If you haven't sampled the free adventure fantasy stories offered through our Black Gate Online Fiction line, you're missing out. Here are the Top Twenty most-read stories in April.
The complete catalog of Black Gate Online Fiction, including new stories by Howard Andrew Jones, Peadar Ó Guilín, Judith Berman, David Evan Harris, Nina Kiriki Hoffman, Vera Nazarian, Vaughn Heppner, Mike Allen, and many others, is here.
The top fiction from March is here.