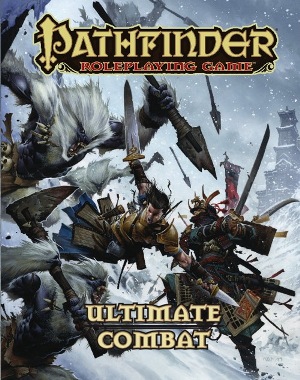 Ultimate… by Websters the definition [d] reads: the best or most extreme of its kind. Thus, Paizo entails that two of its creations for 2011 are the very pinnacle of gaming mechanics gold.
After spending two years in the Pathfinder universe and plumbing the depths of the system with the Pathfinder Core Rulebook and then the Advanced Player's Guide, I wasn't convinced that there was an obvious need for any further bulk supplementation of the system.
You see, this is the crux of 'old gamers', a belief that what they've pre-built into their own world is 'enough' and they can just coast on their own imagination thereafter. Now I'd never say this is a false statement, but with many Grognards, they fail to take into account that the more information you have, the better your personal worlds and systems will be.
Do you need to implement every detail of every supplement ever written? Absolutely not, but the opportunities involved in finding different wrinkles, classes, items, etc can only help to make a world richer for both players and game-masters alike.
This brings me to Paizo's two Ultimates, those being Magic and Combat. Now make no mistake, when Paizo chose the word Ultimate they weren't kidding around. These books are chocked full of the kind of stuff that truly needs unearthing.
---