Anne McCaffrey, April 1, 1926 – November 21, 2011
Anne McCaffrey, April 1, 1926 – November 21, 2011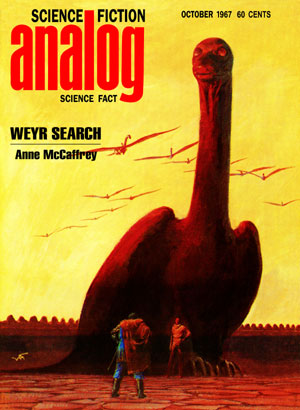 Anne McCaffrey, one of the most loved SF and fantasy writers of the 20th Century, died yesterday at her home in Ireland.
McCaffrey is probably best known for her Dragonriders of Pern novels, which began with the novella "Weyr Search" in Analog in October, 1967.
"Weyr Search" won the Hugo Award for Best Novella; its sequel "Dragonrider" (published in two parts in Analog in December 1967 and January 1968) was awarded the Nebula.  The two stories were collected as the first Pern novel Dragonflight, first published by Ballantine Books in July, 1968.
That was followed by an incredible 22 novels and two collections of short stories (some co-written with her son Todd), including The White Dragon (1978), the first hardcover SF novel to become a New York Times bestseller.
McCaffrey was a very prolific writer, with more than 100 books to her credit. Her first novel was Restoree (1967), and she had a real talent for series — including the Crystal Singer series, Freedom, Doona, Dinosaur Planet, Brain & Brawn Ship, Acorna, and many others. [I know — crazy, right? The only comparable modern author I can think of who has nearly this many popular series  is L. E. Modesitt.]
I recently bought a collection of vintage Analog magazines, and came across the one above, with the "Weyr Search" cover by John Schoenherr. It reminded me that those were the days when genre magazines could catapult you to the very peak of the profession, something far more rare today. McCaffrey had published only a handful of stories and her first novel (barely) when "Weyr Search" appeared… within a year she had won both the Hugo and Nebula, and published the first novel of a series that would make her a bestselling writer.
In addition to stellar sales, Anne McCaffrey was highly honored by fans and her fellow writers. She won the Robert A. Heinlein Award in 2007, became a SFWA Grand Master in 2005, and was inducted into the SF Hall of Fame in 2006.