Howard Andrew Jones on The Roots of Arabian Fantasy
Howard Andrew Jones on The Roots of Arabian Fantasy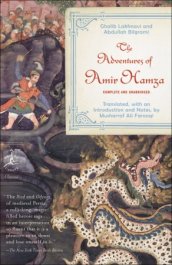 Black Gate Managing Editor Howard Andrew Jones, author of The Desert of Souls, knows a thing our two about Arabian fantasy — and excellent storytelling.
He was recently invited to be a guest blogger by our friends at SF Signal. The result is a fascinating post on the origins of Arabian Fantasy, the influence of Indian folklore, puzzle box stories, Aesop's Fables, Persian myth, and more more.
Anyone looking for pointers on excellent non-Western fantasy will find the entire article richly rewarding, including this fascinating tidbit:
The fantastic tales of Arabia might, sort of, begin with the 1001 Nights, but they certainly don't end there. Less well known in the west is The Adventures of Amir Hamza. This immense work was written by Ghalib Lakhnavi in 1871 — though that's not when it was created. Lakhnavi was just setting to paper the result of some thousand years of oral stories concerning the fictitious exploits of the Uncle of the prophet Mohammad — though that should in no way diminish what was a mammoth undertaking. Like the 1001 Nights, The Adventures of Amir Hamza brim with fantastic monsters, magic, and mayhem and romance. Within them, though, is a more obvious strain of Indian influence. It is currently available in one volume from Modern Library, painstakingly and lovingly translated/assembled by Musharraf Ali Farooqi.
The complete post is here.