Blogging Alex Raymond's Flash Gordon, Part Fourteen – "Power Men of Mongo"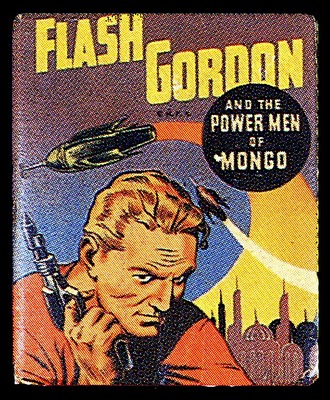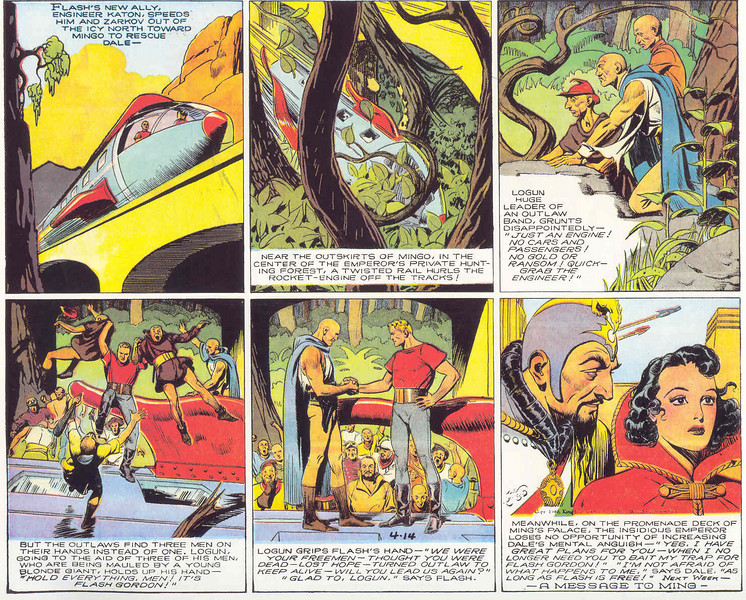 "Power Men of Mongo" was the fourteenth installment of Alex Raymond's Flash Gordon Sunday comic strip serial for King Features Syndicate. Originally published between April 14, 1940 and January 12, 1941, "Power Men of Mongo" picks up the storyline where the thirteenth installment, "The Ice Kingdom of Mongo" left off with Flash, Zarkov and Katon speeding by rocket-engine to Mingo City in a desperate attempt to rescue Dale. The rocket-engine is hijacked by Logun and the remnants of the Freemen who happily rejoin the battle to overthrow the Emperor of Mongo. They succeed in infiltrating the city, but one of the Freemen, Pital betrays Flash for the reward promised by Ming. The Emperor sets a trap to capture Flash and the Freemen when they meet in a warehouse at night. Dale starts a chemical fire in the warehouse to warn Flash of the danger. Ming leaves her to burn. Unable to remove her from the blazing warehouse, Flash settles for putting out the fire and then making a daring escape.
Flash successfully infiltrates Ming's royal guard and very nearly succeeds in rescuing Dale, but Ming outmaneuvers him. Hunted by the police, Flash is rescued by Katon who leads him to the underground electrical works where the Power Men of Mongo are employed. Ergon, head of the Lodge of the Power Men has already befriended Zarkov and is eager to have the Power Men join the rebellion against Ming. The Power Men cause a blackout in the palace during which Flash and Zarkov (disguised as Power Men) eventually succeed in rescuing Dale. It is interesting to note that Flash's Power Man outfit makes him look suspiciously like DC's superhero, The Flash. Zarkov is given more of a chance to show his heroism. A turning point comes when Flash finds many of his former Freemen working in Ming's munitions factory. Flash orchestrates a workers' revolt and has the men turn on their foremen and seize control of the factory.