Sneak peek at Black Gate 12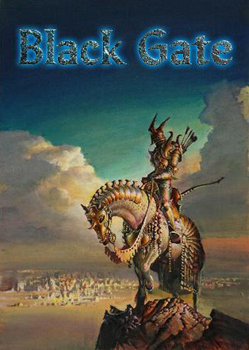 With the release of our new issue slated for July 7, we thought we'd give you some fiction excerpts and a look at the Table of Contents to tantalize your fantasy taste buds. James Enge's Morlock is back, and so are Martha Wells' wizard hunters, Giliead and Ilias. The redoubtable Dabir and Asim stalk into an all-new adventure courtesy of Howard Andrew Jones, and Kris the outrider from Black Gate 10 air-sails through another Ed Carmien tale. Joining these BG stalwarts are a host of new characters, freshly erupted from the minds of Todd McAulty, Constance Cooper, and John R. Fultz. And last but not least, we finally have the final Tumithak adventure, a fantasy classic from the late pulp writer Charles R. Tanner.
Excerpts from all of these are just a click away, along with first looks at all the great new art in BG 12 from the likes of Storn Cook, Mark Evans, John Kaufmann, Chuck Lukacs, Michael Vilardi, and John Woolley, plus some hints about the mountain of book and game reviews we have in store for you. So dive in, do some exploring, and get ready for the official BG 12 release on July 7.