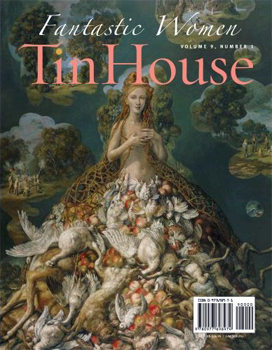 We at Tin House endeavor to widen the circle of lit. mag. readers, and to make extinct the preciousness and staid nature of journals past. That is our mission. Please lift your glasses in toast, and read on…
Thus proclaims the website for Tin House magazine, one of the more arch-literary venues to dip into the realms of the weird and fantastic in recent memory. Their thirty-third issue was devoted to "Fantastic Women" — a title guaranteed to attract the attention of Black Gate's resident short fiction guru, David Soyka. David braved the deep, unconventional, sometimes narratively challenged tales and found himself at turns frustratingly bewildered and pleasantly engaged. Some of the authoresses were new to him, others were old favorites.
So is the magazine ultimately worth investigating? And if so, which writers shined brightest in the Tin House literary starscape? Click on the link below and let David light the way.