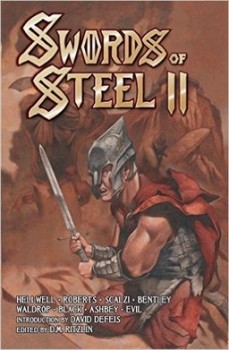 From its emergence out of the hard rock genre, heavy metal has drawn from the inspiration of swords & sorcery. "The Wizard" is the second track on what is considered the first metal album, the eponymous Black Sabbath. Uriah Heep upped the ante with its albums Demons and Wizards and The Magician's Birthday. Manowar's epic song "Battle Hymns," from the album of the same name, channeled all the blood and thunder of heroic fantasy into 6 minutes and 55 seconds. Behold:
Gone are the days, when freedom shone – now blood and steel meet bone
In the light of the battle's way, the sands of time will shake
How proud our soldiers stand, with mace and chain in hand
Sound of charge into glory ride, over the top of their vanquished pride
Other bands have gone as far as spinning songs directly from actual stories and novels. The Sword, for example, has Game of Thrones-inspired "To Take the Black," and Manilla Road drafted both the plot and title of of a Robert E. Howard story for their "Queen of the Black Coast."
The point is, metal and S&S have been fist in glove for many a year now. They have the same penchant for extremes — the big gestures not the subtle, small ones. The idea that heavy metal musicians could turn their love for S&S into prose makes perfect sense.
And that's exactly what D. M. Ritzlin has encouraged, starting with last year's Swords of Steel, an anthology of heroic fantasy written by members of heavy metal bands. While I gave it a mixed review, I was utterly sold on the idea. The authors' ardor was undeniable, even overwhelming weaknesses in some of the stories. Each story was illustrated with a work of hand-drawn lo-fi art that harks back to sketches on the backs of D&D character sheets and murals painted on the sides of vans. Flaws be damned, I enjoyed the book and was happy to learn that a second volume was being planned.
---