Metal on Metal: Swords of Steel edited by D.M. Ritzlin
Metal on Metal: Swords of Steel edited by D.M. Ritzlin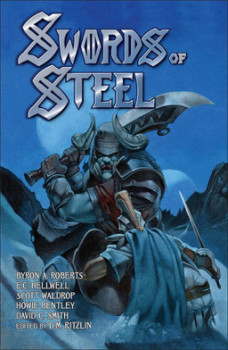 When John O'Neill posted a few weeks ago about Swords of Steel, edited by D.M. Ritzlin, I knew I had to read it. The hook was simple: swords & sorcery stories written by members of metal bands. Tons of heavy bands — Uriah Heep, Iron Maiden, Manowar, Metallica, Megadeth, to name several — have drawn on the themes of heroism, monster-fighting, and sorcery for lyrics and look. Sometimes they lift stuff directly from favorite authors, like the UK band called Conan, or Texas band The Sword with the song "Beyond the Black River."
When I read Tolkien I hear folk music in my head; when I read Karl Edward Wagner I hear Black Sabbath. So although I recognized the name of only one band represented in the collection, I was stoked to dive in. With an amazingly cool cover by Martin Hanford and its back cover claim that it's "NOT FOR WIMPS!," I was expecting great things from Swords of Steel. It came tantalizingly close.
Set in England during the reign of Elizabeth I,"Into the Dawn of Storms" by Byron A. Roberts (vocalist, Bal-Sagoth) gets the book off to a solid start. Captain Blackthorne is plagued with dreams of death and magic and seeks help from the legend-shrouded scholar, John Dee. It's billed as the first chapter in an ongoing saga and I'll be keeping my eyes open for Chapter Two.
From the author bio (and there's a nice one included for everybody), I learned that Roberts has developed a mulitverse that forms the foundation of his band's music. This story, with references to past exploits and multiple worlds, is set there as well.
"The Riddle Master" by Ernest Cunningham Hellwell (bassist, Hellwell) is one of the best stories in the collection but, sadly, not S&S at all. A nameless writer narrates his run-in and bet with a demon, made to ensure eternal fame.
James Ashbey's (drummer, Solstice) "The Mirror Beguiling" is the first straight S&S story completely set in a secondary world. A sorcerer sends an underling out into the wilds to secure the services of Ruga Hawkhand, a barbarian, and his company of warriors. The wizard needs an enemy slain and Hawkhand is happy to accept the task, though once he hits the road things take a turn for the strange.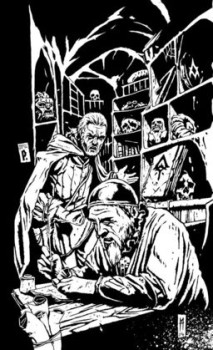 "All Will Be Righted on Samhain" is by Howie K. Bentley (guitarist/writer, Cauldron Born and Briton Rites) and S&S veteran, David C. Smith. It takes place in the wake of Boadicea's defeat at the hands of the Romans. Her daughter, Bunduica, summons the direst of supernatural forces to bring down bloody, bloody vengeance on the man who raped her and killed her mother. While I'm a fan of the period (see my recent review of Red Queen, White Queen), and though it is well written and contains several good, gruesome episodes, I didn't enjoy this story. The emotional hook of Bunduica's character is wasted as she is relegated to the background, and the dark and mythological Roman Briton setting doesn't mesh with more outre bits (e.g. a god gets high smoking away the essence of a goddess). Ultimately those flaws were insurmountable.
In "Headbanging Warriors," a violent little essay, Black Gate's own M. Harold Page artfully expounds on Germanic hordes and headbanging. It's a fun piece, and for mentioning Blind Guardian he gets a salute from me. They're a German metal band who have written an entire album about The Silmarillion (the AWESOME Nightfall in Middle-Earth) and two (TWO!) songs about Michael Moorcock's Tanelorn.
"Journey in Somnamblia" by Jean-Pierre Abboud (vocalist, Funeral Circle), presents us with a sorceress and several hired soldiers going up against the powerful wizards ruling the city of Weydan. It's short and a little unclear at times.
Scott Waldrop's (guitarist, Twisted Tower Dire and Walpyrgus) "Eve's Grave" is the most artistically ambitious story. The narrator, in search of mystical knowledge, visits the tombs of several long-dead powerful individuals, among them the bog-dwelling Miss Green Teeth and the Fool King. It all ends in the lyrics of a song attributed to Ebezura the Soothsayer of Tales. It reeks, wonderfully, of swamps and ancient graves. I wanted to like this story very much but it's too disjointed and unfocused. It rambles around too much and is never as tight as it should be.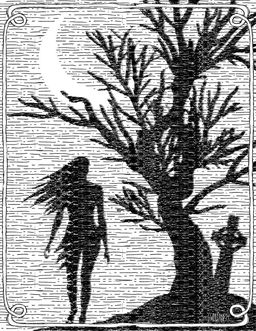 Howie K. Bentley returns with a short homage to Robert E. Howard's villainous Stygian in "Stygian Dusk and Black Lotus Powder: In the Tower of Thoth-Amon." The narrator ingests magically psychedelic powder and gives the reader a short tour of the the wizard's nightmarish domain.
"Blue Mistress" by Jeffrey Black (guitar, Gatekeeper; keyboards, Scythia) is great. Rough sailors at sea aboard the good ship Orphan find themselves debating what to do with the unconscious blue-skinned woman their newest shipmate has brought up from below the waves. During their debate a giant, tentacled monster appears. It's short and sweet, with a good funny ending.
Ritzlin saved the best story for last: "Vengeance of the Insane God" by Jason Tarpey (vocalist, Eternal Champion, Iron Age, Graven Rite). In ages past, barbarians settled an island, driving its original inhabitants underground. Relegated to the depths for a millenium, they are now preparing to loose their Insane God on the world. And in the middle of this comes an unwitting stranger whose foretold arrival is portent of the island's doom. I absolutely dug this story, all the more because it's got a map. The conclusion, fully deserving of Ray Harryhausen animation, sets things up for a gigantic war that will shake the firmaments. I hope Tarpey tries his hand at this again.
This isn't a bad book, and everyone involved in it has a clear and abundant love for the genre and its history. There's no guarantee a lyricist is going to be able to write a good story, but no one embarasses himself here. The worst anyone does is rely on overly purple prose or lose narrative focus. Ritzlin set out to recreate a 1970s-style anthology akin to Lin Carter's Flashing Swords! or Andrew Offutt's Swords Against Darkness, and has succeeded.
It's not a perfect book. I read a lot of short fiction and I can pretty much tell the great stories — the ones that will still be rattling around in my brain a year later. Only the last two will possibly do that (and perhaps "Eve's Grave" — though that for what it might have been).
And if you're going to put an ice giant with a big honkin' sword on the cover — give me stuff like that!
Also – Howie Bentley wrote a piece here at Black Gate about S&S and metal several years ago.