New Realm March 2015 Now on Sale
New Realm March 2015 Now on Sale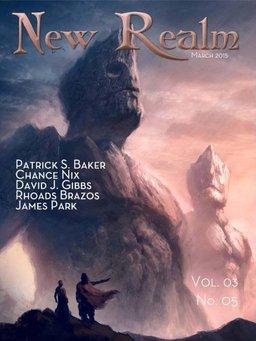 I discovered New Realm last week, as I was preparing my update on magazine coverage here at Black Gate. It's one of seven new monthly digital magazines launched at FictionMagazines.com over the past few years; the others are eFiction (literary fiction), FIVE Poetry, Heater (mystery/thriller), Nebula Rift (science fiction), Romance Magazine (romance/adult), and Under the Bed (horror).
eFiction was the first; it was started by Doug Lance in his college apartment, and published its first issue April 1st, 2010. The others were added in 2012. The magazines rely on a community to produce each issue; volunteers read and vote on story submissions, and those with the most votes end up in each issue. It's a daring and unusual approach to short fiction publishing.
Each issue of New Realm contains five stories; there's no non-fiction mentioned, although the guidelines talk about book reviews and interviews. Looking over the 23 monthly issues published so far, I notice two things. First, the covers, by Doug Lance and a team of artists, are excellent, easily a notch or two above most other small press fantasy magazines. Second, I don't recognize any of the contributors, which tells me the mag is looking far afield of the usual sources to bring new voices into the genre.
The March 2015 issue contains the usual five stories. Here's the complete table of contents.
"With Faith and Steel" by Patrick S. Baker
"The Aquailian on the Crimson Reign" by Chance Nix
"Fright or Flight" by David J. Gibbs
"Esprit de Corps" by Rhoads Brazos
"Clowns with Big Floppy Shoes" by James Park
Fletcher Vredenburgh has a copy of the latest issue, and will report back here on what he finds.
New Realm is published monthly by eFiction Publishing; the editor-in-chief is Doug Lance. Copies are available in digital format only. Individual issues are $3.99, or $19.99 for a one year subscription. You can subscribe through Amazon.com or Barnes & Noble; get additional details at the website.
See all of our recent magazine coverage here.