Sword and Sorcery Music
Sword and Sorcery Music
Across a misty battlefield, a dim, imposing figure stalks into view.  Blood  rolls off of his massive battle-axe, and his hair and face are caked with the crimson wound-dew. He threw his helmet away hours ago.  His armor is dented.  Blood drips from his wounds as he wades through his fallen enemies like a steel juggernaut, mowing them down like wheat before a scythe.

At last, after months of marching his troops across the wastelands, living like an animal and enduring weather conditions that would kill a civilized man, he comes face to face with his most hated enemy.  He throws away his axe and draws his sword.

Two men standing on a battlefield, eyeing each other through a mist of red.  One of them will shove cold steel through the other one's guts, and decapitate him, holding up his enemy's head, to show to his gods, or anyone fortunate enough to be left standing.  Smouldering blue eyes shining with battle-madness burn in his scarred face, as it is suddenly split by a rictus grin."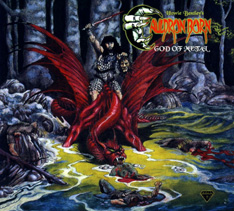 A blood-curdling war-cry comes screaming out of the speakers!
Now, there are all kinds of music, for all kinds of people, moods, and situations. But to my mind, there is only one kind of music to host a scene like I just described, and that is heavy metal.
The last ten years or so has seen a small but growing number of metal bands incorporating Robert E. Howard's characters, themes, concepts and background in their music, in an effort to capture some of the mystique and atmosphere of the iconic author's writing.
One of the first bands doing this was a heavy metal band from Atlanta, Georgia (of all places) called Cauldron Born, with the 1995 demo "Swords, Sorcery, and Science," and the subsequent two albums Born Of The Cauldron (1997) and …And Rome Shall Fall (2002).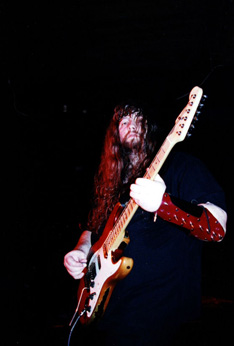 My name is Howie Bentley.  I am the guitar player/songwriter/bandleader for Cauldron Born. I formed the band in early 1994.  From 1997 to 2002, we released three albums on the Italian record label, Underground Symphony.
I'm writing this because I would like to tell you about Sword and Sorcery Heavy Metal, what I have contributed and will continue to contribute to this sub-genre of heavy metal music, as well as talk about some of the other great bands populating the scene (in future installments).
While epic fantasy elements have been present in metal lyrics for a long time, up until recent years the lyrics either tended to be simplistic and/or vague, as far as Sword and Sorcery is concerned (Manowar), or of the fluffy Tolkienesque variety (Blind Guardian).
With Cauldron Born, I have drawn on and paid homage (in detail) not only to the works of Robert E. Howard, and Clark Ashton Smith, but the other giants like Henry Kuttner, Karl Edward Wagner, Michael Moorcock, Richard L. Tierney, and David C. Smith, who have continued and expanded the field.  I have taken this influence and crystalized it into both a musical and lyrical style that I like to call Sword and Sorcery Heavy Metal.
I am not saying that I was the first to write low fantasy lyrics in Heavy Metal.  Manilla Road (I hope to write more on them in a future installment) had songs with titles alluding to Howard's tales as far back as 1982, but aside from the song "Queen Of The Black Coast" (from the album simply titled Metal), the lyrics were vague as far as pertaining to any one particular story.  I enjoy Manilla Road's music immensely, but I had never heard any of their stuff until after I had recorded Born Of The Cauldron (1997).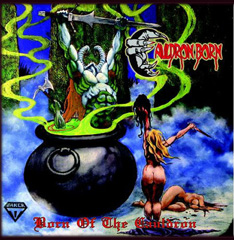 I believe detailed lyrics that consistently adhere to the subject matter, and a great album cover that tells you what to expect, are both must-haves for Sword and Sorcery Heavy Metal.  Of course, the music is of paramount importance as well, to establish the appropriate atmosphere.
I use progressive elements such as odd meter, tempo changes (sometimes abruptly), unconventional forms (even for the style), unexpected angular twists, dissonance and sometimes out-and-out atonality to achieve an effect of weird, other-worldliness — not unlike the atmosphere of some of the Weird Tales stories from the Golden Age, an element that I find lacking in most modern day, epic fantasy stories, let alone epic metal music.
My goal with the combination of the music, lyrics and album cover is the completion of a successful ritual in which the listener can feel like he/she has stepped through a Frank Frazetta painting, into that other world.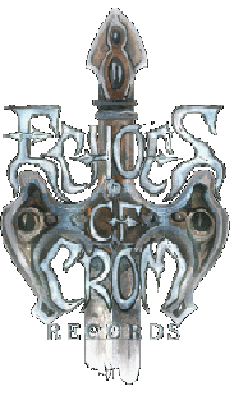 THE ALBUMS
While Born Of the Cauldron (1997) was the first full length album from Cauldron Born, and it is fully drenched in the Weird Tales-style atmosphere that I would later become known for, …And Rome Shall Fall (2002), was really the first album to take the lyrical aspects of sword and sorcery to the extent that it has been done thus far in heavy metal.
Born of the Cauldron owes just as much to Lovecraft and Clark Ashton Smith as it does to Howard.  The pure blood and thunder of songs like "Crusader" and "In Fate's Eye A King"( a song about Conan), combined with the dark occultism of songs like "The Final Incantation/In The Dreaming City" and "Synchronicity At Midnight/A Baying Of Hounds" forge together to create what I would imagine the collective end result would have been like, had  the "Big Three" ˇof Weird Tales magazine been musicians working together, instead of individual authors.
Born Of The Cauldron was first released on Underground Symphony (Italy), followed by a tenth year anniversary reissue in 2007, on Stormspell Records (USA). Just recently, Iron On Iron Records (Greece) has released an excellent gate-fold vinyl edition of the album that comes with a killer poster of Lionel Baker's fantastic artwork.  Echoes Of Crom Records is the exclusive distributor of the vinyl edition in North America.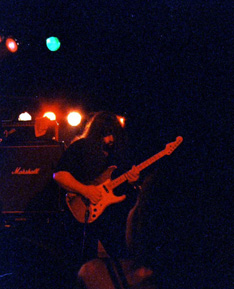 …And Rome Shall Fall was released in 2002 and is a partial concept album about the Robert E. Howard character, Bran Mak Morn.  The album kicks off with "By This Axe I Rule," introducing King Kull with the chorus:
"They try to poison me in my wine.  They try to kill me in my chambers at night, but I was a man before a king.  By This Axe I Rule!"ˇ
The second track is "…And Rome Shall Fall," and we see Bran Mak Morn making a stand against the invading Roman legions, with a little help from King Kull summoned by sorcerous means from dim ages, fallen to dust, and submerged beneath the ocean.
The third track is "Finder Of The Black Stone," and again we have Bran Mak Morn, pitted against the Romans, as well as the demonic "Worms Of The Earth."  From start to finish, the album is pure blood and thunder, with the lyrics referencing the works of such greats as Henry Kuttner, Karl Edward Wagner and Richard L. Tierney, as well as the aforementioned REH.
The Cauldron Born album, God of Metal was released in 1998 (between Born Of The Cauldron and …And Rome Shall Fall). The reason that I am mentioning it now is that it is a collection of two earlier demos "Beyond The Shade Gates" and "Swords, Sorcery and Science." Three of the four songs from the latter were re-recorded on Born Of The Cauldron. "Beyond The Shade Gates" was a four-song demo I recorded back in 1993, before I formed Cauldron Born.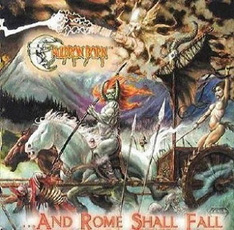 I disbanded Cauldron Born in 2003, due to personal reasons, but I have recently reformed the band with new members.  We are currently recording a three-song EP, to be released on Iron On Iron Records in a limited vinyl edition, as well as a very small CD pressing.  The album should be available in the next few months through Echoes Of Crom Records. The name of the EP is Sword and Sorcery Heavy Metal. The title says it all, as the songs are 100% Howardian Heavy Metal.
For those of you who have not heard Cauldron Born yet, here are some links to a few songs: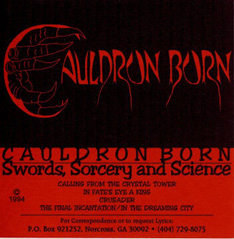 * "The Final Incantation/In The Dreaming City," "Crusader," "Clontarf," and "Blood Bath In The Arena"
For those who are interested, please stay tuned to this blog, and keep an eye on Echoes Of Crom Records for more information.  Thank you for reading this.