Future Treasures: Swords of Steel II edited by D.M. Ritzlin
Future Treasures: Swords of Steel II edited by D.M. Ritzlin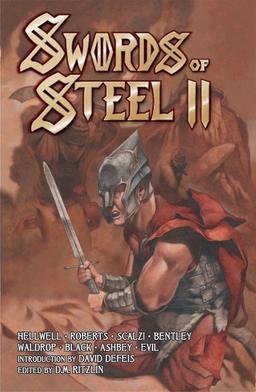 Dave Ritzlin's Swords of Steel anthology, published last February by DMR Books, was a popular topic here at Black Gate and elsewhere. In his review, Fletcher Vredenburghw wrote:
When John O'Neill posted a few weeks ago about Swords of Steel, edited by D.M. Ritzlin, I knew I had to read it. The hook was simple: swords & sorcery stories written by members of metal bands. Tons of heavy bands — Uriah Heep, Iron Maiden, Manowar, Metallica, Megadeth, to name several — have drawn on the themes of heroism, monster-fighting, and sorcery for lyrics and look… Ritzlin set out to recreate a 1970s-style anthology akin to Lin Carter's Flashing Swords! or Andrew Offutt's Swords Against Darkness, and has succeeded.
I'm very pleased to report that a second volume is in the works, to be released next month. I asked Dave for a quote, and here's what he told me:
The Swordsmen of Steel return! Attacking once more now with twice as much strength, the most epic practitioners of the heavy metal arts fill another volume with tales of terror and heroic adventure. Swords of Steel II features stories by such artists as E.C. Hellwell (MANILLA ROAD), Byron Roberts (BAL-SAGOTH), Mike Scalzi (SLOUGH FEG) and Howie Bentley (CAULDRON BORN). A total of eight stories (each accompanied by an illustration) are contained herein, as well as two poems and an essay by David C. Smith (author of the Red Sonja and Oron novels). Don't read this book unless you have nerves of STEEL!
Here's the complete table of contents.
Introduction: Where the Lifestream Touches Eternity by David DeFeis (VIRGIN STEELE)
"The Forgotten City of Tehm" by E.C. Hellwell (MANILLA ROAD, HELLWELL)
"A Voyage on Benighted Seas" by Byron A. Roberts (BAL-SAGOTH)
"That Than Which There Can Be No More Terrible" by Michael Scalzi (SLOUGH FEG)
"The Sword of Shaitan", poetry by Howie K. Bentley (CAULDRON BORN, BRITON RITES)
"Mystery Believer" by Scott Waldrop (WALPYRGUS, TWISTED TOWER DIRE)
"At the Crossroads: Swords, Sorcery and Heavy Metal", an essay by David C. Smith
"Beneath Dead Lake" by Jeffrey Black (GATEKEEPER)
"Red Ochre" by James Ashbey (SOLSTICE)
"Vitiated Life", poetry by Alex A. Avdeev (BLACKSWORD)
"Darke Manor" by Jaron Evil (ALMURIC, ARCHSPIRE)
"The Heart of the Betrayer" by Howie K. Bentley
D.M. Ritzlin is also the editor of Scrolls of Legendry magazine. Our previous coverage of Ritzlin and Swords of Steel includes:
New Treasures: Swords of Steel
Metal on Metal: Swords of Steel, by Fletcher Vredenburgh
Scrolls of Legendry #1 is Your Source for Old-School Fantasy Reviews
Swords of Steel II will be published by DMR Books on February 27th. It is 182 pages, priced at $10 in paperback. The cover is by Martin Hanford, and depicts a scene from E.C. Hellwell's story "The Forgotten City of Tehm." Get all the latest details at the DMR Books Facebook page.
See all of our coverage of the best in upcoming fantasy here.