January/February Magazine of Fantasy & Science Fiction now on Sale
January/February Magazine of Fantasy & Science Fiction now on Sale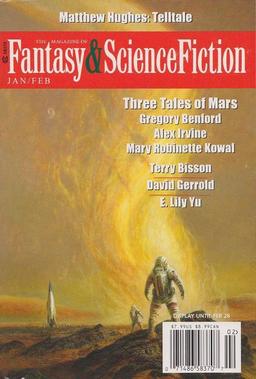 The January/February issue of F&SF is all about the planet Mars — starting with a great cover, titled "Martian Vortex," by Bob Eggleton. Here's editor C.C. Finley:
Usually we start with a story and commission a cover for it but when Bob Eggleton sent us the Martian landscape that adorns this issue, we snatched up the illustration and went looking for stories to match. In the end, we found you not one, but three, all of them very different in tone and focus.
The Three Tales of Mars promised on the cover are by Gregory Benford, Alex Irvine, and Mary Robinette Kowal. The issue also includes stores by Alex Irvine, David Gerrold, Matthew Hughes, Terry Bisson, Albert E. Cowdrey and others.
Here's the complete Table of Contents.
NOVELETS
"Number Nine Moon" – Alex Irvine
"The White Piano" – David Gerrold
"Telltale" – Matthew Hughes
SHORT STORIES
"Vortex" – Gregory Benford
"Rockets Red" – Mary Robinette Kowal
"Smooth Stones And Empty Bones" – Bennett North
"Caspar D. Luckinbill, What Are You Going To Do?" – Nick Wolven
"Robot From The Future" – Terry Bisson
"Squidtown" – Leo Vladimirsky
"Touch Me All Over" – Betsy James
"The Visionaries" – Albert E. Cowdrey
"Braid Of Days And Wake Of Nights" – E. Lily Yu
DEPARTMENTS
The Magazine of Fantasy and Science Fiction is edited by C.C. Finlay, and published by Gordon van Gelder. The cover price is $7.99 for a thick 258 pages. Check out the complete TOC and additional free content at the F&SF website.
This issue is on sale until February 28. We last covered F&SF with the November/December 2015 issue.
Our January Fantasy Magazine Rack is here, and all of our recent magazine coverage here.