Bob's Books – Shelfie #6: (Cook, LeGuin, Gygax, Hardy, Hendee, Flint, Smith, McKillip)
Bob's Books – Shelfie #6: (Cook, LeGuin, Gygax, Hardy, Hendee, Flint, Smith, McKillip)
It's installment number six in Bob's Books' Shelfie series. Combining a couple fantasy shelfies from my Reddit series, and I kick it off with the terrific GLEN COOK.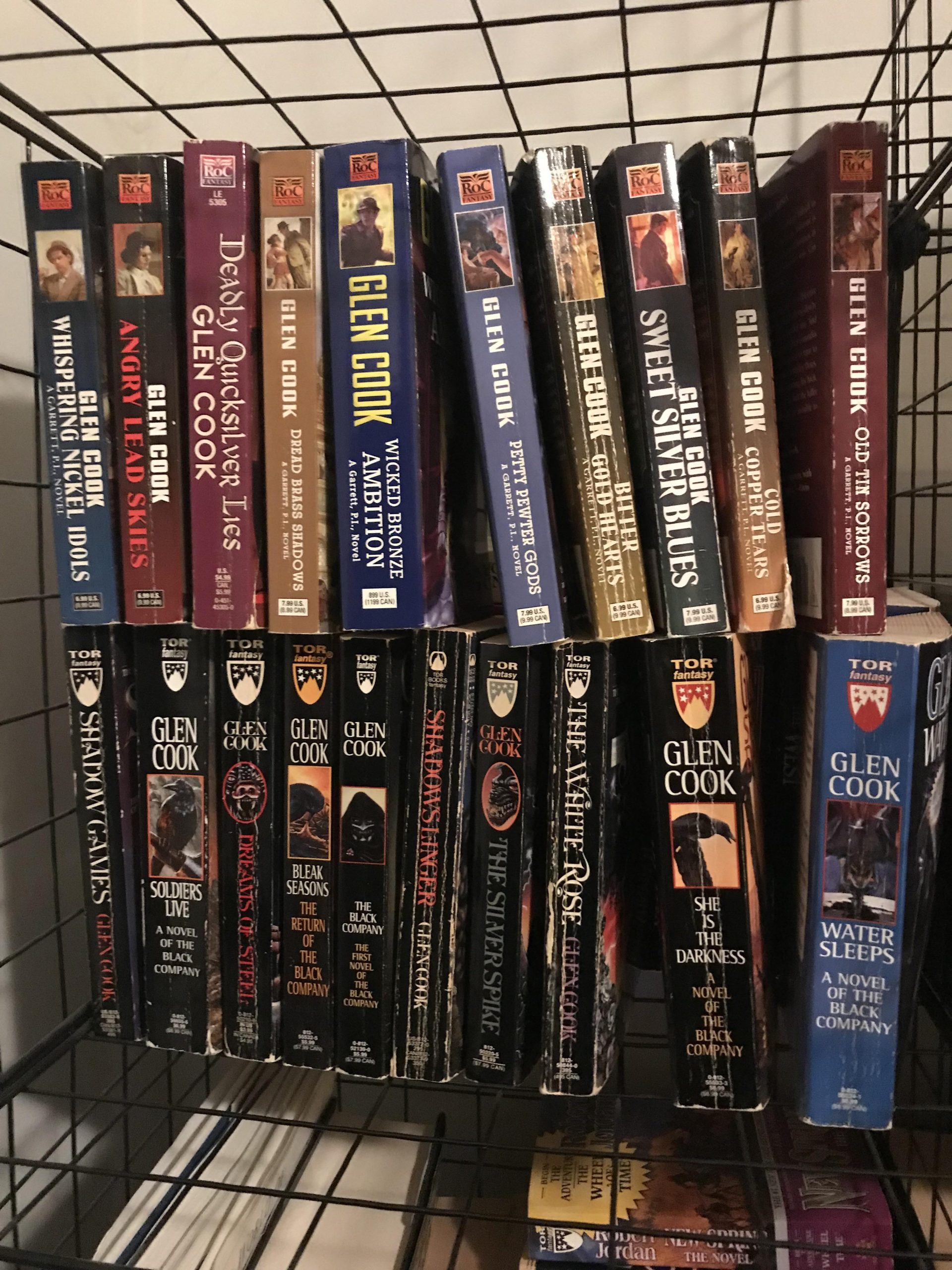 When I see a fantasy shelfie here in this bookshelf subreddit, there always seems to be the same few authors popping up – Martin, Sanderson, and Rowling. I'm a little surprised I haven't seen much Tolkien beyond The Hobbit and the Trilogy – not many Silmarillions appear. I've got a SERIOUS Tolkien shelfie coming.
When there's something a little darker, it's usually Joe Abercrombie, or Stephen Erikson's Malazan series. The latter is fantastic, and the books that co-creator Ian Esslemont has added, are pretty good too.
I don't think I've seen any Glen Cook yet.
I've not read his Dread Empire series, which seems to be rather heavy. And I've read a little of his science fiction, though not much.
He has written a couple of other fantasy series' I haven't checked out. But Cook has written two SUPERB series' that I put up with any modern fantasy in the past several decades. Including the 'big-name' stuff that gets most of the attention.
His Chronicles of the Black Company tracks a mercenary company across a deep fantasy world. Abercrombie, Lawrence, and the other leading dark fantasy writers are following in Glen Cook's footsteps (and of course, Michael Moorcock's).
It's a tremendous series that I hear is popular with current and former members of the military, for its depiction of the military lifestyle.
What's amazing to me about Cook, is that he's got another tremendous series that is completely the opposite in tone and style. Garrett, PI, is a private eye series set in a fantasy world. Cook has successfully combined Philip Marlowe, Nero Wolfe, and Discworld, into one series.
And it's terrific. Funny, hardboiled private eye fantasy, will never be done better. I wrote about Garrett here. Check that out for a non-spoiler overview.
Garrett PI is the perfect fantasy mystery series.
Glen Cook has written not one, but two of my favorite fantasy series', totalling about two dozen books. Excellent quality, in totally different writing styles. Cook is amazing. I highly recommend both of these.
I have some books in both series in digital format, so they're not shown here.
URSULA K LEGUIN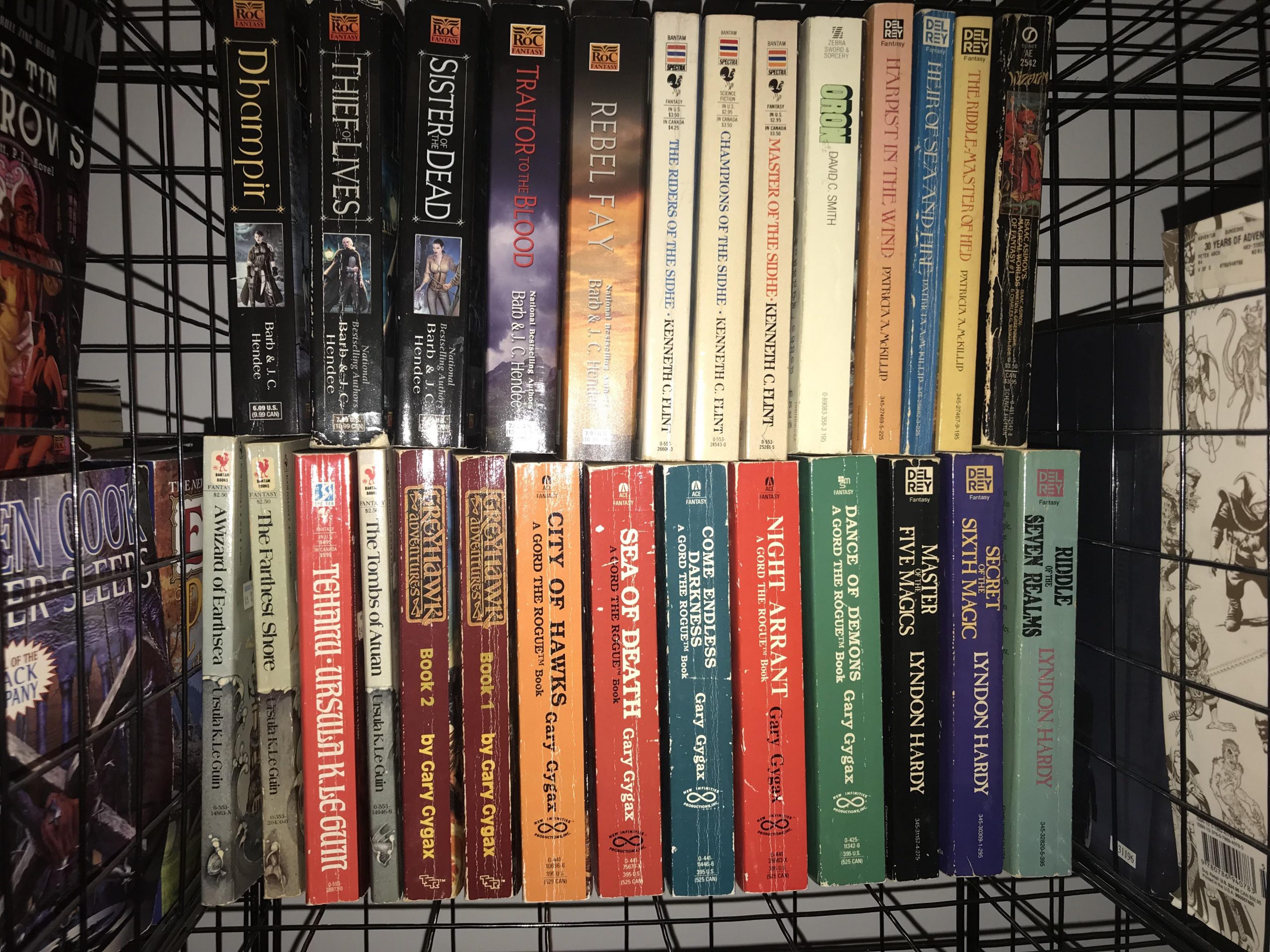 I'm not as crazy about The Earthsea trilogy as a lot of folks. I read it. It was fine. But I like more fighting, magic, 'stuff.' I know this is a 'deeper' series. That's fine. Just not something I ever re-read.
GARY GYGAX
I started playing D&D around 1980, I think. Gary Gygax definitely influenced my life. I was reading his Gord the Rogue novels from the start. Then,when he was booted from TSR and D&D, I kept reading the books (minus the 'Greyhawk Adventures' tag). I like these.
LYNDON HARDY
Lyndon Hardy's trilogy is one of the most under-appreciated fantasy series' I've read. He developed a thoughtful, workable, system of magic for the books involving Alodar.
But nobody ever seemed to talk about it. I really like it. And I only, just now, as I type this, learned that in 2017 (a mere 29 years after the'final' book), he resumed the series, and there are three more. I had NO idea. Yay!!!!!! I highly recommend checking out the first, Master of the Five Magics, for a different, excellent, fantasy series.
BARB & J.C. HENDEE
Barb & husband J.C. Hendee's series about a group of unexpected heroes who end up battling vampires. This is as D&D-like as any series I've read(that wasn't actually a D&D book). I like it, but I haven't read all of the books yet. It works, but hasn't been something I 'had' to read. I do like it though.
They also play the Runequest board game (not related to the MMO), which I've written about here at Black Gate.
KENNETH C. FLINT
Kenneth C. Flint has written several Irish-legend tinged fantasy novels. This Sidhe trilogy is one of them. I seem to recall I wasn't crazy about the finale, but it was a really cool series, with the Irish myths.
DAVID C. SMITH
David C. Smith's Oron is absolutely a must-read for fans of Conan the Barbarian. Smith even wrote a literary biography of Robert E. Howard, a few years ago. Smith is still writing sword and sorcery, and he's darn good at it. I've gotten to know him a bit, and he's also a really good guy. I'm a Smith fan.
PATRICIA K. MCKILLIP
Patricia K. McKillip's Riddle Master of Hed series is a fantasy classic. Like Earthsea, it's not my typical fantasy. But I liked these. I think it's a stellar example of storytelling.
Bob's Books

Shelfie #1 (Sherlock Holmes #1)
Shelfie #2 (Sherlock Holmes #2)
Shelfie #3 (Constitutional Convention of 1787)
What I've Been Reading: July 2019 (Clive Cussler, Gabriel Hunt, Tony Hillerman)
What I've Been Reading: December 2019 (Scott Oden, Howard Andrew Jones, Norbert Davis, Mycroft Holmes)
What I've Been Reading: January 2020 (Glen Cook, John D. MacDonald, Dashiell Hammett, Robert R. McCammon, Howard Andrew Jones, Nero Wolfe)
What I've Been Reading: September 2020 (Jo Gar, William Baring Gould, The Game's Afoot, Casablanca, William Bernhardt, Roger Torrey, William Goldman)
What I've Been Reading: September 2022 (Cleveland Torso Killer, Columbo, Douglas Adams)
---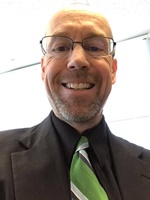 Bob Byrne's 'A (Black) Gat in the Hand' made its Black Gate debut in 2018 and has returned every summer since.

His 'The Public Life of Sherlock Holmes' column ran every Monday morning at Black Gate from March, 2014 through March, 2017. And he irregularly posts on Rex Stout's gargantuan detective in 'Nero Wolfe's Brownstone.' He is a member of the Praed Street Irregulars, founded www.SolarPons.com (the only website dedicated to the 'Sherlock Holmes of Praed Street') and blogs about Holmes and other mystery matters at Almost Holmes.
He organized Black Gate's award-nominated 'Discovering Robert E. Howard' series, as well as the award-winning 'Hither Came Conan' series. Which is now part of THE DEFINITIVE guide to Conan.

He has contributed stories to The MX Book of New Sherlock Holmes Stories – Parts III, IV, V, VI and XXI.
He has written introductions for Steeger Books, and appeared in several magazines, including Black Mask, Sherlock Holmes Mystery Magazine, The Strand Magazine, and Sherlock Magazine.