Future Treasures: Witch King by Martha Wells
Future Treasures: Witch King by Martha Wells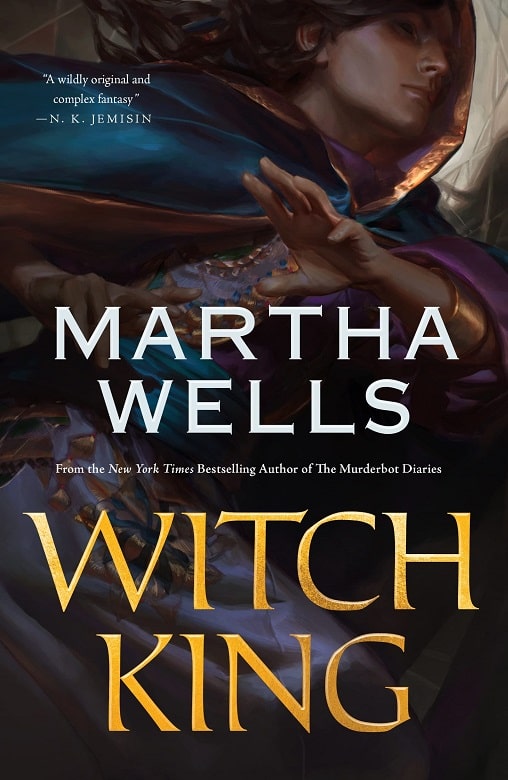 Witch King by Martha Wells (Tor.com, May 30, 2023). Cover art by Cynthia Sheppard
Martha Wells was one of the most popular authors we published in Black Gate. Her terrific Ile-Rien tales ("Reflections," Black Gate #10, "Holy Places," BG #11, and "Houses of the Dead," BG #12) were set in the same world as her nebula-nominated novel The Death of the Necromancer, and her popular Fall of Ile-Rien trilogy (The Wizard Hunters, The Ships of Air, and The Gate of Gods).
Of course, her career really took off with the appearance of Muderbot. The first two books in the series, All Systems Red and Artificial Condition, won back-to-back Hugo and Locus Awards; after that Martha graciously declined further nominations to give other nominees a chance. That didn't stop the Hugo electorate from voting The Murderbot Diaries the 2021 Hugo Award for Best Series (the same year that Network Effect, the 5th volume, won the Hugo for Best Novel).
Martha's upcoming Witch King, her first new fantasy novel in over a decade, arrives from Tor.com at the end of the month and, as you can imagine, it's one of the most highly anticipated books of the year. Martha has promised us a guest post on the book in a few weeks, so stay tuned.

Martha describes Witch King thusly:
It's a secondary world fantasy, about immortals who once defended their world from a colonizing empire, and who are now trying to keep the coalition of countries from becoming an empire in turn.
Library Journal says Martha spins her tale "at a breathless pace… fantasy readers looking for new worlds and characters to explore will be enthralled." Here's an excerpt from the full review.
Demon Prince Kai awakens in his own tomb, alone and unable to remember how he got there, although he knows he must have been betrayed. He'll have to recover his companions, retrace his steps, both in the past and in the present, and consume the life energy of anyone who gets in his way. After all, Kai is the Witch King, and he can't let anyone stand in the way of protecting his loved ones. Kai and his dearest companions saved their world from an all-consuming conqueror. His betrayal is an attempt to undo that work, and Kai must figure out whom he needs to kill this time…

Fantasy readers looking for new worlds and characters to explore will be enthralled.
Witch King will be published by Tor.com on May 30, 2023. It is 432 pages, priced at $28.99 in hardcover and $14.99 in digital formats. The cover is by Cynthia Sheppard.
See all our coverage of the latest releases by Black Gate contributors here.