Ellsworth's Cinema of Swords: Updating the Classics
Ellsworth's Cinema of Swords: Updating the Classics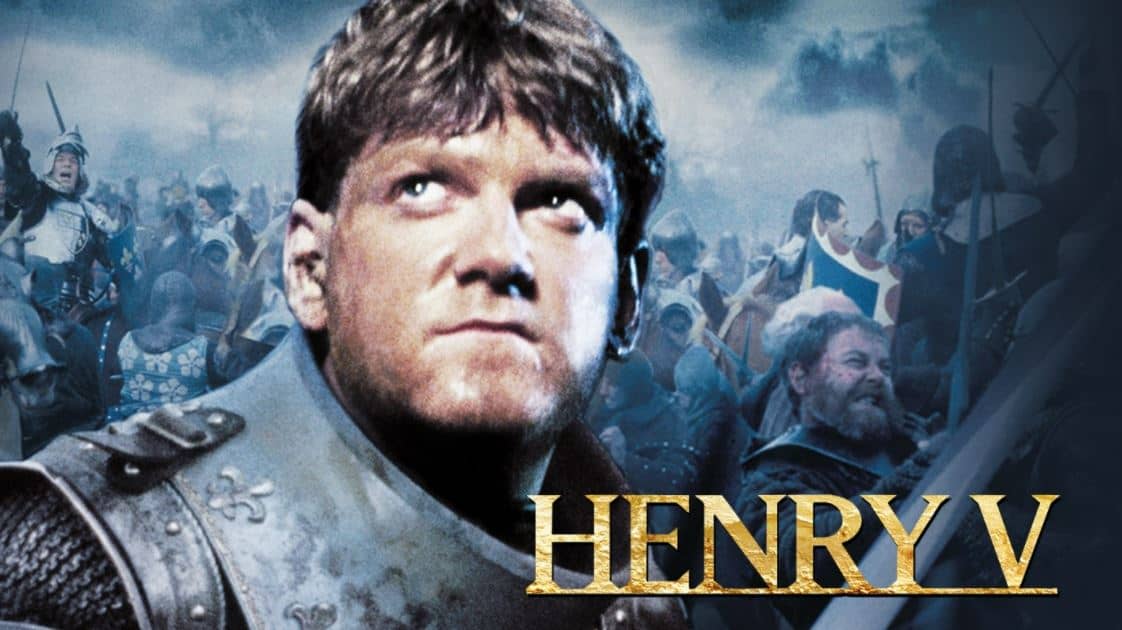 Henry V (UK, 1989)
New cinematic adaptations of literary classics come along regularly, and it's no surprise why: most classics have earned that name for a reason, and in addition to valuable name recognition they have durable plots, characters, and situations that lend themselves to multiple interpretations. Laclos' Les Liaisons Dangereuses had several film adaptations before the ones covered below, most notably director Roger Vadim's 1959 version that set the story in modern times (as did 1999's Cruel Intentions) — but we, of course, prefer the period setting (because swords!). Henry V, one of Shakespeare's greatest plays, has also been put on screen numerous times, including Laurence Olivier's splendid 1944 version, previously reviewed in this article series. However, it's Kenneth Branagh's 1989 adaptation that's most likely to resonate with modern Cinema of Swords readers if only because it's naturalistic rendition of Shakespeare's dialogue makes it easier to connect with. Now, let's go to the library and watch some movies!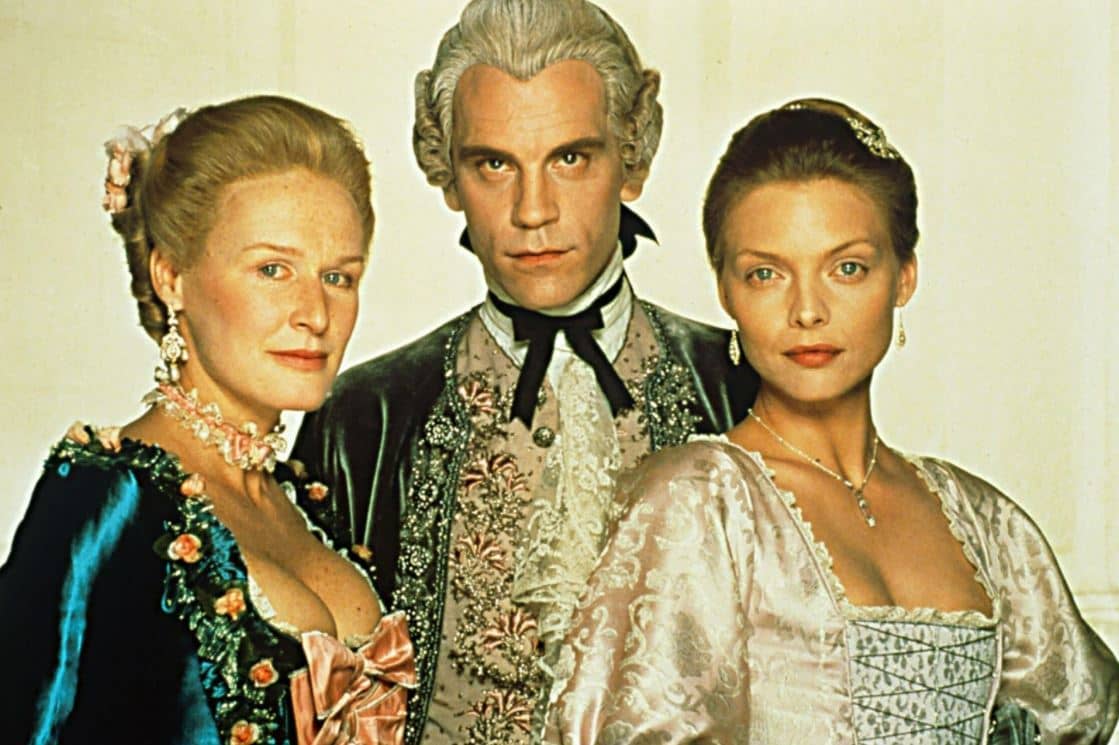 Dangerous Liaisons
Rating: *****
Origin: USA, 1988
Director: Stephen Frears
Source: Warner Bros. Blu-ray
Typically, a swashbuckler story is about a hero who fights injustice but does so following their own personal code of behavior, in defiance of the strictures of society.
Dangerous Liaisons is a sort of reverse swashbuckler in which, though the protagonists are villains, they, too, live by personal codes they are no less devoted to than those of heroes. Adapted by the playwright Christopher Hampton from the scandalous 1782 novel by Pierre Choderlos de Laclos, its villain protagonists are the Vicomte de Valmont (John Malkovich) and Madame de Merteuil (Glenn Close), a pair of romantic predators in ancien régime Paris who are rivals in a game of debauching the naïve and innocent.
To gain revenge on an ex-lover, Merteuil wants Valmont to seduce the ex-lover's young fiancée Cécile (Uma Thurman) so that he will marry, not a naïf right out of the convent, but a woman trained for sex like a prostitute. However, Valmont declines because he has his sights set on bigger game, the chaste and devout Madame de Tourvel (Michelle Pfeiffer). So Merteuil sweetens the deal: if Valmont can seduce both Cécile and Tourvel, she'll reward him with a night in her own arms. Valmont accepts, but meanwhile Merteuil spins up a backup plan, introducing Cécile to young Danceny (Keanu Reeves), a penniless but dreamy music teacher whom she shapes to her own ends.
At first, the villains have it all their own way, so they keep raising the stakes ever higher until they're playing for prizes they can't afford to lose. Then events spin out of control. Tautly directed by the acclaimed Stephen Frears, this brilliant film was nominated for seven Academy Awards and won three of them. The performances, especially by leads Close, Malkovich, and Pfeiffer, are intense and memorable, the cinematography by Philippe Rousselot is dazzling, the settings in majestic period French châteaux are stunning, and the costumes won one of those Oscars.
This is a movie you can watch again and again and still find new, telling details in it that you never noticed before. And, as if just to make sure it would qualify for the Cinema of Swords, it has a gritty small-sword duel in the snow between Keanu Reeves and John Malkovich choreographed by the great fight master William Hobbs. Dangerous, indeed.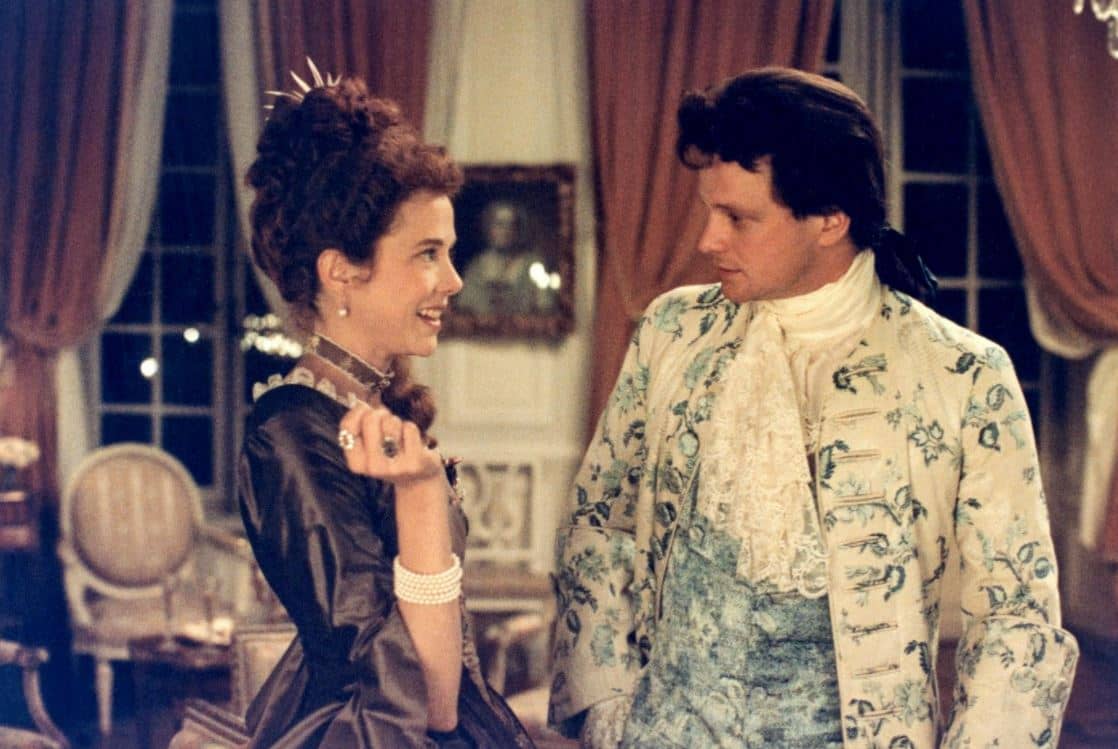 Valmont
Rating: ***
Origin: USA/France, 1989
Director: Miloš Forman
Source: Metrodome DVD
The second cinematic adaptation of Choderlos de Laclos' novel Dangerous Liaisons (1782) in less than a year, Valmont suffers by comparison with its predecessor. Though visually lush, and with a historical depiction of 18th century France that can scarcely be improved upon, its cast is weaker, and the story, scripted by Jean-Claude Carrière and director Miloš Forman, turns Laclos' deadly game of duels d'amour into a merely mean-spirited bedroom farce. The Marquise de Merteuil (Annette Bening) and the Vicomte de Valmont (Colin Firth) are frenemies playing catch-and-release love games among the Paris aristos until Valmont has the misfortune to actually fall in love with his latest romantic target, the virtuous Madame de Tourvel (Meg Tilly). Meanwhile, Merteuil plots to get revenge on a former lover by having Valmont seduce his fifteen-year-old fiancée Cécile (Fairuza Balk). All their plans go wrong.
None of the leads gives better than a shallow performance, though that may be because the characters as written have little depth. Bening is stunning, of course, when she doesn't simper, but as a cold and calculating villain she just doesn't sell it, while Firth and the wan Tilly aren't given any scenes that make their unlikely love affair believable. And Forman lards the story with slapstick comedy gags that don't sit well with its serious themes. Despite this, Fairuza Balk as Cécile and Siȃn Phillips (Livia in I, Claudius) as her mother Madame de Volanges deliver memorable portrayals, and there are two brief but excellent small-sword duels. And be sure to savor old warhorse Fabia Drake, Bertie Wooster's Aunt Agatha, in her final role as the roguish matron Madame de Rosemonde. Still, this is almost two and a half hours you can probably spend better elsewhere.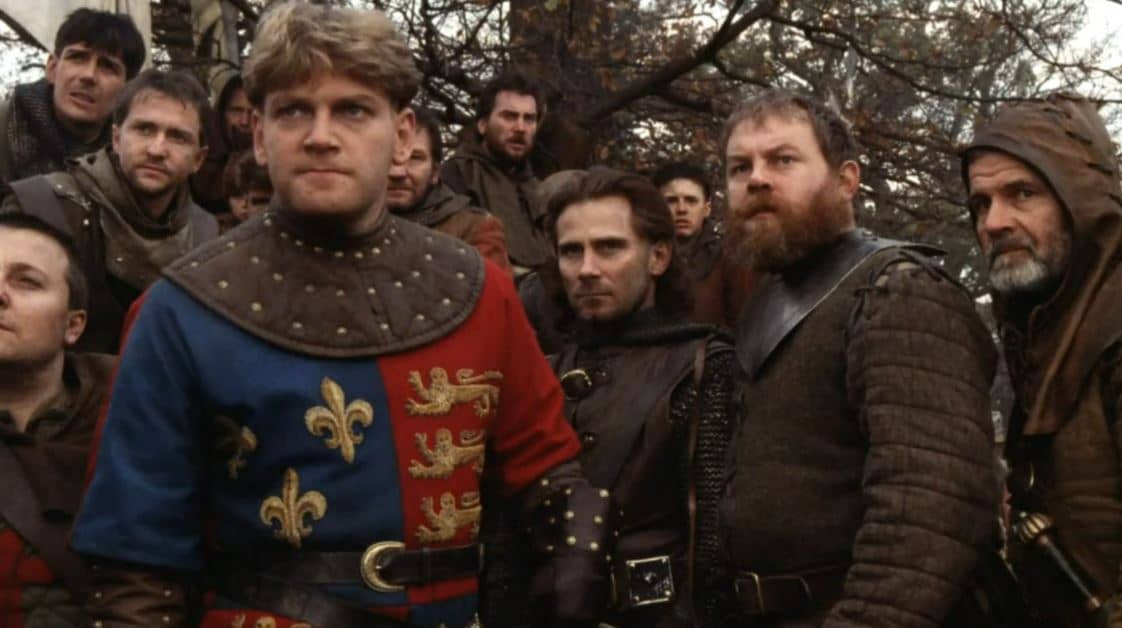 Henry V (1989)
Rating: ***** (Essential)
Origin: UK, 1989
Director: Kenneth Branagh
Source: MGM DVD
This is not only one of the finest Shakespeare films ever made, it's a damn fine swashbuckler. Starring, scripted, and directed by Kenneth Branagh in his first feature, it's kind of a miracle, an economical adaptation of the sprawling history play that focuses on King Henry's dramatic invasion of France without neglecting the reasons behind the conflict nor its consequences, all shot on a modest budget with a small but absolutely first-rate cast. And it moves at a breakneck pace without ever dragging for a minute, even when Henry goes incognito from campfire to campfire to take the temperature of his weary troops on the night before the Battle of Agincourt.
All right, some context: Henry V (Branagh), who suddenly assumed the throne of England upon the death of his father after a youth spent in frivolous pursuits among low companions, is determined to show all the doubters that he is nonetheless a worthy king. He receives the crown after generations of war with France, and is persuaded that, due to the victories of his ancestors, he has a legitimate claim to rule France as well as England. In 1415, he mounts an expeditionary force to invade France and pursue his claim, but the campaign doesn't go as planned; after exhausting most of his troops, Henry retreats toward the Channel coast and runs right into a much larger French force waiting for him in the fields near Agincourt.
The tale is told not just through Henry's point of view, but through the eyes of a number of colorful characters who surround him, from dukes and peers down to officers and common soldiers. To keep the story tight, Branagh chooses to focus on just a few of these many characters to carry the weight of the narrative and its themes: the Duke of Exeter (Brian Blessed), Henry's uncle and chief advisor, Fluellen (Ian Holm), an argumentative Welsh officer, Bardolph (Richard Briers), one of the dissolute friends of Henry's youth, with the scenes bridged and the story held together by the narrator Chorus (Derek Jacobi).
Each of these parts is perfectly cast, with Blessed making a powerful physical impression striding about in full plate like an armored tank. But while the visuals are strong and memorable, it's in its treatment of language that this movie is most successful. Instead of the actors declaiming Shakespeare's speeches like Elizabethan orators, Branagh has them simply speak the Bard's lines in a natural, conversational manner, and as a result the meaning and emotion comes through even when the archaic vocabulary is unfamiliar. It's a brilliant approach, one that requires a director like Branagh who's thoroughly comfortable with the material to pull it off.
And as mentioned, it's a fine swashbuckler into the bargain, with action at the siege of Harfleur and then in the set-piece medieval battle at Agincourt. Unlike Olivier's 1944 version, which has scores of armored knights thundering across a broad battlefield, Branagh's budget is much more constrained; the great battle is represented by a few dozen combatants mainly seen in tight shots and close-ups, and arguably there are too many scenes of desperate knights splashing through the bloody mud in slo-mo. But Branagh's approach is to make a virtue of his modest budget, giving each character their own intimate and horrific battle of Agincourt to keep the conflict personal and meaningful.
In the final scenes the tone changes as Henry, victorious, comes to the French court to dictate his terms and to claim as his prize the French king's daughter, Princess Katharine (Emma Thompson), whom Henry woos and wins in a delightful scene that ends the play on an up note. Just as Willy S. intended.
Where can I watch these movies? I'm glad you asked! Many movies and TV shows are available on disk in DVD or Blu-ray formats, but nowadays we live in a new world of streaming services, more every month it seems. However, it can be hard to find what content will stream in your location, since the market is evolving and global services are a patchwork quilt of rights and availability. I recommend JustWatch.com, a search engine that scans streaming services to find the title of your choice. Give it a try. And if you have a better alternative, let us know.
Previous installments in the Cinema of Swords include:
The Barbarian Boom, Part 1
Old School Pirates
Weird Samurai
Euro Dumas Trio
The Barbarian Boom, Part 2
The New Zu Review
The Barbarian Boom, Part 3
An Elegant Weapon for a More Civilized Age
Fantasy Salmagundi
Warmongers
Fables and Fairy Tales
Goofballs in Harem Pants, Part 2
Timey-Wimey Swordy-Boardy
Boy-Toys of Troy
Piracy – Two Wrecks and a Prize Ship
Postwar in the Greenwood
The Barbarian Boom, Part 4
Blood-Red and Blind: The Crimson Bat
---
LAWRENCE ELLSWORTH is deep in his current mega-project, editing and translating new, contemporary English editions of all the works in Alexandre Dumas's Musketeers Cycle, with the fifth volume, Between Two Kings, available now from Pegasus Books in the US and UK. His website is Swashbucklingadventure.net.
Ellsworth's secret identity is game designer LAWRENCE SCHICK, who's been designing role-playing games since the 1970s. He now lives in Dublin, Ireland, where he's writing Dungeons & Dragons scenarios for Larian Studios' Baldur's Gate 3.