Ellsworth's Cinema of Swords: Euro Dumas Trio
Ellsworth's Cinema of Swords: Euro Dumas Trio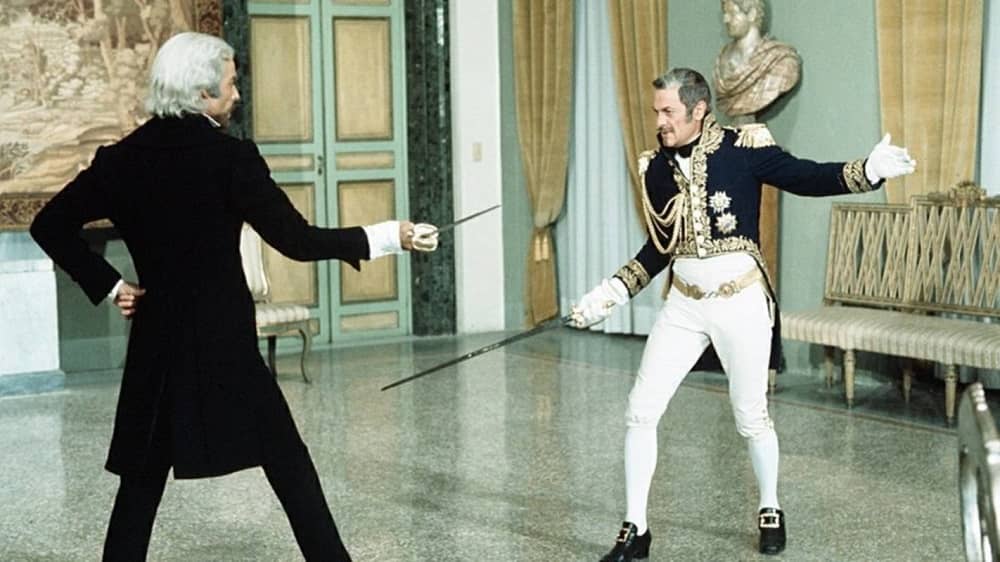 The Count of Monte-Cristo (UK, 1975)
Completing our survey of Seventies movies that attempted to recapture the fire (and the box office success) of Richard Lester's Musketeers films, here are three European productions that are often overlooked, in America at least. All three are adaptations of novels by Alexandre Dumas, but the real gem here is D'Artagnan and Three Musketeers, a Russian adaptation of the master's greatest novel, presented with Slavic brio and panache. If you're a fan of cinematic adaptations of The Three Musketeers, you really owe it to yourself to track this one down.
The Count of Monte-Cristo (1975)
Rating: ***
Origin: UK, 1975
Director: David Greene
Source: Network DVD
In 1956, British television network ITV had a one-season Count of Monte Cristo series, and they returned to the source almost twenty years later for this TV movie, which fortunately hews much more closely to Alexandre Dumas's novel. It's also fortunate in its cast: Richard Chamberlain as Edmond Dantès/Monte-Cristo (inexplicably hyphenated), with Tony Curtis, Donald Pleasence, and Louis Jourdan as the villains Mondego, Danglars, and de Villefort. Rounding out the cast is the excellent Trevor Howard as the Abbé Faria, the wise old holy man Dantès meets during his long incarceration in the Château d'If, and the film benefits from the amount of time devoted to the relationship between the two prisoners. Unfortunately, this means that the second half of the movie, Monte-Cristo's Parisian revenge on his four enemies, is rushed and in parts almost incoherent, as characters are quickly introduced and then suddenly disposed of two scenes later.
In common with most TV movies of its era, due to its limited budget the production values are rather low: the sound recording is atrocious, and though the costumes have some striking designs, particularly Monte-Cristo's outfits, the rest look cheap and off-the-rack new, as if they just came out of the prop shop. However, the exterior locations are excellent, and the interiors, shot at Rome's Cinecittà Studios, are fine. And though Dumas forgot to include a spirited final duel between Dantès and Mondego, screenwriter Sidney Carroll makes up for the lapse, with Chamberlain and Curtis going at each other with gusto.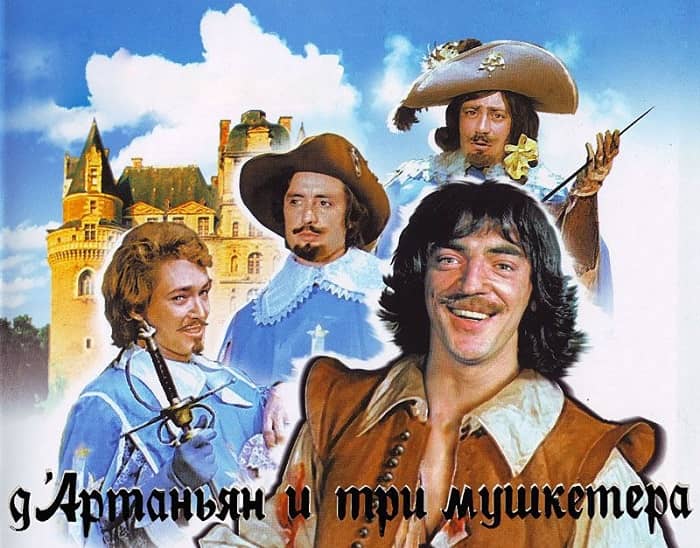 D'Artagnan and Three Musketeers
Rating: ****
Origin: Russia, 1978
Director: Georgy Yungvald-Khilkevich
Source: Twister DVD
There are several musical versions of Dumas's The Three Musketeers; this Russian TV mini-series is the best of them. (Admit it: that's a sentence you didn't expect to read today.)
Dumas's novels have been wildly popular in Russian translation since the 19th century, maintaining their popularity right through the Soviet era, especially The Three Musketeers, which can be read as a critique of European social inequality. But it was really the musketeers' manly comradeship that Russian readers found most appealing.
This is a three-part mini-series first broadcast in 1978. Though a lavish production for Russian TV of its time, it looks ludicrously low-budget to western capitalist eyes, particularly the fanciful costumes with their polyester satin, fake fur, and multi-colored wool knits. On the other hand, the period sets, mostly shot in the old Ukrainian city of Lvov, are just wonderful, far better than those of most historical swashbucklers shot in Western Europe.
The main roles are all well-cast with the type of strong character actors suited to musical comedy. D'Artagnan (Mikhail Boyarsky) is played as a loveable goofball whose chief qualities are overconfidence and boundless enthusiasm. The musketeers, Athos, Porthos, and Aramis, are close to Dumas's depictions, as are the villains, Cardinal Richelieu, Rochefort, and Milady. The royals, King Louis, Queen Anne, and Buckingham, also come off well.
And everybody sings. This version is absolutely chock full of catchy songs, some of which have become popular Russian oldies. You haven't lived until you've heard Cardinal Richelieu sing a trio with Milady de Winter and the Comte de Rochefort, suave in purple polyester. The music, mainly electric organ with drums and occasional guitar and bass, sounds like it's played by a hotel lounge band, which adds to its charm, and the bouncy songs are right for the show's light tone of cheesy melodrama. (If you think cheesy melodrama is inappropriate for a classic of world literature, well, you're just wrong — where would Charles Dickens be without it?)
In fact, this adaptation of the novel is closer than most. With three 80-minute episodes, it runs to four hours, the length of most of the best screen versions of T3M. The book has a two-part structure, and many of its later events are re-ordered here to match this production's three-act configuration, but it's cleverly done. Some key scenes were clearly inspired by their rendition in Richard Lester's adaptation, which doesn't hurt them. The romantic plots drive the story forward, there's plenty of action, though the fencing is more histrionic than convincing, and even the jokes are pretty good. Bonacieux the mercer is portrayed as an ugly Jewish caricature, but we'll overlook that lapse to gaze in wonder at the Cardinal singing a melancholy song of his hopeless love for Queen Anne, a balalaika tune that dissolves into a dream sequence in which he leads the queen through a mock-formal court ballet. It's even better than the Catholics-vs.-Huguenots song the soldiers belt out at the Siege of La Rochelle. Ochen horosho, da!
The 5th Musketeer(or Behind the Iron Mask)
Rating: ***
Origin: Germany/Austria, 1979
Director: Ken Annakin
Source: Columbia DVD
This adaptation of Dumas's The Man in the Iron Mask was another attempt to replicate the success of Richard Lester's The Three and Four Musketeers, following the formula of a large-scale production with an all-star cast. It was shot in 1976 but release was delayed when the Richard Chamberlain version of Iron Mask beat them out the gate, and the name was changed to distinguish this film from Chamberlain's to The 5th Musketeer, a rather obvious attempt to associate it with the Lester films. It's a loose remake of the 1939 Iron Mask, to the extent that George Bruce, the scripter of that film, even gets a writing credit, but screenwriter David Ambrose goes Bruce one better by making the characters of Prince Philippe and Maria Teresa active heroes rather than passive victims.
In fact, this could be one of the best screen versions of Iron Mask if it had been made with enthusiasm instead of mere professionalism, and if it didn't have for its lead the woefully miscast Beau Bridges in the double role of Prince Philippe and King Louis XIV. Bridges is out of his depth, bland and uncharismatic, his voice breaking when he raises it to give royal commands. Ugh.
Young King Louis is a weak bully who spends his time in bed with his mistress Ursula Andress, playing the meanest and sluttiest Louise de La Vallière ever. Meanwhile, in far Gascony, his unknown twin brother Philippe is being raised in seclusion by d'Artagnan (Cornel Wilde, playing the role for second time) and the Three Musketeers, secretly advised by Colbert the Good Minister (Rex Harrison, playing himself as usual). However, Fouquet the Bad Minister (a young Ian McShane) finds out about Philippe and has him abducted for a rather silly evil plot in which the prince, dressed up as King Louis to receive his bride, Spanish Infanta Maria Teresa (Sylvia Kristel), will be assassinated by "rebels." The real king will then miraculously reappear, thus confirming his divine right to absolute rule. However, assassinating a young man raised by the musketeers isn't quite so easy: Philippe spots the black powder deathtrap and leaps at the last moment, grabs a convenient rapier, and then we're off into the usual dance of swordfights, kidnappings, impostures, rescues, love affairs, secret passages, and dreadful metallic headgear.
The direction by old hand Ken Annakin is merely passable except in scenes of suspense, which he still shows a talent for. The swordplay is perfunctory and the costumes, though colorful, are a bit cheap, but the settings, in the palaces, castles, and cathedrals of Austria, are amazing. Lloyd Bridges as Aramis is as miscast as his son, but it's a pleasure to see the venerable José Ferrer and Olivia de Havilland in small roles as Athos and the Queen Mother. Awful old Alan Hale Jr. plays Porthos for the second time, as his father did before him in the 1939 Iron Mask, and he finally, finally gets it right. Alan Hale, redeemed, after all his cinematic sins! Who could have guessed?
Where can I watch these movies? I'm glad you asked! Many movies and TV shows are available on disk in DVD or Blu-ray formats, but nowadays we live in a new world of streaming services, more every month it seems. However, it can be hard to find what content will stream in your location, since the market is evolving and global services are a patchwork quilt of rights and availability. I recommend JustWatch.com, a search engine that scans streaming services to find the title of your choice. Give it a try. And if you have a better alternative, let us know.
Previous installments in the Cinema of Swords include:
Peak Musketeers
Lone Wolf and Cub, Part 2
Arthur, King of the Britons
Sinbads Three
Premium Peplum: Top Hercs
Fight Direction by William Hobbs
Mash-Up or Shut Up
Classics on Screen — 1977
Wuxia in the Time of Kung Fu
So Many Prisoners of Zenda
Seventies Hall of Shame
The Year of Shogun
1981: The Old Order Changeth
The Barbarian Boom, Part 1
Old School Pirates
Weird Samurai
---
LAWRENCE ELLSWORTH is deep in his current mega-project, editing and translating new, contemporary English editions of all the works in Alexandre Dumas's Musketeers Cycle, with the fifth volume, Between Two Kings, available now from Pegasus Books in the US and UK. His website is Swashbucklingadventure.net.
Ellsworth's secret identity is game designer LAWRENCE SCHICK, who's been designing role-playing games since the 1970s. He now lives in Dublin, Ireland, where he's writing Dungeons & Dragons scenarios for Larian Studios' Baldur's Gate 3.