Ellsworth's Cinema of Swords: Fight Direction by William Hobbs (Pt. 1)
Ellsworth's Cinema of Swords: Fight Direction by William Hobbs (Pt. 1)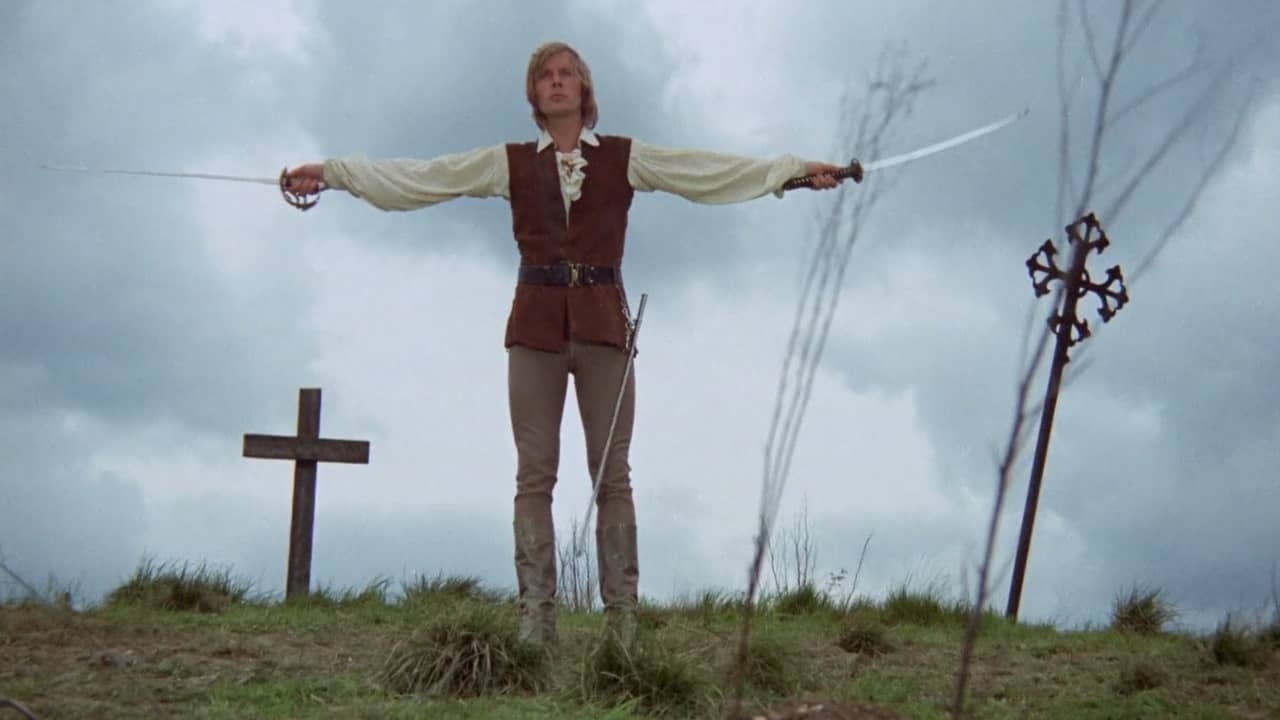 Captain Kronos – Vampire Hunter (UK, 1974)
William Hobbs (1939-2018) was the greatest director of European-style stage fencing of his generation. An English actor trained to the stage at the Old Vic, Hobbs was fight director at Laurence Olivier's National Theatre Company in the Sixties before making is first big splash in films with Richard Lester's The Three Musketeers in 1973. As a fencing choreographer, he was known for his more realistic, rough-and-tumble approach to cinematic fighting, having the actors expend effort to exhaustion, depicting combat as a desperate and fearful endeavor. This was a revelation that overturned the Hollywood standard of elegant and balletic fencing as exemplified by the swordwork of actors like Basil Rathbone, Stewart Granger, and Cornel Wilde. In a William Hobbs fencing match, an actor was as likely to strike a blow with a handy broomstick as with a rapier.
Hobbs' most influential work was certainly the swordplay he choreographed for Ridley Scott's The Duellists, after which he was the go-to guy for decades for any British or American production that featured fencing, his credits including Excalibur (1981), Ladyhawke (1985), Rob Roy (1995), all the way through to Game of Thrones (2011). In between he continued to work as a director for stage fencing, mainly for productions of Shakespeare plays — he directed the swordwork in Hamlet over two dozen times, including the 1990 film with Mel Gibson. "I do think, what the hell am I going to do this time to make it different?" Hobbs said in 2008. "A fight has to grow out of the situation of the play. There's the text, and you've got to follow it truthfully and honestly."
This week, let's take a look at three of Hobbs' earliest films as fight director.
Captain Kronos – Vampire Hunter
Rating: ****
Origin: UK, 1974
Director: Brian Clemens
Source: Feel Films Blu-ray
By the early Seventies, the UK's Hammer Films was on the rocks; their brand of gothic horror had become passé, and other genres, including swashbucklers, were no longer working for them either. This was an attempt to establish a new series with a fresh take on both swashbucklers and horror.
It should have worked. In late 18th century England, among tricornes and tailcoats, Captain Kronos (Horst Janson) is a former member of the Imperial Guard who finds a new career when his family is slain by vampires, and he nearly succumbs to the monsters himself. A master fencer armed with a cavalry saber and a Japanese katana, and backed by the hunchbacked scholar Professor Grost (John Cater), who drives a rattling wagon full of anti-undead paraphernalia, Kronos becomes a professional vampire hunter. On his way to a summons from his old friend Doctor Marcus (John Carson), Kronos frees the young beauty Carla (Caroline Munro) from the stocks where she's been imprisoned for dancing on a Sunday, and she joins his band.
A vampire is indeed preying on Doctor Marcus's remote village, but of what kind? This undead threat drains the life force from its victims rather than blood, and the usual counter measures are no use. However, as Professor Grost points out, "There are many species of vampires," and he has ways of figuring out how to respond to this one. The puckish Grost is delightful and so are his methods, including the Toad-in-the-Hole vampire detector, a dead toad in a box buried where you think a vampire will pass, because as the old saying goes, "Then the vampire life shall give, and suddenly the toad shall live." Sure, professor.
Besides the series of vampire attacks, there are some run-ins with sword-armed malefactors hired to take Kronos out, but the only real suspects in the neighborhood are the creepy aristocrats of the old Durward family, so it looks like there isn't really much of a mystery going on here. However, the story takes some unexpected twists and turns in its final act, and because it's a swashbuckler, it has to end in a climactic sword duel. This is an exciting clash reminiscent of the brawls in Richard Lester's Musketeers films, which makes sense because Kronos's undead swordsman opponent is played by fight director William Hobbs, who also choreographed the swordplay in the Musketeers movies. Clang!
This film was written and directed by Brian Clemens, who along with co-producer Albert Fennell had been the showrunner for the Steed and Mrs. Peel Avengers TV series. Kronos benefits from the same kind of dark whimsy as The Avengers, and it should have worked here as well. It was made in 1972 and not released until '74, after the success of The Three Musketeers, but by that time Hammer Films was failing and couldn't support it properly. Too bad — based on this first film, a few more entries in the series would have been welcome.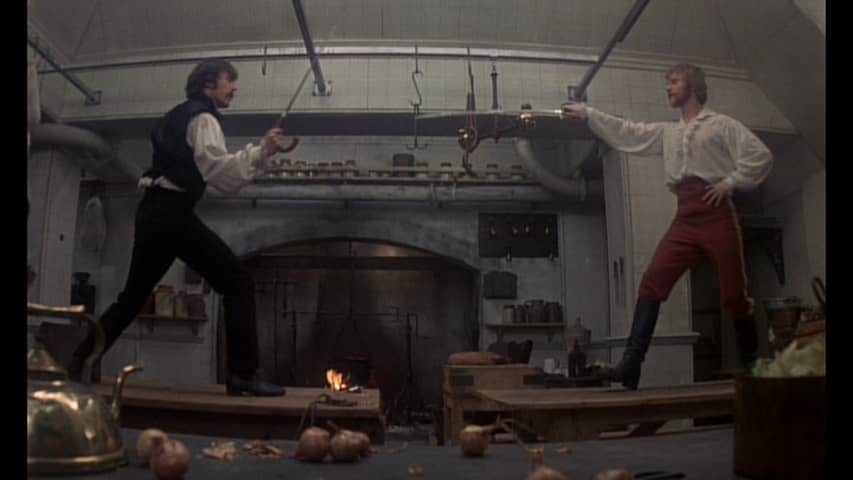 Royal Flash
Rating: ***
Origin: UK, 1975
Director: Richard Lester
Source: 20th Century Fox DVD
The best swashbuckler farces work because behind the jokes they show a love for the genre they're lampooning, and that's certainly the case here. Director Richard Lester and screenwriter George MacDonald Fraser followed up their collaboration on The Three and Four Musketeers with this adaptation of Fraser's second Flashman novel, and it has many of the virtues of the previous films. If it's less effective, it's mostly because it leans too heavily into the comedy: a lot of the jokes are heavy-handed and the slapstick scenes run on too long.
Another difference from the Musketeers films is that there are no heroes here, only an antihero, the cowardly rogue Captain Harry Flashman (Malcolm McDowell), and the series of villains who threaten him. Leading these is the great Oliver Reed as the ruthless German statesman Otto von Bismarck, whose best scene is in the beginning, when the smarmy Flashman humiliates him by maneuvering Bismarck into a fist fight with a retired English heavyweight boxer, who makes short work of the overconfident Prussian diplomat. Bismarck coldly assures Flashman that he'll have his revenge.
His opportunity comes four years later, when he embroils Flashy in a deadly political plot on the Continent. The story is a close adaptation of Fraser's novel, which reworks Anthony Hope's The Prisoner of Zenda and sets it on the northern German border during the 1848 Schleswig-Holstein affair. Flashman is summoned to Bavaria by an old lover, the notorious Lola Montez (Florinda Balkan) — another historical character — but is framed for a crime by Bismarck's aide, the rakish and rascally Rudi von Sternberg (Alan Bates), and tricked into fleeing to the fictional Duchy of Strackenz. Bismarck wants to add Strackenz into his German confederation via an elaborate plot that involves Flashman impersonating the Danish prince who is to marry Strackenz's icy Duchess Irma (Britt Ekland). It all goes outrageously wrong, of course, and Flashy ends up getting pursued around a grim old German castle by Sternberg and Bismarck's other minions, comic-opera villains all, including Lionel Jeffries as Kraftstein, who has an awesome three-fingered iron hand.
Malcolm McDowell is particularly well cast as Captain Harry Flashman, displaying the appropriate mix of smug arrogance and brash cockiness when he's on top and servile groveling when he's threatened. Alan Bates is good as Sternberg, this story's analogue to Hope's Rupert of Hentzau, but not good enough to steal his scenes the way Rupert does in every screen adaptation of Zenda. There are a number of excellent half-serious duels with cavalry sabers, all choreographed by the brilliant fight director William Hobbs, who'd performed the same service for Lester's Musketeers films. And with veteran cinematographer Geoffrey Unsworth behind the lens, it looks great. But at the time, Royal Flash had only a limited release to theaters and didn't review well, which has left it with a reputation for mediocrity that's not entirely justified. It doesn't help that it fell between Lester's greatest film swashbucklers, the Musketeers movies and Robin and Marian (1976), but taken on its own terms, it's well worth watching.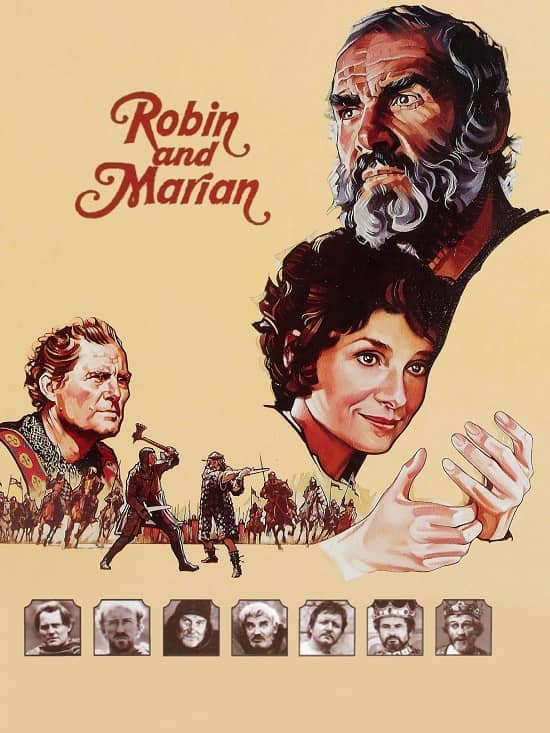 Robin and Marian
Rating: ***** (Essential)
Origin: UK/US, 1976
Director: Richard Lester
Source: Columbia Pictures DVD
Robin and Marian, is the first major feature about the Outlaw of Sherwood to step out of the long shadow of Errol Flynn's Adventures of Robin Hood, made almost forty years earlier, and it does so by revisiting the lives of its major characters when they are well into middle age. Robin Hood (Sean Connery) and Little John (Nicol Williamson) have been following King Richard Lionheart (Richard Harris) on his foreign conquests for twenty years, growing increasingly fed up with the futility of his wars. When the king dies of sepsis from a freak arrow wound, Robin and John return to England and Sherwood Forest, where they find their outlaw years have become the stuff of legend. Will Scarlet (Denholm Elliott) and Friar Tuck (Ronnie Barker) are now scruffy, aging deer poachers, and Robin's old love Marian (Audrey Hepburn) is the abbess of the local convent.
Only the Sheriff of Nottingham (Robert Shaw) still seems formidable, and Robin arrives at Kirkly Abbey in search of Marian just as the Sheriff is on his way to arrest her on the orders of King John (Ian Holm), who is closing the monasteries. Robin decides he's going to save Marian from the Sheriff whether she wants saving or not, swords are drawn and bows are strung, and soon everyone has fallen back into their old roles.
But their youth has gone, and Robin's rescue of the kidnapped nuns from Nottingham, with wall-climbing and acrobatic swashbuckling just like in the old days, leaves everyone wheezing and tottering. However, Robin, Marian, and company make their escape to the greenwood, and the Sheriff makes his plans to go after them — but not in the way that Robin expects.
The excellence of this film starts with its script by the acclaimed James Goldman (brother of William of The Princess Bride), an alternately wry and moving tale of lost youth and the endurance of love. Director Richard Lester trades in most of his signature slapstick comedy for elegiac, autumnal visions of the woods and hills, with a stirring but tender score by John Barry and warm cinematography by David Watkin. But what really makes the movie work is the tart chemistry between Connery's Robin and Hepburn's Marian, who glows with warmth and intelligence. The two are perfectly set off by Shaw's acerbic Sheriff of Nottingham, who may be the sharpest sword in the armory, but he still can't resist Robin's challenge to settle all their differences in single combat. That duel, choreographed by the great William Hobbs, wordlessly encapsulates everything the film has to say about the glory and stupidity of men of war. Only Marian has the wisdom to see that the days of futile fighting must come to an end, and takes firm steps to ensure that love will not be defeated by age and death. The romance of Robin and Marian, like this film, is undimmed by time.
Where can I watch these movies? I'm glad you asked! Many movies and TV shows are available on disk in DVD or Blu-ray formats, but nowadays we live in a new world of streaming services, more every month it seems. However, it can be hard to find what content will stream in your location, since the market is evolving and global services are a patchwork quilt of rights and availability. I recommend JustWatch.com, a search engine that scans streaming services to find the title of your choice. Give it a try. And if you have a better alternative, let us know.
Previous installments in the Cinema of Swords include:
Cheh's On Second
En Garde, Old Boy
More Hammer Historicals
Zatoichi's Finest
A Little History
Lone Wolf and Cub, Part I
Premium Peplum
The Book Was Better
Shogunate's End
Peak Musketeers
Lone Wolf and Cub, Part 2
Arthur, King of the Britons
Sinbads Three
Premium Peplum: Top Hercs
---
LAWRENCE ELLSWORTH is deep in his current mega-project, editing and translating new, contemporary English editions of all the works in Alexandre Dumas's Musketeers Cycle, with the fifth volume, Between Two Kings, coming in July from Pegasus Books in the US and UK. His website is Swashbucklingadventure.net.
Ellsworth's secret identity is game designer LAWRENCE SCHICK, who's been designing role-playing games since the 1970s. He now lives in Dublin, Ireland, where he's writing Dungeons & Dragons scenarios for Larian Studios' Baldur's Gate 3.