Ellsworth's Cinema of Swords: En Garde, Old Boy
Ellsworth's Cinema of Swords: En Garde, Old Boy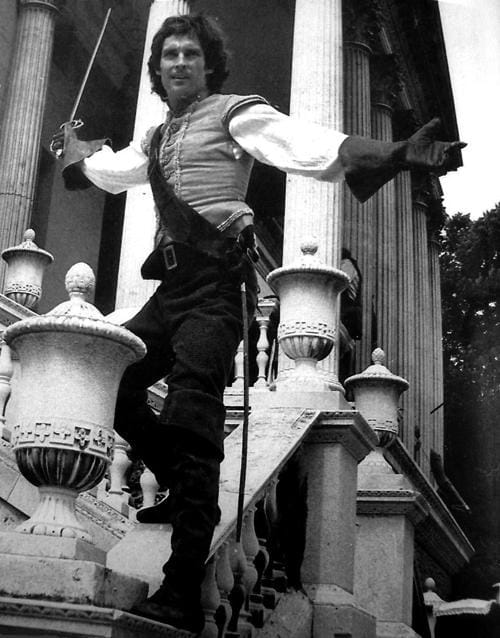 The Three Musketeers miniseries (UK, 1966)
At last! Because you demanded it. (I'm pretty sure that happened,) Finally, the subject everyone wants an article about, French Swashbuckler Tales Adapted for British Television! I know, right?
In the Sixties, one of the BBC's stocks in trade was popular literature adapted into mini-series of six to sixteen half-hour episodes, usually shown on Sunday afternoons. In this context, Alexandre Dumas worked well for them: they'd had such success with The Count of Monte Cristo that they went back to the Dumas well twice more with his musketeers, and then picked up and dubbed a French serial called Le Chevalier Tempête set in the same period. En garde, old boy!
The Three Musketeers, Miniseries
Rating: ****
Origin: UK, 1966
Director: Peter Hammond
Source: Koch Vision DVDs
Brian Blessed as Porthos!
…You need more than that? Very well. The BBC was in the business of literary adaptations, and after the success of writer-director Peter Hammond's teleplay of The Count of Monte Cristo, they turned to him for a follow-up with a version of Alexandre Dumas's other best-known novel, The Three Musketeers. As with Monte Cristo, it has all the strengths and weaknesses of a BBC miniseries: a literate script, fine performances by stage-trained actors, and lots of grainy closeups to divert the viewer's attention from the low-budget sets and bare-bones production values.
Unlike most Hollywood versions, the story is played straight, without a touch of camp or a wink at the audience, except for the twinkle in Brian Blessed's eye. Dumas's long novel is boiled down to ten 25-minute episodes, or just over four hours — the length of two features, the approach of those adaptations, like Diamant-Berger's in 1932 or Richard Lester's in 1973, that really intend to do justice to the source material. And as the novel was originally published in serial form, breaking it into ten chapters does it no harm, in fact it may be the most authentic approach.
What a wealth of fine actors this version presents: Jeremy Young is a memorable and commanding Athos, Gary Watson is a dry and droll Aramis, and a young Jeremy Brett — yes, the great Sherlock Holmes of the Eighties Granada TV series — makes a fine and passionate d'Artagnan, though it takes him a couple of episodes to really grow into the role. Screen versions of The Three Musketeers are often fortunate in the actors chosen to play Cardinal Richelieu, and this adaptation is no exception, with Richard Pasco of the Old Vic and the Royal Shakespeare Company nailing the role. It's harder to find a good Queen Anne on screen, but this version has one in Carole Potter, who gives the character an inner strength missing in most portrayals.
There was no swashbuckling in Hammond's adaptation of Monte Cristo, but there's plenty in his Musketeers, and the indifferent swordplay in the early episodes improves as the series goes on. Several scenes from the novel show up here that I believe are seen in no other screen versions, including d'Artagnan's duel with Lord de Winter behind the Palais Luxembourg and Porthos's courtship of the wealthy attorney's wife Madame de Coquenard, most welcome because it gives us more of the vainglorious Blessed preening and curling his mustachios. Plus, this extended adaptation includes plenty of time for scenes of camaraderie between d'Artagnan and the musketeers, most of which come straight from Dumas. In short, despite its threadbare budget, this is one of the best Three Musketeers available, highly recommended to aficionados of swashbuckling cavaliers.
And Brian Blessed is the best screen Porthos ever. (Duel me!)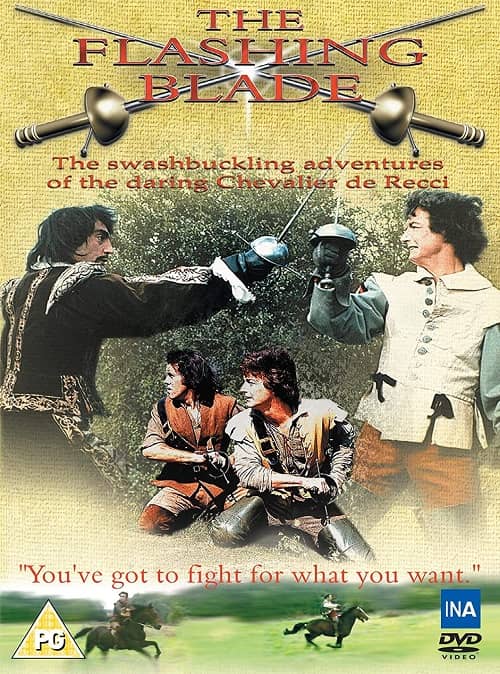 The Flashing Blade
Rating: ***
Origin: France, 1967
Director: Yannick Andrei
Source: Network DVDs
1630, during one of the conflicts between Spain and France, the War of the Mantuan Succession: the fortress of Casal, held by the French, is besieged by a much larger Spanish force. But an adventurous Frenchman, the young Chevalier de Recci (Robert Etcheverry), accompanied only by his loyal lackey Guillot (Jacques Balutin), fights his way through the Spanish lines and into the besieged garrison. Does he bring an important message? No, he comes solely in search of glory!
The French commander, General de Thoiras (Gilles Pelletier), is in a desperate plight and has no place in his ranks for gloryhounds, so he sends Recci on a secret mission to Marshal de La Force for reinforcements. To reach La Force, Recci sets out to cross the neutral Duchy of Savoy, but runs afoul of the Spanish troops of Don Alonso (Mario Pilar).  Alonso plots to wreck the truce negotiations between France and Spain at the Savoyard château of the Duke of Sospel. Unable to cut his way through the Spaniards, Recci is caught in Savoy in a web of international intrigue — but, entranced by the blue eyes of Isabelle de Sospel (Geneviève Casile), there's nowhere he'd rather be.
This action-packed swashbuckler was originally a full color French mini-series of four 75-minute episodes called Le Chevalier Tempête. Bought by the BBC, it was cut up into twelve 25-minute episodes for British broadcast and dubbed, spectacularly well, into English. Originally shown in the UK in 1969, it was so popular it was rerun repeatedly during the Seventies. The story is a heady mixture of political intrigue, headlong chases, and sudden swordplay, and if the heroes don't have the depth of a d'Artagnan or a Cyrano, at least they're good-looking and active. The best are the intriguers: Claude Gensac as Mademoiselle Mireille, sly and convincing as a cunning secret agent of Cardinal Richelieu, and Giani Esposito, delightful in the role of Jules Mazarin, a wily papal envoy. Historically, Mazarin would go on to become a protégé of Richelieu, replacing him after his death as a cardinal and France's prime minister. Mazarin is the only character who appears both here and in Alexandre Dumas's novel about the War of the Mantuan Succession, The Red Sphinx, but The Flashing Blade owes its entire look and feel to Dumas's Musketeers novels.
This series isn't deep, but it's heartfelt. For a TV show, the period-perfect costumes are excellent, the forts and châteaux are all authentic locations, and the fencing with cup-hilt rapiers isn't bad. The French and Spanish musketeers — with muskets! — are spot on. And it has a dumb but ridiculously catchy galloping theme song that you can't get out of your head.
Bizarrely, during the initial British broadcast, there was a catastrophic technical fault a few minutes into the twelfth and final episode, and the show went dark. In the attempt to save it, the dubbed version was somehow scrubbed and lost, so the last episode, a sort of epilogue, was never shown in British rerun. For the DVD release, Network went back to the original French show and subtitled it for episode 12, giving us a glimpse of Le Chevalier Tempête in its original form. Très fascinant!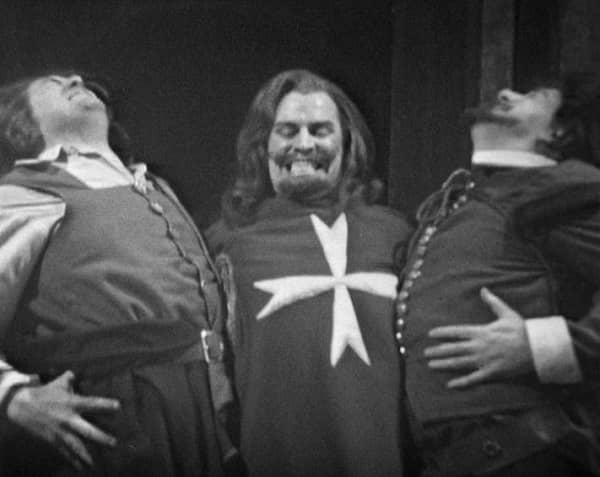 The Further Adventures of the Musketeers
Rating: ***
Origin: UK, 1967
Director: Christopher Barry and Hugh David
Source: Simply Media DVDs
This, the BBC's follow-on to their 1966 The Three Musketeers mini-series, is based on Alexandre Dumas's first sequel to that novel, Twenty Years After, a book so large that your editor's modern translation of it had to be published in two volumes, Twenty Years After and Blood Royal. And indeed, the BBC, which needed ten 25-minute episodes to adapt The Three Musketeers, needed sixteen eps for its sequel. Being the BBC, they adapted the novel straight, though with a sadly low budget, but the result, low budget or no, is the most authentic version of Twenty Years After ever filmed.
Which begs the question: is a nearly seven-hour, low-budget, authentic film version of Dumas's long and complex novel worth the effort? The surprising answer is yes, if you have a sharp script and the four musketeers as strongly cast as in this version. Jeremy Young as Athos and Brian Blessed as Porthos return from the previous series, with the excellent John Woodvine stepping in as Aramis, and best of all Joss Ackland as the mature d'Artagnan. In this story d'Artagnan comes into his own as a leader and master planner, a role in which Ackland excels, but if d'Artagnan is the brains of these musketeers, Brian Blessed is their heart and soul. To take advantage of Blessed's irrepressible joie de vivre, the role of Porthos is expanded here to be almost equal to d'Artagnan's, and the result is the finest screen depiction of the plus-size musketeer ever seen.
 Frankly, the tale needs all the Porthos it can get. The complex story starts with a rebellion in France, moves across the Channel to the English Civil War and the trial of King Charles I, and then back to Paris to conclude the civil war. Politics and personal ambition mean the musketeers are split and on opposite sides in both conflicts, until the brilliant d'Artagnan finds a way to reunite them behind a single cause. The first five episodes move quickly, but the middle half dozen bog down in too much intrigue and too many characters, though fortunately the pace picks up again for the ending. Though the four musketeers are outstanding, the rest of the cast are basically just good enough, unusual for a prestige BBC production.
The swashbuckling and swordplay are also adequate, and there's plenty of it, with a number of action scenes added that don't appear in the novel. Dumas felt that he had put enough of everything into Twenty Years After except romance, and this mini-series addresses that by elevating two of his female characters to greater prominence and then giving them something to do beyond just being objects of adoration. So points for that. Nonetheless, unless you're a big Dumas fan you're going to find this a long slog, even given Blessed's glorious performance as Porthos.
Where can I watch these movies? I'm glad you asked! Many movies and TV shows are available on disk in DVD or Blu-ray formats, but nowadays we live in a new world of streaming services, more every month it seems. However, it can be hard to find what content will stream in your location, since the market is evolving and global services are a patchwork quilt of rights and availability. I recommend JustWatch.com, a search engine that scans streaming services to find the title of your choice. Give it a try. And if you have a better alternative, let us know.
The previous installments in the Cinema of Swords include:
Classic, Mythic and Epic
The Exuberant Excess of Sixties Vikings
Tyrone's Typecast Troubles
Not-So-Wholesome Buccaneers
Daimajin Strikes Again!
Three Counts of Monte Cristo
Mongols, Cossacks, And Tartars
I Heard You Like Swords
Bard's Tales
Hu's on First
Flynn's Last Flourishes
Mighty Colossi And Hydrae
Rejecting Bushido (Part One)
Pirates — Italian Style
The Year of Camelot and Scarecrows
Rejecting Bushido (Part Two)
The Fall of the Hollywood Epic
Cheh's On Second
---
LAWRENCE ELLSWORTH is deep in his current mega-project, editing and translating new, contemporary English editions of all the works in Alexandre Dumas's Musketeers Cycle, with the fifth volume, Between Two Kings, coming in July from Pegasus Books in the US and UK. His website is Swashbucklingadventure.net.
Ellsworth's secret identity is game designer LAWRENCE SCHICK, who's been designing role-playing games since the 1970s. He now lives in Dublin, Ireland, where he's writing Dungeons & Dragons scenarios for Larian Studios' Baldur's Gate 3.