Sword & Sorcery Has a Future: The Red Man and Others by Remco van Straten and Angeline B. Adams
Sword & Sorcery Has a Future: The Red Man and Others by Remco van Straten and Angeline B. Adams
The Red Man and Others (March 2021). Cover artist uncredited
Back in May I was contacted by author Remco van Straten, who was promoting his new Heroic Fantasy collection The Red Man and Others, written with Angeline B. Adams. Here's what he told me.
These are interconnected stories around a small but tough sell-sword, Kalia, her disabled forger girlfriend Ymke, and their teenage thief and con-artist protégé Sebastien, each with a grudge against the Brotherhood of the Wheel. In their attempts to get back at the cult, they find each other, and a new purpose for their skills. The paperback is illustrated throughout and also contains background material.
I'm a sucker for modern heroic fantasy, so I was glad to take a look. And what I found was a well-packaged collection that has already garnered some surprising attention.
The book came with the usual blurbs (including the Rogues in the House podcast, who called it "New Wave Sword & Sorcery… good stuff"), but I was more interested in reader reviews, and I found plenty. Perhaps the most intriguing was from Oliver at Amazon. Here's an excerpt from his 5-star review.
Sword & Sorcery isn't just the classic canon

What this book made me feel was hope that the sword & sorcery genre has a future beyond rehashes of the genre's past, that it can expand and grow while still being recognizable as sword & sorcery… there is a sense of roguish humor mixed with the odd, effective drop of tragedy that drives these stories. When it reminded me of Lieber, it reminded me of him at his best.

I was also reminded of [Fafhrd and the Gray Mouser] by the structure, which is to tell a story of one main character, then the other, and in the third chapter uniting them for the big adventure, much as Lieber stitched together old and new stories to create that structure in Swords & Deviltry. But again, they go beyond – the main story is followed by what felt like a wonderful cool-down of sorts…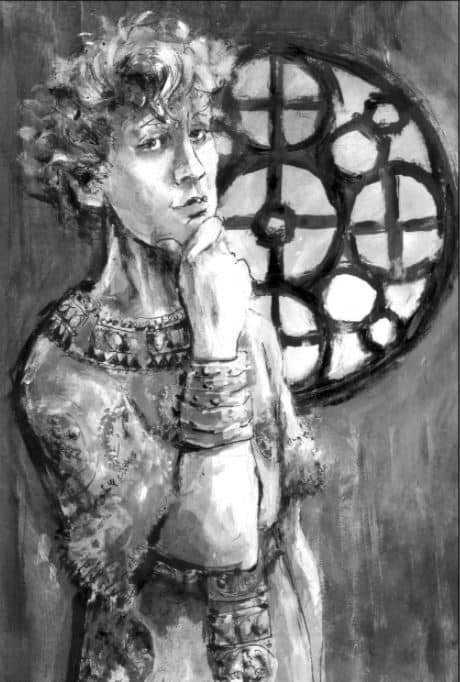 Interior art from The Red Man and Others by Remco van Straten
The book has an impressive 4.5 ranking at Goodreads, based on 16 reviews. There's a nice mix of enthusiastic commentary there as well. Here's a snippet from the 5-star review by Ricardo Pinto.
With the grime and pungency of the Brothers Grimm, these three, interwoven stories pit damaged and lovable folk against the power wielded by remote nobles and false religion. To survive against such pompous but crushing fakery, our heroes must resort to humorous fakery of their own. Intimate, literate and touching scenes erupt into visceral violence…
The Red Man and Others was published on March 28. It is 210 pages, priced at £7.99. The cover artist is uncredited, but the interior art is by Remco van Straten. Check out the book trailer here.
See all our recent coverage of the best new fantasy releases here.