Cinema of Swords: Three Counts of Monte Cristo
Cinema of Swords: Three Counts of Monte Cristo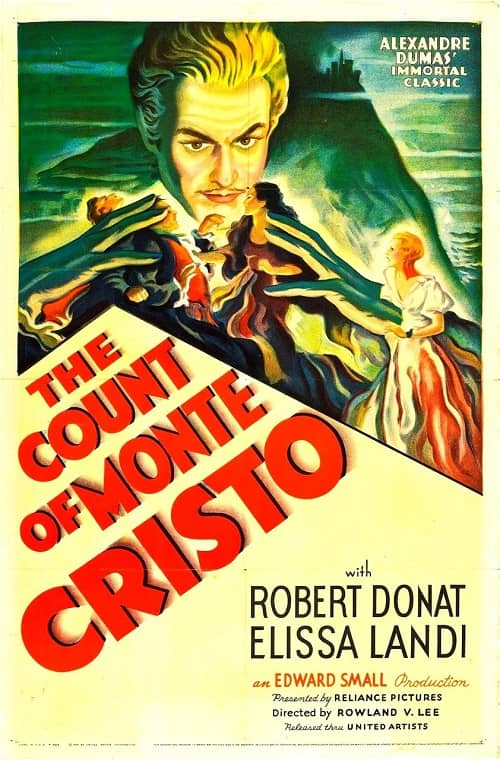 The Count of Monte Cristo (1934)
Your honor, I stand before you charged with three counts of Monte Cristo, and while I could plead insanity, instead I'll Dumas best to explain.
(I slay me.)
Alexandre Dumas's most popular and enduring novels are The Three Musketeers and The Count of Monte Cristo, and one of the most remarkable things about them is that he wrote them at the same time! They were published in simultaneous serial form in two different Parisian periodicals, with T3M finishing first because Monte Cristo was the longer novel. Though written together, the two are very different: T3M is an action-packed tale of youthful heroism, practically the definition of a swashbuckler, while Monte Cristo is a slow-burn revenge fantasy, a swashbuckler more in its themes than its action. It still holds up today; if you haven't read it, or haven't read it lately, I recommend the Penguin Books translation by the late Robin Buss. (I know a little bit about translating Dumas, so take my word for it!)
But enough about the book: we're here for the flicks! Monte Cristo was filmed many times during the silent era, and at least three of those adaptations have survived, but this week we're going to look at the first thirty years of its sound versions in English. Prepare yourself for the vengeance of Edmond Dantès!
The Count of Monte Cristo (1934)
Rating: ****
Origin: USA, 1934
Director: Rowland V. Lee
Source: Hen's Tooth Video DVD
After English stage actor Robert Donat had garnered acclaim playing opposite Charles Laughton in Alexander Korda's The Private Life of Henry VIII, he was brought over to Hollywood to star in the first talkie version of Monte Cristo. This is the first of director Rowland Lee's spate of swashbucklers, and he does an able job, supported by a stirring soundtrack from Alfred Newman. The story is necessarily streamlined from that of the lengthy novel, its European politics simplified for an American audience, and the plot pared down to its essence of triple revenge. It's pretty tight, and there's a desperate urgency to Edmond Dantès's escape from the Château d'If that's missing from the earlier silent versions.
In due course Dantès finds the buried Spada treasure and utters Dumas's immortal line, "The world is mine!" The film's final hour is the clockwork accomplishment of his vengeance. Transformed by the Spada wealth and the imprisoned Abbé Faria's wisdom, Donat looks tremendous as the Count of Monte Cristo, silver-haired and rigid with purpose. Elissa Landi plays Dantès's old love, Mercédès, and when she first meets the count after twenty years of believing Dantès dead, the scene is genuinely affecting. After that the count's shocking revelations follow one upon the other, and it all ends as it should, with flashing swords and pistols at dawn. This was the definitive Count of Monte Cristo for a generation.
After this film's success, Donat was offered the lead in Captain Blood, but he didn't care for Hollywood and went back to Britain to work with Alfred Hitchcock. (And the part of Peter Blood, of course, went to Errol Flynn.) Monte Cristo's producer, Edward Small, went on to make eight more swashbucklers over the next fifteen years, mostly starring Louis Hayward, including two Monte Cristo sequels.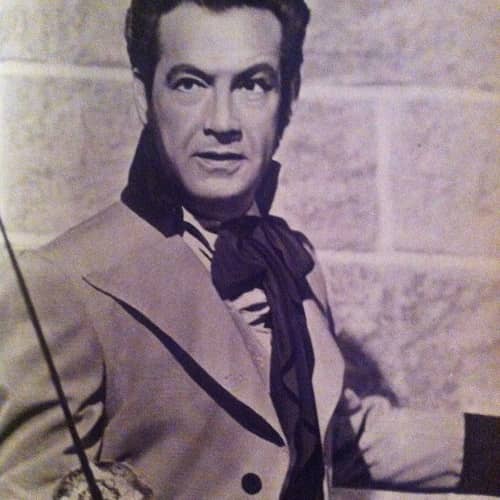 The Count of Monte Cristo, Series (1956)
Rating: ** (mostly)
Origin: UK, 1956
Director: Sidney Salkow, et al.
Source: Network DVDs
Though the novel was wildly successful, Alexandre Dumas never wrote a sequel to The Count of Monte Cristo, despite many requests. That didn't stop other hands from writing Monte Cristo sequels after Dumas's death, signing his name to pastiches with titles such as The Son of Monte Cristo and The Countess of Monte Cristo. Dumas never wrote a sequel because he'd already written a superb fantasy of injustice fantastically avenged, and there was nothing more to say about the count once his vengeance was achieved. The sequel pastiches ignored that point, and this early British TV series missed it entirely, giving us a successful and fabulously wealthy Count of Monte Cristo who supports the very French establishment whose corruption he exposed in the novel, and now has nothing better to do for 39 episodes than to help folk in trouble as a sort of do-gooder-without-portfolio. This is mostly just a disappointment, stories of mundane intrigue with clichéd plots and obvious villains, who always succumb to the count in quick small-sword duels just before the credits roll.
Monte Cristo is played by George Dolenz (and if that last name sounds familiar, it might be because George was the father of Mickey Dolenz of The Monkees). Dolenz is handsome and competent enough, but mostly humorless and lacking the savage edge of the character in the novel. Fortunately, the funny stuff is ably handled by his aide Jacopo, played by Nick Cravat — remember Burt Lancaster's mute acrobatic sidekick in The Crimson Pirate and The Flame and the Arrow? That was Cravat, who here plays Monte Cristo's mute and acrobatic sidekick. Even without speaking, the charismatic Cravat out-acts everyone else in the cast including the guest stars and is a bright spot in even the weak episodes, which is most of them. He's supported by another sidekick, a nonentity named Rico who's only there to speak with the count because Jacopo can't — but Jacopo makes up for it with amazing gymnastic fisticuffs.
For some reason, the first few episodes were shot in Hollywood before production moved to England for the bulk of the season, returning to Hollywood for eps 29 through 39. That didn't help the series' quality, which was wildly inconsistent, as was the cast — after production returned to California Rico disappeared, only to be replaced on a rotating basis by clones named Carlo and Mario, while the rest of the cast switched to third-rate Hollywood actors with flat American accents. Weak!
One result of this inconsistency is that here and there you can find excellent episodes that stand head and shoulders above the rest. Three of the best instalments are deliberate callbacks to the novel that feature characters from Dumas and plots that center on Monte Cristo-style revenge: #8, "Bordeaux," in which Mercédès returns to torment the count's heart; #19, "Sicily," which delves into Edmond Dantès's time as a fugitive and features the always excellent Alexander Gauge as the villain; and #27, "Point Counterpoint," in which Monte Cristo is targeted by the daughter of the late Baron Danglars. Three other episodes from the late Hollywood run are worth tracking down: #31, "The Pen and the Sword," #33, "Three Napoleons," and #37, "The Duel," helmed by American feature director Sidney Salkow. If you're a Monte Cristo fan, look for these six episodes streaming on the web and let the other thirty-three go. I watched them so you don't have to; don't let my sacrifice be in vain.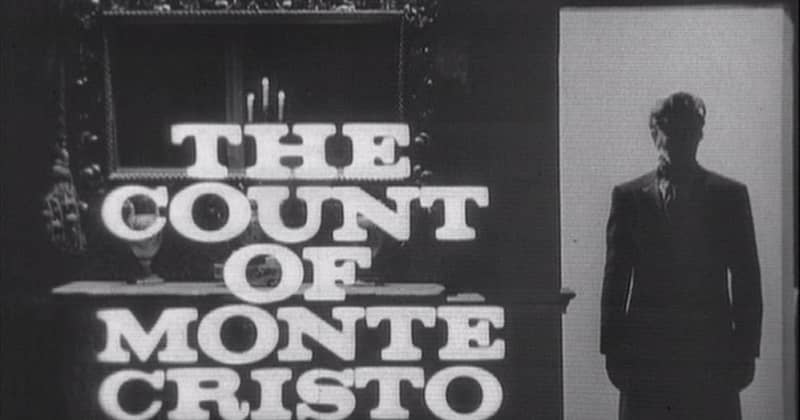 The Count of Monte Cristo, Miniseries (1964)
Rating: ****
Origin: UK, 1964
Director: Peter Hammond
Source: Simply Media DVD
Alexandre Dumas's great novel The Count of Monte Cristo is many things: a thrilling adventure story, a romantic melodrama, a study in criminal psychology before that discipline existed, and an extended revenge fantasy, possibly the finest ever written. Screen adaptations, for obvious reasons, tend to focus on the romance and the thrilling adventure, boiling Dumas's long novel down to its most memorable high points. In contrast, this adaptation focuses almost exclusively on the psychological drama, and as a twelve-part miniseries almost six hours in length, it's the only version of Monte Cristo long enough to get most of the novel onto the screen. And though what it leaves out of that classic swashbuckler novel is all of its swashbuckling, it's so riveting that not a single one of its 300 minutes is wasted.
This was a prestige drama for the BBC, and it has all the hallmarks of one of their classic adaptations: a top-notch script, brilliant stage-trained actors, and a tragically low budget that means grainy black-and-white video shot in close up so you won't notice that the sets are made of plywood and burlap. But the script is so tight, the dialogue so taut, the acting so sharp, that you'll be sucked in despite the bargain basement settings.
Alan Badel as Edmond Dantès, the eponymous Count of Monte Cristo, is fantastic in the role, mostly underplaying his part so that when he suddenly shows his passion for revenge with a tigerish laugh, it's genuinely thrilling. There are no weak links in the cast; standouts include Michael Gough as the villainous de Villefort, Natasha Perry as Edmond's estranged love Mercédès, John Wentworth as the Abbé Faria, and Anthony Newlands as the shipowner Monsieur Morel. And despite what I said about the crappy sets, they found a genuinely horrific old stone prison for the scenes in the Château d'If, a shooting location it would be hard to top. Brrr.
The middle episodes are the best; as the series approaches its end, it gets a trifle self-important to remind you that this is the BBC and you're watching a Classic of World Literature and not a mere melodrama. Really, by the rules of the Cinema of Swords I shouldn't include this adaptation of Monte Cristo because it's all acting and no action, but I deem it relevant as a comparison to other versions — and besides, they're my rules so I can break them if I want to. Solely from the standpoint of story, this is the best screen adaptation of The Count of Monte Cristo available. Just remember: no swashbuckling.
The previous installments in the Cinema of Swords are:
Olivia de Havilland — First Queen of the Swashbucklers
Goofballs in Harem Pants
Disney's Early Swashbucklers
'50s Vikings – Havoc in Horned Helms
Laughing Cavaliers
Charming and Dangerous: Douglas Fairbanks, Jr.
Eleven Samurai: Early Chambara Classics
Beyond Captain Blood: Three by Sabatini
3 Musketeers + 1 Long Nose
Louis Hayward, Everyman with a Sword (Part 1 of 2)
Days of Technicolor Knights
Louis Hayward, Everyman with a Sword (Part 2 of 2)
Laurence Olivier, Swashbuckler?
Tony Curtis Goes Yonda
The 7th Voyage and Its Children
The Good, the Bad, and Mifune
The First British Invasion
Wholesome Buccaneers (Pt. 1)
The Tale of Zatoichi
The Sign of the Z!
Gallic Gallantry
Classic, Mythic and Epic
The Exuberant Excess of Sixties Vikings
Tyrone's Typecast Troubles
Not-So-Wholesome Buccaneers
Daimajin Strikes Again!
---
LAWRENCE ELLSWORTH is deep in his current mega-project, editing and translating new, contemporary English editions of all the works in Alexandre Dumas's Musketeers Cycle, with the fourth volume, Blood Royal, just published by Pegasus Books in the US and UK. His website is Swashbucklingadventure.net.
Ellsworth's secret identity is game designer LAWRENCE SCHICK, who's been designing role-playing games since the 1970s. He now lives in Dublin, Ireland, where he's writing Dungeons & Dragons scenarios for Larian Studios' Baldur's Gate 3.