Ellsworth's Cinema of Swords: I Heard You Like Swords
Ellsworth's Cinema of Swords: I Heard You Like Swords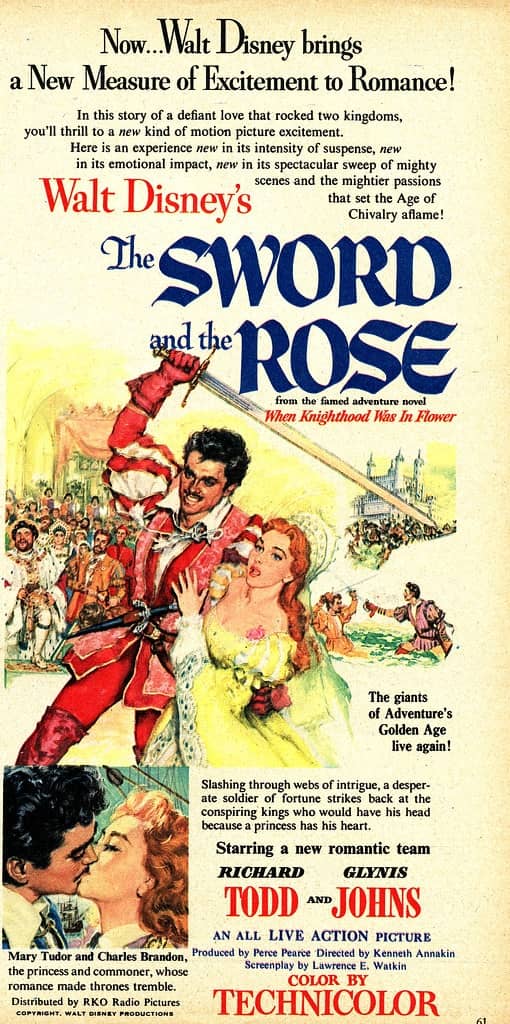 The Sword and the Rose (Walt Disney, 1953)
What? Has Lawrence run out of theme ideas? Has the well gone dry at last? Perish the thought! I was just looking at my list and saw there were several movies with "Sword" in the title that we hadn't covered yet, and they're all worth discussing, so here we are.
The Sword and the Rose
Rating: ***
Origin: UK/USA, 1953
Director: Ken Annakin
Source: Walt Disney Home Video
This is based on the popular 1898 novel When Knighthood Was in Flower by Charles Major, a Victorian historical romance that had been filmed twice before in the silent era, and has just enough swashbuckling in it for inclusion here. Despite its title, it's not set in medieval times but during the early reign of King Henry VIII, telling the story of his sister, Princess Mary Tudor, and her (largely unhistorical) love for Charles Brandon, a mere captain of the guard. Brandon is played by Disney's chosen leading man of the time, Richard Todd, in perhaps his best performance, though he was better known for Dam Busters (1955). Princess Mary is played by Glynis Johns, who has the impossible task of making her willful and selfish character seem adorable, but she's so good she almost pulls it off. The leads are supported by a cast of fine British actors that includes James Robertson Justice as King Henry, Michael Gough as the Duke of Buckingham, and Rosalie Crutchley as Queen Katherine, all benefiting from a strong script with a lot of cutting gibes and haughty rejoinders.
To the plot! King Henry wants to marry his sister to King Louis XII of France, but Mary wants no part of that dynastic nonsense and instead sets her heart on the dashing but far-from-royal Brandon; Buckingham, however, wants Mary for himself and is lethally jealous. Court intrigue and illicit love ensue. Brandon ends up in the Tower of London while the princess is married off to the aged Louis of France, but not before she extracts a promise from Henry that she can choose her own second husband when the time comes. Buckingham engineers a phony jailbreak from the Tower so Brandon can be killed while escaping, but he survives. In due course Louis of France dies but his son, the new King Francis, wants Mary for himself; Buckingham and Brandon go separately to France to retrieve her and meet in the inevitable duel in the Channel surf to settle who will bring her home.
It's a good-looking film, shot at evocative English locations, but mention must be made of the magnificent background paintings by Peter Ellenshaw that give it so much of its authentic-seeming period character. There's not much action in it, but the escape from the Tower of London is suspenseful, and the final rapier duel between Todd and Gough is quite well done. This was the third of four Disney historical adventures shot in Britain in the early Fifties; it was a handsome picture, slick and well made, yet for some reason it was a disappointment at the box office. Disney would make one more British historical, Rob Roy, and then lay off the swashbucklers until the Zorro TV series some years later.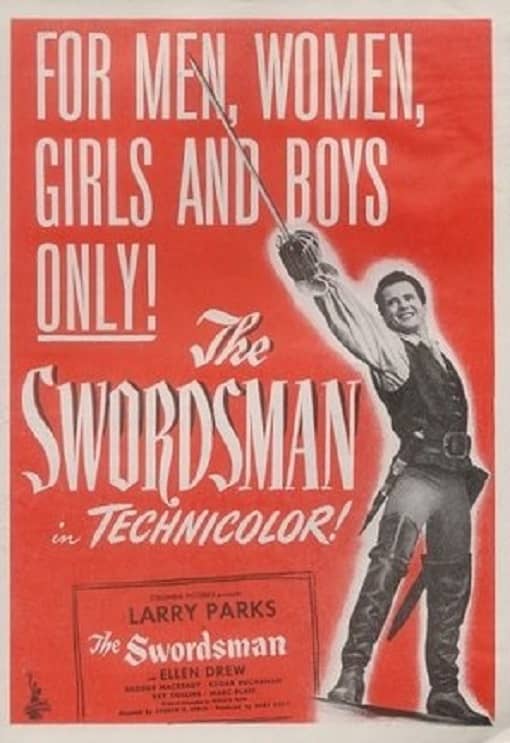 The Swordsman
Rating: ***
Origin: USA, 1948
Director: Joseph H. Lewis
Source: Columbia Pictures DVD
It's late seventeenth-century Scotland, and the clans are a-feudin'. This film has two matinee-idol lookers as stars in Larry Parks and Ellen Drew, and if you guess that means we're in for a cross-clan Romeo and Juliet-type romance, well now but you're good guessers, lads and lassies, aren't you so? The Glowan and MacArden clans have been stealing each other's livestock and cutting each other's throats for a century, but when Alexander MacArden (Parks), under an assumed name, cute-meets Barbara Glowan (Drew), bonny eyes start a-twinklin', and young Alex vows it's time to make peace between the families. Under his false name he attends the Glowans' highland games, winning the javelin throw (tossing an eight-foot boar-sticker — some javelin!) and Barbara's heart. But he's recognized as a trespassing MacArden and the killings, both fair duels and foul murders, begin.
I've never quite understood Parks' appeal, and at first glance Drew doesn't do much besides smile and look adoringly at Parks, but I admit that they both eventually show enough depth to win me over. I have no such reservations about George Macready as Barbara's villainous cousin Robert Glowan, who's as much for war as Alexander is for peace. He's nasty and smart, manipulating his younger brothers into dishonor and death, and he's always quick to go for his basket-hilt broadsword. But Alexander, though reluctant, is a dab hand with a broadsword himself, and as you might expect from a film entitled The Swordsman, blades flash with some frequency. The swordplay is good, too, and the lead Glowans and MacArdens, Parks included, are all credible fencers.
This is a handsome production that makes good use of Technicolor. Northern California stands in for the Scottish Highlands, and it's scenic enough for the part, especially with the addition of a few herds of sheep and some judiciously-placed matte paintings. The cast's Scottish accents are hit or miss, but at least there are only a few golf and whisky jokes. Given this tale's series of abductions, ambuscades, betrayals, and warnings of betrayals, there's an awful lot of riding along the shores of the "lochs," all conducted at a gallop — I swear, there must be a full fifteen minutes of sheer galloping in this flick. Moreover, these haughty Scots are stiff-necked and proud, which accounts for all the deadly misunderstandings in act two. But by act three everyone's decided whether they're for war or peace, which leaves Parks and Macready to sort things out in a fine rough-and-tumble climactic duel. Will peace and love prevail in the end? Och, aye.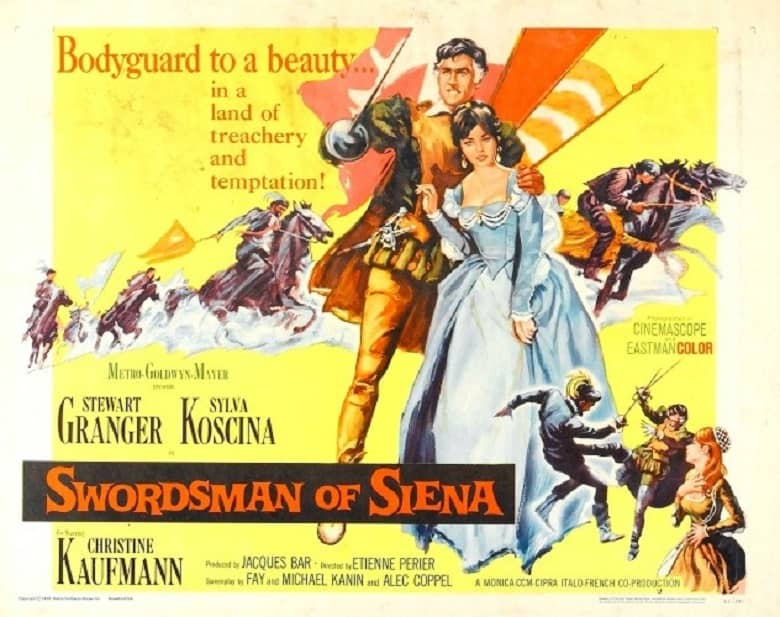 Swordsman of Siena
Rating: ****
Origin: Italy/France, 1962
Director: Étienne Périer
Source: Warner Bros. DVD
If this swashbuckler seems a trifle old-fashioned for 1962, that could be because it was stuck in development hell for a decade. But eventually it got filmed, and though star Stewart Granger might be a bit old for the lead role, he manages to pull it off regardless.
The story is set in the Tuscan city of Siena in the late 1550s during the Italian Renaissance, shortly after Siena's long-standing republic has been overturned by the conquering Spanish, who have installed their own governor. Granger plays English mercenary Thomas Stanswood (modeled on the historical John Hawkwood), who hires out his sword arm to the rulers of Italian city-states. The opening scene establishes him as a charming but amoral rogue being pursued by his previous employer for having dallied with his duchess. After some acrobatic swashbuckling and quick-change artistry, he eludes his pursuers and arrives in Siena, home of his next employer, the hated Spanish governor. The city is seething with intrigue as the old republican nobles, who call themselves "The Ten," plot against their new Spanish overlords.
The former leader of the nobles, Lord Arconti, got killed by the governor's hatchet man in the city's no-holds-barred annual horse race, leaving behind two daughters: the young and idealistic Serenella (Christine Kaufmann), and the elder Orietta (Sylva Koscina), who is seemingly resigned to having to marry the governor. Stanswood is hired as bodyguard to Orietta and is quickly caught up in a web of plots and politics, and soon finds that Orietta needs a bodyguard because she's playing a double game.
The swordplay in this movie is simply superb, its centerpiece an extended duel in a grain mill between Stanswood and a member of The Ten that shows Granger has lost none of the skills he'd developed for Scaramouche (1952). In the first half of the movie, Stanswood — or perhaps it's Granger — is so smug that he's almost insufferable, but once he starts to fall for Orietta he becomes more likeable. The film is pleasant to look at, shot in and around Braciano Castle near Rome, and the colorful Renaissance costuming is particularly gorgeous. Most striking is the deadly climactic horse race, which is based on the Palio, a contest that dates back to medieval times and to this day is held twice a year in Siena; the film takes full advantage of its visual spectacle. A tidy package, all in all; add this to your watchlist.
Where can I watch these movies? I'm glad you asked! Many movies and TV shows are available on disk in DVD or Blu-ray formats, but nowadays we live in a new world of streaming services, more every month it seems. However, it can be hard to find what content will stream in your location, since the market is evolving and global services are a patchwork quilt of rights and availability. I recommend JustWatch.com, a search engine that scans streaming services to find the title of your choice. Give it a try. And if you have a better alternative, let us know.
The previous installments in the Cinema of Swords are:
Olivia de Havilland — First Queen of the Swashbucklers
Goofballs in Harem Pants
Disney's Early Swashbucklers
'50s Vikings – Havoc in Horned Helms
Laughing Cavaliers
Charming and Dangerous: Douglas Fairbanks, Jr.
Eleven Samurai: Early Chambara Classics
Beyond Captain Blood: Three by Sabatini
3 Musketeers + 1 Long Nose
Louis Hayward, Everyman with a Sword (Part 1 of 2)
Days of Technicolor Knights
Louis Hayward, Everyman with a Sword (Part 2 of 2)
Laurence Olivier, Swashbuckler?
Tony Curtis Goes Yonda
The 7th Voyage and Its Children
The Good, the Bad, and Mifune
The First British Invasion
Wholesome Buccaneers (Pt. 1)
The Tale of Zatoichi
The Sign of the Z!
Gallic Gallantry
Classic, Mythic and Epic
The Exuberant Excess of Sixties Vikings
Tyrone's Typecast Troubles
Not-So-Wholesome Buccaneers
Daimajin Strikes Again!
Three Counts of Monte Cristo
Mongols, Cossacks, And Tartars
---
LAWRENCE ELLSWORTH is deep in his current mega-project, editing and translating new, contemporary English editions of all the works in Alexandre Dumas's Musketeers Cycle, with the fourth volume, Blood Royal, just published by Pegasus Books in the US and UK. His website is Swashbucklingadventure.net.
Ellsworth's secret identity is game designer LAWRENCE SCHICK, who's been designing role-playing games since the 1970s. He now lives in Dublin, Ireland, where he's writing Dungeons & Dragons scenarios for Larian Studios' Baldur's Gate 3.